Rachel Mitchell, the outside prosecutor hired by Senate Judiciary Committee Republicans to lead the questioning of Christine Blasey Ford and Supreme Court nominee Brett Kavanaugh, has sent out a memo arguing that a "reasonable prosecutor" would not bring a case against Kavanaugh based on Blasey's allegations.
Blasey went before the Senate Judiciary Committee last week and said she was certain that Kavanaugh sexually assaulted her when they were teenagers. Her hourslong testimony, in which she answered queries from Democratic senators and from Mitchell on behalf of Republicans, was considered widely credible.
Democrats have argued that the hearing isn't a criminal trial and that the question isn't whether Kavanaugh can be legally charged, but whether the judge is being honest about his past behavior while under oath.
"We are here for one reason, to determine whether Judge Kavanaugh should be elevated to one of the most powerful positions in our country," Sen. Dianne Feinstein, the Judiciary Committee's ranking Democrat, said last week. "This is not a trial of Dr. Ford. It's a job interview for Judge Kavanaugh. Is Brett Kavanaugh who we want on the most prestigious court in our country? Is he the best we can do?"
Mitchell wrote in her memo that her assessment of the hearing focuses strictly on law and "legal context." She acknowledged that "there is no clear standard of proof for allegations made during the Senate's confirmation process. But the world in which I work is the legal world, not the political world. Thus, I can only provide my assessment of Dr. Ford's allegations in that legal context."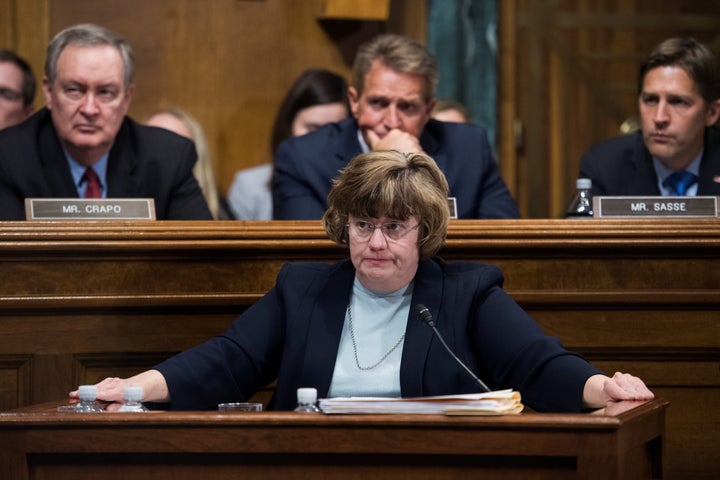 Still, Mitchell, an Arizona prosecutor specializing in sex crimes, outlines in her memo what she believes are inconsistencies in Blasey's testimony, according to multiple outlets which obtained the memo.
"A 'he said, she said' case is incredibly difficult to prove. But this case is even weaker than that," Mitchell writes in the memo, which the Washington Post and CNN obtained. "Dr. Ford identified other witnesses to the event, and those witnesses either refuted her allegations or failed to corroborate them. For the reasons discussed below, I do not think that a reasonable prosecutor would bring this case based on the evidence before the Committee. Nor do I believe that this evidence is sufficient to satisfy the preponderance-of-the-evidence standard."
Mitchell argues that Blasey has "not offered a consistent account of when the alleged assault happened"; has "struggled to identify Judge Kavanaugh as the assailant by name"; and "has no memory of key details of the night in question."
She also wrote that she believes "the activities of congressional Democrats and Dr. Ford's attorneys likely affected Dr. Ford's account."
Mitchell's memo ― which is addressed to all Republican senators ― doesn't analyze Kavanaugh's testimony, during which he denied the allegations against him, attacked the partisans who raised them, and portrayed himself as an aggrieved victim.
The memo, news of which first surfaced Sunday night, also comes after the White House formally asked the FBI to reopen its background investigation into Kavanaugh on Friday. Committee Republicans had shocked observers by agreeing in a last-minute move prompted by Sen. Jeff Flake (R-Ariz.) to request a formal investigation into the claims of misconduct.
The Senate Judiciary Committee on Friday voted to advance the nomination of Kavanaugh.
Two other women have also come forward with accusations of misconduct against Kavanaugh, which he has also denied.
Ryan J. Reilly, Elise Foley and Nina Golgowski contributed to this report.
This article has been updated to include additional comments by Mitchell and Feinstein.
Popular in the Community