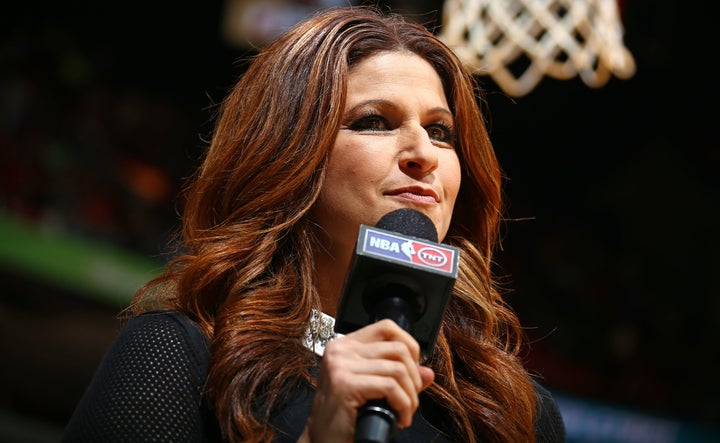 Rachel Nichols' return to ESPN wasn't revealed in a Sports Illustrated feature, personal essay or televised event. That would be too meta. Instead, her new gig was written up in a press release and subsequently blogged with fanfare. After all, the sports media star is revered for her judicious questions and sharp responses when subjects dodge them. Nichols was practically canonized for not allowing NFL commissioner Roger Goodell to give inadequate answers to her questions about Ray Rice's domestic violence. Her integrity and talent, combined with her industry-wide respect, caused ESPN, her employer from 2004 to 2013, to lure her back from CNN, where she had worked the past three years.
ESPN offered Nichols an opportunity to help design and host their new weekday NBA show, "The Jump." She'll be traveling for the next few weeks as the show follows the Finals, but something at ESPN's home base has caught the her eye: new faces at the anchor desk. With "The Jump" added to ESPN's weekday afternoon lineup, a sizable block of programming is now hosted by either a woman or person of color — not another stereotypical white male sports-talking head.
Speaking to Nichols over the phone a few days before the NBA Finals, she explained how ESPN has and hasn't changed since she left in 2013, why the NBA is such a progressive league and much more.
The Huffington Post: Why did you go back to ESPN after a successful run at CNN?
I came back because I had such a great offer to start this show and be a part of designing what it will be like. And to be able to talk about basketball for a half hour every day on TV -- it's a great feeling, and I've been thrilled with the decision.
You've covered many different sports, leagues and competitions over your career. But your new show, "The Jump," is exclusively about basketball. Why hone in on one sport?
The nice thing about the NBA and covering it is it's such a fun sport and there's always so much going on. It's also a lens to talk about a lot of other stuff. The NBA had the first active gay player in a men's professional sport. The NBA had the first female assistant coach — the first woman on a professional men's sports coaching staff in the four major sports. They have so many smart, interesting athletes and the league is very progressive, and that's important to me.
There are so many issues that sort of cross through the NBA lens. Yes, it's a basketball show, so we get to talk about really fun, goofy basketball stuff, we talk about hardcore-type stuff, but also a lot of big picture issues too. It's all of that.
I sometimes say that the show feels like a podcast on TV. It's not a lot of people presenting points to each other. It's more of a conversation you might have with your friends in a group text or a podcast, but you happen to be having that group text conversation and Tracy McGrady is one of the guys having it with you.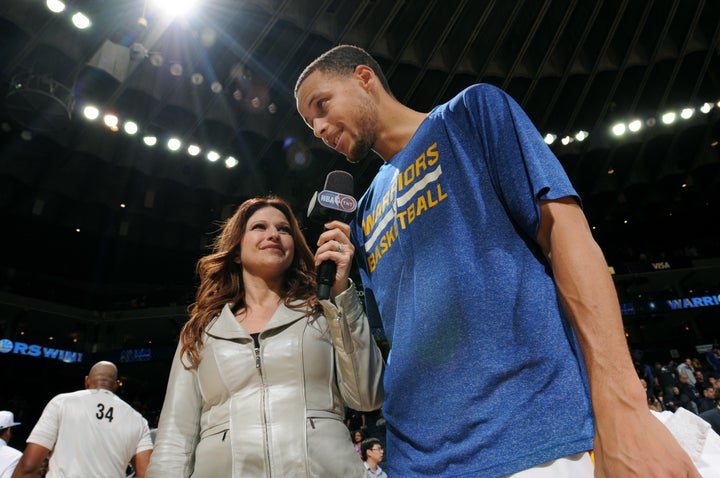 In the past year or so, there's been a lot of high-profile talent that's exited ESPN. There's been layoffs in other parts of the company. But from your perspective, what's changed at ESPN since you left the first time?
I know it's everybody's job in the media to create these big narratives, but I think the pillars of ESPN are kind of still the same. It's by far the most popular place to go on TV if you want to watch sports and talk about sports and hear about sports. In its simplest terms, the biggest thing about ESPN is sort of still the biggest thing about ESPN.
A lot of the faces changed during the entire time I worked at ESPN. And what I've noticed the most are the faces that are coming to the forefront now are newer and more diverse. If you look at the afternoon, where I'm hosting a half-hour show, Michelle Steele hosts a half-hour show after me, and then Dan LeBatard and his Spanish-speaking dad and Bomani Jones have a half-hour show after that.
So you're talking about a 90-minute block in the heart of the afternoon of ESPN where the anchor of each show is not a white male over the age of 45. Is that a talent drain, or is that a change-up of some of the faces that you see on ESPN? You have a more diverse group of faces. We still have so many talented people there, and a lot of them are white males over 45. Don't take this as, "Oh, I hate" — we have some great white males over the age of 45. It's not an endangered species by any stretch. We're getting a few new, diverse faces in the mix. I think that's a good thing.
With your Roger Goodell and Floyd Mayweather interviews as perhaps the best examples, your work has been highly praised for holding men accountable when domestic violence and sports becomes intertwined. Why do you put your neck out and ask the hard, but necessary questions when some reporters just won't go there?
To me, asking fair questions has never seemed scary. I'm never a big fan of the "gotcha" style of questions. I think questions are supposed to be a quest for information, so the best questions aren't the ones that make some big point in the question. The best questions are the ones where you're really trying to get to the truth. If that's what you're doing — I think there are a lot of journalists out there who do that kind of thing, and I've always felt that's the job. I've never felt bad about [asking hard questions].
Nichols pressed Mayweather on his history of domestic abuse, and didn't relent when he ducked her questions.
It's upsetting to think about, but public perception of these domestic violence cases involving beloved athletes seem to hinge on photo or video evidence. Why is that?
It comes down to really simple, fair stuff. We don't want the people we cheer for to be athletes who beat their wives and girlfriends and beat their kids. These aren't things that are okay. And asking the people who are in charge of those sports leagues — or the athletes themselves — to be held accountable for that doesn't seem to me to be some big monumental thing to ask.
What's it like being one of the most recognizable women — a celebrity, even — in sports media?
I'm always psyched when people seem to care about the things I care about. If someone is excited to come up and talk to me about the NBA, I like talking about the NBA! If someone wants to come up and talk to me about the NFL and how it holds its players accountable or what it does with this immense public trust that we've given it, then I'm interested in talking about that stuff. Those are the topics that interest me.
"The faces that are coming to the forefront now are newer and more diverse."
It's funny how you brought up two different sports leagues in separate lights. The NFL is often criticized for its lack of transparency. With the NBA, however, they've been very transparent with player discipline and refereeing. How do you feel about these leagues and how transparent they are with their operations?
As a journalist, I'm a pretty big fan of transparency. [Laughs.] I love the way the NBA does business. I think it's really smart. I think recognizing that we live in a time where information is so readily available is operating in a way that is forward-thinking. If you're talking about something as simple as the referee reports, I know that there are some former players, current players and even coaches who aren't crazy about them. They feel like, "Oh gee, what good is this now to tell me that I was right?"
But I think at home, you have access to 14 different camera angles and we all know whether they made the right call or not. So for the NBA not to sit there and pretend that they made the right call if they didn't, all that helps build trust with them. Instead, I think them coming clean, as a viewer, I feel better about the fact that they're being straight with me.
As a viewer, did you think the Golden State Warriors could climb back from the 3-1 deficit?
I said after the team went down 3-1, the fun of the NBA playoffs, especially when you get to this level, is that you don't know what's going to happen. There's a reason we watch sports: We want to be surprised. You know in a movie, Will Smith is gonna win and the aliens are gonna lose, right? In the Conference Finals, you don't know which team is Will Smith and which team is the alien.
Do you have any predictions for the NBA Finals?
I don't, because I don't make predictions. [Laughs.]
Watch Rachel Nichols on "The Jump" weekdays at 3:30 p.m. EST on ESPN.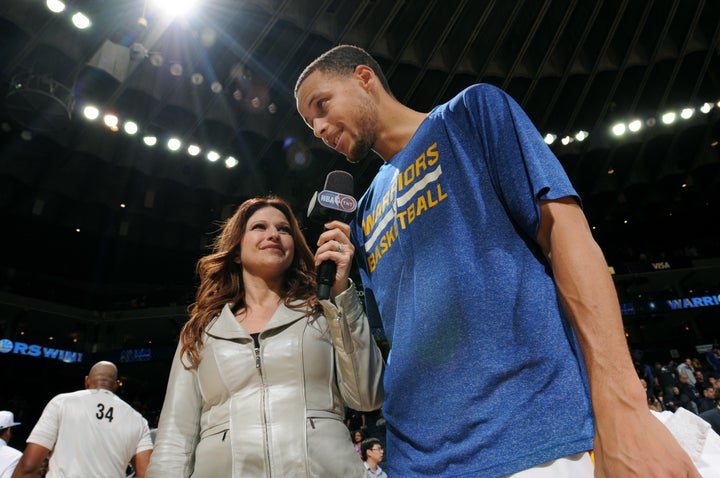 Before You Go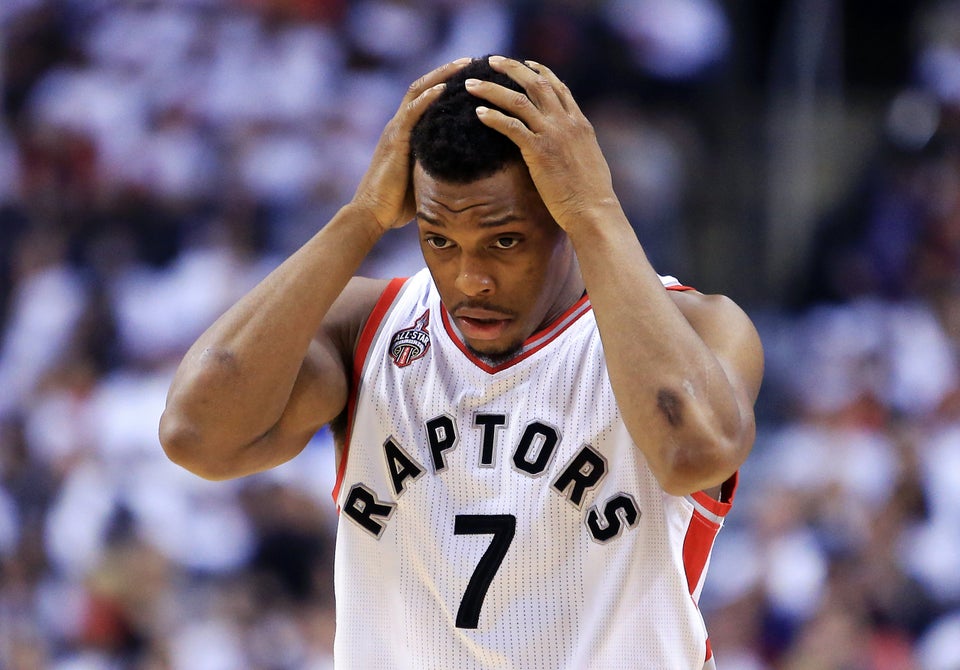 The Most Emotional 2016 NBA Playoffs Moments