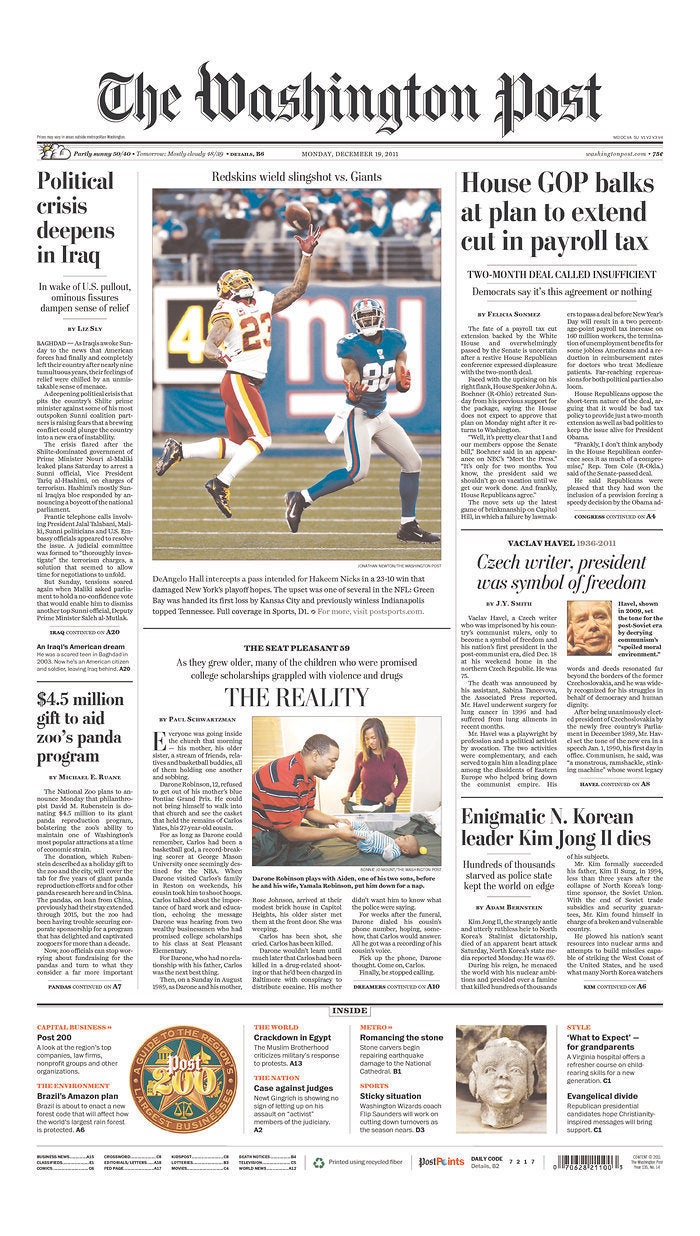 NEW YORK -- With the 2012 campaign heating up, Politico has just snagged the Washington Post's deputy political editor for its election team, according to sources familiar with the matter.
Rachel Van Dongen, who oversees PostPolitics and previously the site WhoRunsGov, will work on Politico's 2012 campaign coverage.
The Post's national desk has been hit with several departures over the past week.
On Dec. 13, the Post informed staff that political reporter Perry Bacon Jr. -– who covered the 2008 race, Obama White House and Congress -– would become political editor for NBC's theGrio.com.
Three days later came a Post memo announcing that deputy national editor Marilyn Thompson was joining Reuters' Washington bureau as news editor. She had spent 14 years at the Post.
UPDATE -- 1:08 pm: Politico's top editors have confirmed the Van Dongen hire in a memo to staff, among other changes. The staff memo, obtained by The Huffington Post, is below:
We have some exciting news to share about personnel moves that will enhance our already-strong coverage of the 2012 campaign.

Rachel Smolkin is being promoted to White House Editor, from her current spot as White House Bureau Chief. Rachel joined us less than a year ago from USA Today, where she was the White House/Legal Affairs Editor. Since arriving in April, Rachel has proven to be an invaluable addition to POLITICO, helping to run one of our most important coverage areas -- the Obama White House -- with tenacity and energy. From breaking news, to the POLITICO 44 page, to high-impact lede stories, Rachel has done it all with skill and a real feel for the news that will help elevate our reporting on Obama the president and Obama the candidate. Prior to USA Today, Rachel was the managing editor of the American Journalism Review and a national reporter for the Pittsburgh Post-Gazette and Toledo Blade.

Rachel Van Dongen joins us in January as Deputy Politics Editor, taking over running another crucial area for us – the day-to-day coverage of the GOP campaign, where she will oversee the traveling reporters and ensure a strong daily report. Rachel comes to us from the Washington Post, where as Deputy National Political Editor, she assigned and edited web content for WashingtonPost.com, worked on PostPolitics.com and edited top political blogs including The Fix and Election2012. Prior to her work at the Post, Rachel worked as a freelance foreign correspondent in Colombia, a staff writer for Congressional Quarterly and a web editor for Roll Call.

Bill Hamilton is being named Deputy Managing Editor/Enterprise, a new – and badly needed – position at POLITICO. Bill's years of experience at the Washington Post, where he did a similar job among others, have given him a keen eye for the story, and we're looking forward to allowing him to turn those talents toward producing high-impact enterprise pieces on the 2012 campaign, in addition to his ongoing duties editing our media coverage. He'll be able to draw on the entire staff to allow reporters the extra time and freedom to produce trademark POLITICO journalism.

Edward-Isaac Dovere will move to Deputy White House Editor, from his current spot as Deputy Politics Editor. Isaac is another person who has made a big impact in a relatively short time, drawing notice for his sharp leadership of the 2012 spot-news reporters, and for keeping POLITICO in the game every day as a valuable member of National Politics Editor Charlie Mahtesian's team.

Please join us in congratulating Rachel, Bill and Isaac – and welcoming aboard Rachel Van Dongen.

John, Jim, Bill, Danielle and Craig
UPDATE -- 4:35 pm: Post national editor Kevin Merida and political editor Steven Ginsberg notified staff in an afternon memo, obtained by The Huffington Post.
We regret to announce that Deputy National Political Editor Rachel Van Dongen is leaving to join Politico.

Rachel has been instrumental in helping us develop our PostPolitics site, supervising the politics Web producers and working closely with Chris Cillizza's Fix team and our Election 2012 blog. She has been a key member of our campaign editing unit, and we will miss her fire and vigor.

Prior to assuming this role, Rachel was editor of WhoRunsGov. She is a former editor and staff writer at Roll Call, a former reporter at Congressional Quarterly, and spent four years in South America covering the drug war and Hugo Chavez for The Economist and Christian Science Monitor.

She has heart and soul, and we wish her nothing but the best.

Kevin Steven
Popular in the Community