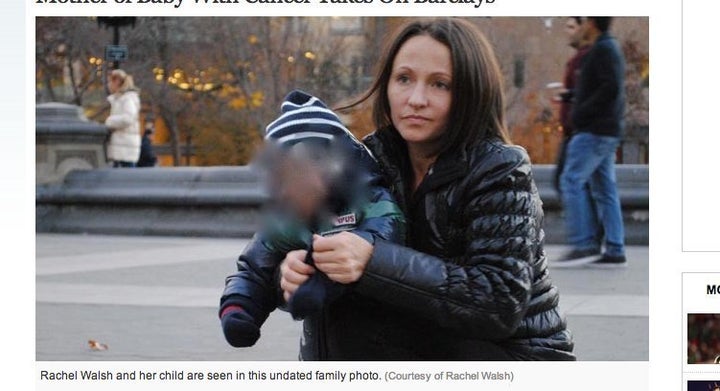 NEW YORK -- A former Barclays employee who was fired from her job after her infant son was diagnosed with cancer -- a move that caused her to lose her health coverage -- has filed suit against the British bank.
In September 2012, Rachel Walsh said she contacted her boss to ask if she could return to work on a flextime basis after taking an unpaid leave of absence to care for her ailing son. The New York mother told The Huffington Post that her boss said she worried the trips to the hospital would interfere with her work.
Walsh said she then told her boss she would be willing to work any job, full-time or part-time. The next day, she said, the bank called her to say there was no position available for her at all.
But when Walsh went on the Barclays website, she said she found listings for her exact position. And when she spoke with former colleagues, some of them told her they were interviewing for her old gig.
In a statement to HuffPost, a representative for Barclays said:
[...] Ms. Walsh requested, and Barclays approved, several requests for extended leave – beyond the time periods that would be required by law. During her extended leave, Barclays provided Ms. Walsh and her family continued health coverage benefits. Thereafter, Ms. Walsh declined to return to a full-time position that the firm had available for her.
The 32-year-old mother said she started to panic because her termination meant that she would lose her health insurance, which had helped pay for her son's treatments. Walsh applied for unemployment but was denied, she said, because the agency had been told she had turned down a full-time job at Barclays.
Now Walsh has hired an attorney to bring a $10 million lawsuit against the bank, on two causes of action. The first is discrimination based on gender, because, Walsh said, "If I was a father with a child who was sick, they wouldn't be worried that I'd be able to keep up with the workload."
The second charge is breach of contract. Barclays allegedly promised Walsh job security during her leave of absence, and said it would make an effort to place her elsewhere if her original job became unavailable, according to documents provided to HuffPost by the Harman Firm, the law firm representing Walsh.
In the summer of 2011, Walsh's 7-week-old son was diagnosed with bilateral retinoblastoma, a kind of cancer that causes tumors to grow in the retina of the eye. After using up her personal and vacation days, Walsh said she was granted a one-year unpaid leave of absence by Barclays. Her health insurance continued during that time, she said.
After she was fired in September 2012, Walsh said she was able to get health insurance under COBRA (the Consolidated Omnibus Budget Reconciliation Act), but at $1,800 every month, it wasn't easy to make the payments. Walsh also applied for Medicaid for her son in December but was denied. She said the agency told her there wasn't enough money in the budget to cover him.
Now, she said, she's applying to be accepted to another state program, "Child Health Plus."
"I didn't foresee needing to go to the state for help because I had always been independent and taken care of myself," Walsh said.
After undergoing chemotherapy and other treatments, Walsh's son's cancer is finally gone. But retinoblastoma can be a recurring cancer, and Walsh said she expects it may come back.
REAL LIFE. REAL NEWS. REAL VOICES.
Help us tell more of the stories that matter from voices that too often remain unheard.
BEFORE YOU GO
PHOTO GALLERY
Weird Reasons That People Get Fired