A friend of Zoe's said to Shuter, "Fashion week was definitely the turning point...Brad was sitting on the front row of every show and getting invited to as may events as his boss."
Wrong. There's photographic evidence that Brad was usually sitting one, if not more, rows behind his boss.
Allow us to submit a photo taken at the Donna Karan show on September 13th: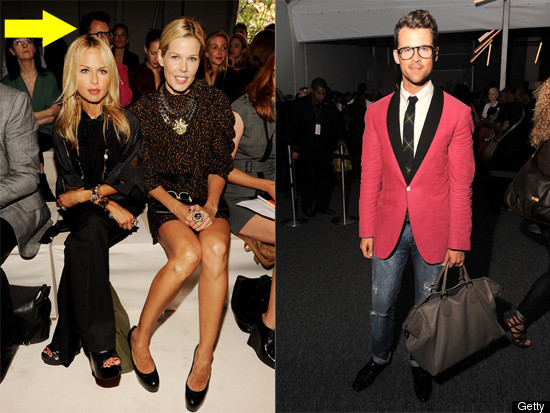 And don't forget--one of us sat next to Brad in the third row of Marc Jacobs' show while Rachel sat in the front, surrounded by photographers. When asked if Zoe was a good boss, Brad gushed about their relationship being "beyond" and such.
Since the split, Rachel has tweeted "Sad day for Brad and me, but also excited for what is to come! Thank you all for your kind words and wishes" and Brad tweeted "Hi everyone! its true. I have decided to go out on my own. I love @rzrachelzoe! shes been the best boss and teacher! excited for the future." As we know from Rachel's split with Taylor, Rachel doesn't mince words when she feels wronged by a former employee.
But the "friend" continues to PopEater, "[T]he final straw was when Brad appeared on the cover of The New York Times style section. Rachel hit the roof and reminded him he was her assistant and it was called 'The Rachel Zoe' show not the Brad Goreski show."
In the Times profile, Brad was called a "breakout personality" with a "Zelig-like presence" and was praised by the likes of Elle Creative Director Joe Zee and "Mad Men" costume designer Janie Bryant.
Here are Rachel and Brad through the years: