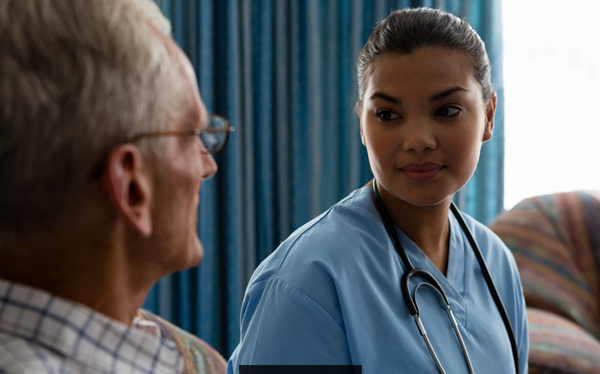 Last month, the U.S. Bureau of Labor Statistics released its annual job projections, showing that home care jobs remain one of the largest and fastest-growing occupations in the country. Home care jobs, which assist older people and people with disabilities with living in their homes, are expected to grow by over a million between 2016 and 2026. Yet despite the role these jobs play in steadying the economy, they are mired by racial and gender disparities that threaten the stability of the entire health care system.
According to a new study from PHI, a national research and consulting organization focused on direct care, the direct care workforce struggles with significant racial and gender disparities. Though women of color make up nearly one in two direct care workers, they experience higher poverty rates and rely more on public assistance than white women and men of all races in their field. Alarmingly, economic instability drives many of these workers out of this sector, which in turn leaves older people and people with disabilities—the core client populations for direct care workers—without essential supports.
These disparities have dire implications for the future as well—as the American population ages and drives up demand for home care in the coming decades, we will, like today, rely on women of color to fill direct care job openings. The number of women of color in the labor force is expected to surge by 6.3 million between 2016 and 2026. But if they continue to experience high rates of poverty while on the job, it will become increasingly difficult to fill these positions—destabilizing not only the home care sector, but the entire health care system.
What explains the high rates of poverty for direct care workers? Low wages, irregular schedules, insufficient hours, the complex interplay between benefit eligibility and hours worked, a strapped Medicaid system that cannot—or will not—adequately fund long-term care providers to improve the quality of these jobs, and the overwhelming hardship of providing for one's family in the face of increased living costs. And what accounts for higher poverty among women of color in direct care, particularly Black and Latinx workers? The PHI study points to lower family incomes as a primary factor, which mirrors the racial income gap in the U.S. workforce. A lifetime of discrimination in education and employment has eroded the incomes—and the entire economic stability—of communities of color. Women of color in particular have more severe economic barriers than their white peers, which might also drive them more easily into poverty.
The direct care sector has long suffered the brunt of racial and gender inequality. For decades, domestic work was seen as "companionship"—an informal set of tasks performed largely by women that were undeserving of adequate compensation or protections. The interaction of racism and sexism is best captured in the decades-long struggle to extend wage and overtime protections under the Fair Labor Standards Act (FLSA) to home care workers. When the FLSA was established in the 1930s under the New Deal, Southern segregationists unabashedly employed racist, post-slavery rhetoric to successfully exclude domestic and agricultural workers (and other occupations primarily filled by people of color) from this historic legislation. Only recently did the federal government extend these labor protections to home care workers—yet this FLSA rule remains politically precarious, and the typical home care worker still earns only $10 an hour.
If women of color struggle more than their peers in an already marginalized workforce, then workforce-related solutions must account for these inequities. A recent report by Race Forward argues that to address racial inequality in health care, we must implement "race-explicit" solutions. Race Forward, a think tank focused on race, surveyed workforce development practitioners around the country and interviewed workers of color as well as key experts in health care and IT (two of the fastest-growing fields in the country). They found significant barriers to racial equity in both fields. Workforce development organizations lacked mechanisms to track racial disparities in their programs, offered little on-the job or career-related supports to workers of color, and experienced a cultural disconnect between their predominantly white staffs and their clients, who are mostly workers of color. Notably, 43 percent of respondents cited racial bias as a primary reason Black and Latinx clients are underrepresented in both health care and IT jobs.
This racial bias exists within the advocacy space as well, which makes it more challenging to address disparities in the workforce. Aging and long-term care advocacy organizations led by and for communities of color are minimal. They are typically service-oriented and limited by their funders (largely government) from taking a hard line on "controversial" policy matters, especially under conservative administrations. Popular aging-related communications frames offer little guidance on how to message racial inequality in ways that address disparities. And the leadership of nonprofits who work in long-term care seemingly mirrors that of the broader nonprofit sector, where 90 percent of CEOs and 84 percent of board members are white. In my national advocacy work, I rarely encounter more than a few people of color—and even fewer racial justice advocates—at federal policy tables.
While I firmly believe many of my peers are genuinely concerned about the unequal plight of people of color, these elite advocacy spaces lack leaders who have deep experience in tackling racial and gender disparities in aging services and long-term care. Race and structural racism, when rarely discussed, are seen largely as tertiary concerns. Race-neutral approaches—rooted in the false philosophy that universal solutions work equally among populations—are the default in long-term care and aging policy. When dealing with race (or gender and class) as a topic, the long-term care policy discourse relies on frameworks of "diversity," "disparities," "cultural competence," and "social determinants of health," which focus mostly on studying unequal outcomes, respecting difference, or improving personal interactions in health care delivery. While these approaches are arguably important entry points, they fall short of race-explicit explanations and solutions. As importantly, they fail to center people of color as decision makers in public policy.
The long-term care field must address these disparities within the workforce and the advocacy space. The direct care job needs a large-scale transformation—higher wages, regular schedules, improved benefits, enhanced training, and strong career paths—and the public and private sectors must dedicate the funding to make it happen. We also need race-explicit solutions in the fields of long-term care, aging, and direct care. Here, Race Forward's report argues for: better race-related outcome data in the workforce field, hiring and retention goals to diversify the field, comprehensive support services for workers of color, and a philanthropic investment that specifies racial equity indicators. We need high-level conversations about confronting racial and gender inequality in long-term care, and in particular the disparities facing women of color in the workforce. And we need executive-level leadership in our organizations that is made up of people who most understand these challenges first-hand.
We must do all of the above if we wish to fix the profound inequality facing women of color in direct care. The future of health care depends on it.
Popular in the Community