As Bloomberg Business reported, researchers at the Harvard Business School found that people with names that sounded African-American had a harder time booking a place to stay on Airbnb than people with names like this correspondent's. The authors conducted a field experiment that examined 6,400 listings on Airbnb in five cities, concluding that "requests from guests with distinctively African-American names are roughly 16% less likely to be accepted than identical guests with distinctively White names."
That difference was the same regardless of whether the host was African-American, white or female, whether the property was expensive or cheap, or whether the host shared the property. The bias came at a price for hosts as well. According to the researchers, hosts who rejected guests they believed were African-American found a replacement guest just 35 percent of the time.
In blind hiring, applicants separate information that identifies them -- like their name -- from their qualifications, expressed in a resume, cover letter, and portfolio of design or software projects.
The technique, applied to on-demand companies like Airbnb and Uber, might express itself as showing a potential host or driver someone's rating and reviews, but not a name.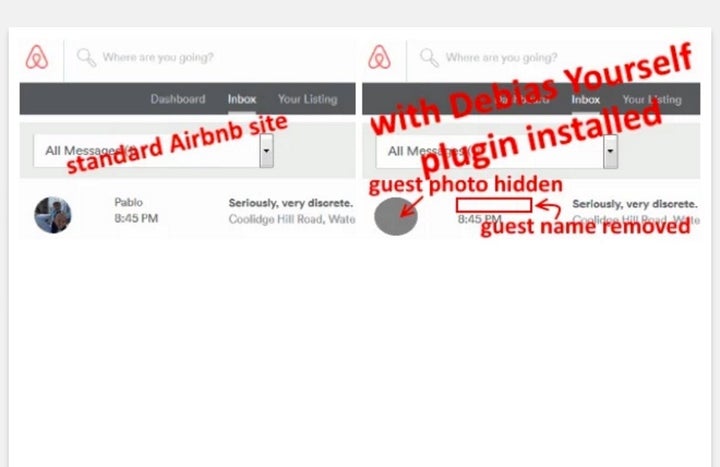 If an Airbnb host chooses to install Debias, the plug-in will automatically remove the photo and name of guests making a request to stay at a property. According to the FAQ, the plug-in also removes names and faces from other parts of Airbnb's site.
Whether people will choose to use it is another matter.
"For many hosts, discrimination is probably implicit -- in other words, they may not even realize they are discriminating," Michael Luca, an assistant professor at Harvard Business School who co-authored the research, told The Huffington Post.
"These hosts -- who don't want to discriminate -- would find the plugin to be a useful decision aid. There's not much this tool will do for a host who is explicitly trying to discriminate, since that host would simply choose not to use the plugin, but our guess is that this is a much smaller segment of the market."
Only Airbnb may know for sure how big or small that proportion of users is. The researchers told HuffPost that they think it would be productive for Airbnb to consider integrating a version of the plug-in, as well as reducing discrimination through other design choices.
"We are committed to making Airbnb one of the most open, trusted, diverse, transparent communities in the world," a company spokesperson told HuffPost in response to the publication of the research.
"We recognize that bias and discrimination are significant challenges, and we welcome the opportunity to work with anyone that can help us reduce potential discrimination in the Airbnb community. We are in touch with the authors of this study and we look forward to a continuing dialogue with them."
As platforms like LinkedIn, Uber and TaskRabbit take on increased importance in the on-demand economy, it's incumbent upon operators of these services to address demonstrated bias. Otherwise, 21st century platforms for collaborative consumption will just embed social biases from the cultures they exist within.
This article has been updated to include a statement from Airbnb and an explanation of the "Debias" plug-in.
Related
Popular in the Community