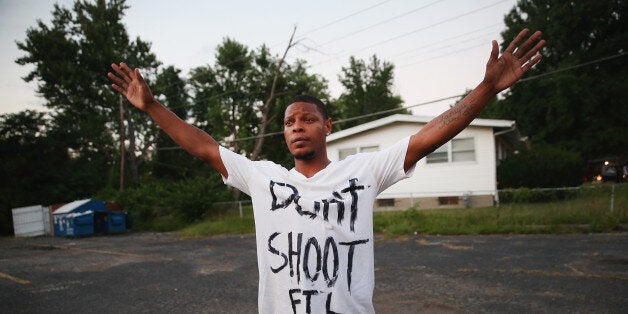 Today, the town of 21,000 people is two-thirds black, yet the town's leadership and police force are mostly white.
Ferguson's police chief and mayor are white. Of the six City Council members, one is black. The local school board has six white members and one Latino. Of the 53 commissioned officers on the police force, three are black, said Ferguson Police Chief Thomas Jackson.

Blacks in Ferguson are twice as likely to be stopped by police as whites, according to an annual report on racial profiling by the Missouri attorney general. Last year, 93% of arrests following car stops in Ferguson were of blacks. Ninety-two percent of searches and 80% of car stops involved blacks, the report said.
That report also showed that police were less likely to find contraband on the black drivers they stopped. (Police found contraband on 22 percent of black residents they stopped, compared to 34 percent of white residents.)
Residents told the LA Times that these dynamics contribute to the "racial powder keg" that's developed in Ferguson. (Read the full report here).
There have been conflicting accounts of what happened the night Brown was shot. A witness reports that when an officer opened his car door, it hit Brown and then bounced back on the officer, enraging him. He grabbed Brown and shot him. Brown and a friend ran and the officer then shot Brown in the back. Brown stopped, turned around and put his hands up, before the officer shot him an additional several times at close range, killing him.
The police account differs dramatically, though the department has provided few details other than saying that someone tried to take the officer's gun.