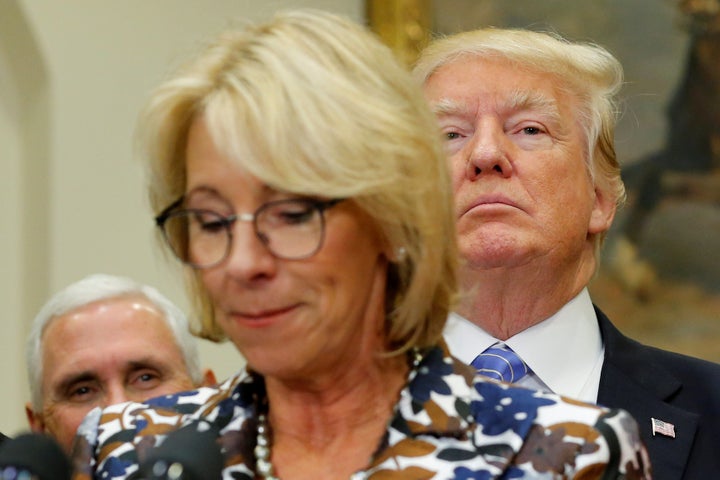 The U.S. Department of Education's civil rights division saw a significant increase in the number of complaints it received regarding racial harassment in schools, including post-secondary institutions, in 2017, according to data the department provided to HuffPost. The increase represents the biggest rise in this category since at least 2009, the earliest consecutive year for which we could find publicly reported numbers in this category.
The number of racial harassment discrimination complaints the department's civil rights division receives has ebbed and flowed over the last nine years. It did not receive more than 600 complaints until fiscal year 2017, when the number climbed to 675, a nearly 25 percent increase from the previous year. Previously, the number had bounced between a low of 362 and a high of 577.
The Office for Civil Rights, or OCR, is charged with addressing complaints under Title VI, the federal law that protects students from discrimination based on race, color and national origin.
The Department of Education provided the numbers in response to an inquiry from HuffPost. A spokesperson for the U.S. Department of Education did not respond to a request for comment when asked about potential reasons for this uptick, or to a request about numbers from earlier than 2009, by press time.
Catherine Lhamon, who ran OCR during the Obama administration, said she could not speculate on the reasons for this increase, but pointed to outside data showing a surge in hate crimes nationally.
"Our schools are places that encapsulate and reflect the national climate as well," said Lhamon, who is now chair of the U.S. Commission on Civil Rights. "It is distressingly unsurprising that there might be an uptick in racial harassment complaints coming to OCR."
Zoe Savitsky, deputy legal director at the Southern Poverty Law Center, pointed to the numbers as evidence that the Trump administration is creating a toxic national environment that is in turn affecting schools. In the wake of the 2016 presidential election, the Southern Poverty Law Center started surveying teachers about how the election had influenced their school's climate. Many teachers reported seeing an increase in hateful language and attitudes toward marginalized student groups.
"I am saddened but not surprised," said Savitsky of the rise in racial harassment complaints in schools.
"Our schools are places that encapsulate and reflect the national climate."
In general, grievances regarding discrimination related to race and national origin appear to have mostly held steady between 2016 and 2017, per documents related to the department's budget request released last week. But within that category, harassment complaints underwent a specific leap. Other types of complaints that involve race or national origin might cover disproportionate disciplining of minority students or segregation.
The record number of harassment complaints comes as OCR has begun scaling back its operations under the Trump administration. The Education Department recently announced that it would no longer deal with discrimination complaints involving transgender students' use of bathrooms. Last June, OCR announced that its attorneys would spend less time searching for evidence of systemic discrimination at public schools and universities in order to work through a backlog of complaints. The administration's proposed budget for next year, released earlier this month, indicates that it plans to significantly shrink the number of employees working at OCR.
Between 2016 and 2017, OCR saw a 23 percent drop in the number of complaints it received overall. This decrease, though, could be attributable to a single individual who filed over 6,000 complaints in 2016. Notwithstanding this complainant, the office actually saw a significant increase in overall complaints in 2017.
An Education Department spokesperson also provided HuffPost with numbers showing that complaints regarding incidents of sexual violence in schools, including at K-12 schools and universities, held mostly steady in 2017 after a huge uptick in 2016.
Notably, in 2017, OCR also provided fewer technical assistance sessions, in which education department staffers advise public school officials and other stakeholders about their obligations under civil rights law. OCR held 250 sessions in 2015 and 295 in 2016. In 2017, the office held only 188.
A spokesperson for the Education Department did not respond to inquiries about why this number might have decreased.
Lhamon said she found the decrease concerning.
"I was sick about how few technical assistance sessions we were able to offer in my time," she said. "Reducing the number means OCR reaches fewer willing audiences about how to do what Congress has commanded and make sure students are safe."
Popular in the Community