Without significant policy reform in America, it would take 228 years for black families to amass the wealth that white families have today, according to a new study.
The Corporation for Enterprise Development and Institute for Policy Studies published its findings Monday from a study of 30 years of Federal Reserve data ― which include pension, income and demographic statistics. The report argues that tax policies overwhelmingly favor white, wealthy families and turn a blind eye to low-income families.
Over 30 years, the average wealth of white families has grown by 84 percent, which is three times the growth of the black population and 1.2 times that of the Latino population, the study finds. If black and Latino populations continue to grow at the same rate, it would take them 228 years and 84 years, respectively, to close the wealth gap as it stands now ― but the divide continues to grow.
While housing has been a major driver in the growth of the racial wealth divide, Black and Latino households have also faced numerous other economic inequities that are impacting their wealth position. At the root of this are a number of discriminatory practices—including, among others, employment discrimination, racial discrimination in the criminal justice system, housing segregation and unequal access to educational opportunities—that have continued into the present even as some acts of past discrimination decline.
The gap got a bit smaller in the years leading up to the Great Recession, but in the past 30 years has exploded as black and Latino communities have been hit by foreclosures and job cuts.
The numbers are perhaps not surprising ― the most recent Pew Research Center numbers from 2013 put the difference between the average black and white families at $131,000. The Huffington Post's Ben Walsh reported that the poorest black families are much poorer than low-income white families; 25 percent of black families had less than $5 in savings compared to $375 or less for the bottom quarter of white families.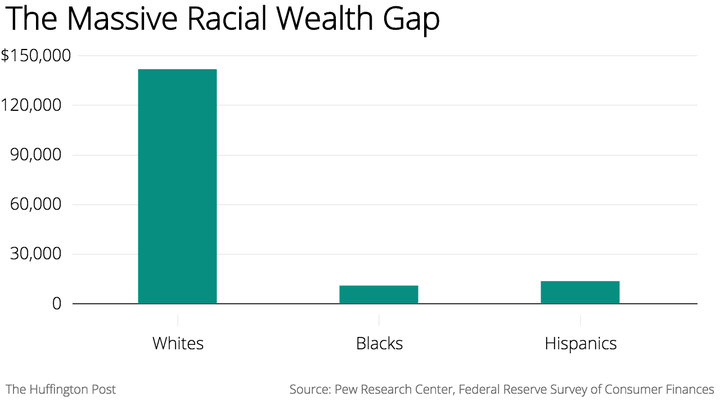 The solution? Sweeping policy change.
Reparations, funds for housing programs and a restructuring of tax breaks lead the ideas for redistribution of wealth. The report calls for a government-wide audit to seek out policies that exacerbate the wealth gap, and then flip a top-heavy tax structure "to ensure households of color also receive support to build wealth."
It also calls on the Black Lives Matter movement to consider economic justice as one of Black America's most important issues to overcome.
On Aug. 1, more than 50 civil rights groups laid out a plan to close the economic gap. It demands an increase to taxes on extreme wealth and a system that allows raising wages without political hurdles. Money that currently goes toward the disproportionate incarceration of black Americans should be funneled toward education and employment, the proposal states.
"Together, we demand an end to the wars against Black people," the report says. "We demand that the government repair the harms that have been done to Black communities in the form of reparations and targeted long-term investments. We also demand a defunding of the systems and institutions that criminalize and cage us."
Popular in the Community