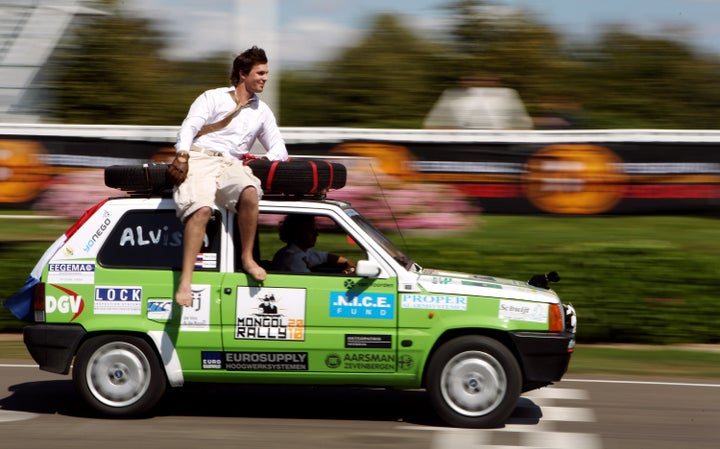 Editor's Note: The following article originally described the Mongol Rally as a race, which it is not. In point of fact, racing on public highways is illegal. Don't do it. Also, the original piece claimed that participants' cars have to be junk. Though there are rules governing the types of vehicles allowed, the vehicles can and probably should, in the interest of efficiency, be functional.
Yell "beer," yell "supermarket," yell "Mon-gol-i-a!" And if yelling doesn't work, try pointing because your odds of getting something edible off a Tajikistani menu are worse than your odds of traveling all the way from England to Mongolia without getting a flat tire. That is Dave and Deb of ThePlanetD's advice for completing the Mongol Rally, a 10,000-mile car odyssey from Hyde Park in London to the Mongolian capital of Ulaanbaatar.
For Dave and Deb, known widely as "Canada's Adventure Couple," the lunacy started back in 2008 with the Tour d'Afrique, an epic bicycle race from Cairo, Egypt to Cape Town, South Africa. The duo originally pitched their two-wheeling super-safari to television executives as an adventure series, but when nothing panned out they were stuck footing the bill -- and as a result they called a small tin trailer "home" for the remainder of the year. Fortunately for the adventure couple, they soon hit on blogging as means of supporting their penchant for the treacherous and absurd. They're now on a fast-paced, one-extreme-adventure-a-year schedule.
Their latest, the Mongol Rally, had them joining nearly 375 equally deranged teams in a scramble across Eurasia that is billed as a "16,000 km odyssey for amateurs stupid enough to attempt it."
For most ralliers, Murphy's Law sums up the experience -- anything that can go wrong, will go wrong. According to statistics compiled by TheAdventurists.com, the official website of the Mongol Rally, rallyers have broken down an average of nine times per team, crashed a total of 34 cars, paid an estimated $9,890 in bribes, lost 43 jobs upon returning home, consumed 217 goat testicles and sustained an undisclosed number of injuries. Seventeen rallyers apparently also shit themselves behind the wheel.
Given the enormous potential for mishap, The Adventurists recommend -- but do not require -- attending a "Car Mechanics 101" course at a local community college before hitting the road; the adventure couple did it without knowing a thing about cars. "Just get a good car and better tires 'cause you can find a mechanic anywhere," says Dave, who once harbored ambitions of being a professional musician.
Sometimes the mechanics will even find you. Once, when the couple was marooned on a Kazakhstani highway with a dead battery, help arrived in the form of a friendly motorist even before they could pop the hood. It wasn't always that easy, but since people often have to depend on themselves for automobile maintenance in rural areas, they know what they're doing under the hood. So fear not even if you struggle to refill your windshield wiper fluid back home.
The locals are also pretty handy with directions and can usually direct you toward Mongolia despite the language barrier. According to Dave, this is invaluable. "You find yourself lost in the middle of no where. You have no idea whether you're on the right road or the wrong road, 'cause none of the maps show any of the right roads. Your GPS doesn't work and your just flagging people down, yelling out the name of the place you're going -- 'Mongolia!' -- [and] hoping they will point you in the right direction," he says. For the most part, it works. And chances are, according to the couple, even when you feel completely lost you're going the right way. "Just keep heading east."
Dave and Deb's path to Mongolia was always a work in progress. Without any set route to follow, it's easy to get side tracked and take detours, they say. Looking back, their tracks led them across Europe, through Ukraine, up through Russia, into Kazakhstan, back into Russia and finally into western Mongolia all in five short weeks.
Easily the worst thing about the Rally is the food -- although Dave and Deb aren't really the complaining type. For most of the trip they made do with pasta and unidentified canned meats on a camp stove -- maybe the testicle count should be higher -- although lunch was usually eaten on the road. On the menu? A bag of chips and whatever else has been sitting on the back shelf of a Kazakhstani gas station for the past few years -- that is if you ever find a gas station.
But the couple still recommends the Mongol Rally to anyone crazy enough to give it a try. "You'll be fine; we knew nothing," says Deb. If your still feeling lost after yelling "beer," "supermarket," and "Mongolia" at total strangers then maybe the Rally wasn't your type of adventure after all.