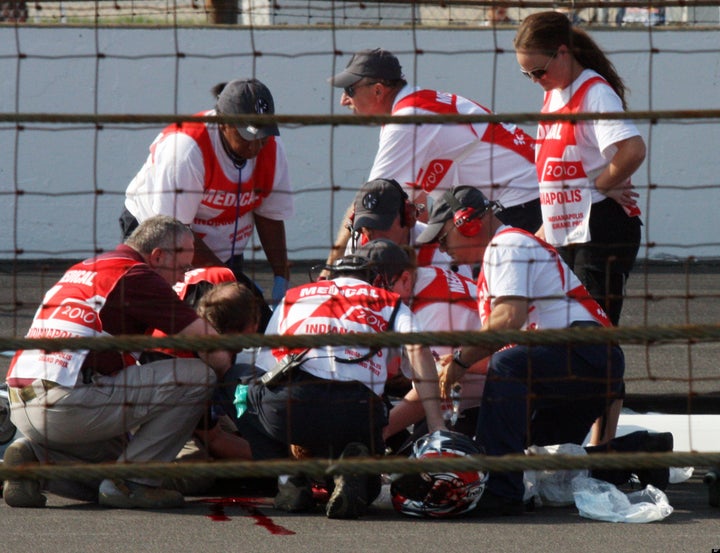 Tongues have wagged and hands have been wrung since the tragic death of thirteen-year-old Peter Lenz this past Sunday. Peter was killed at the Indianapolis Motor Speedway during a practice session for a motorcycle competition organized by the United States Grand Prix Racers Union. He died after falling from his bike and being accidentally run over by a twelve-year-old competitor. Predictably there have been calls for investigations, and many have questioned the wisdom of parents having their kids compete in such a dangerous activity.
The day after Peter's death a study about youth concussions appeared in Pediatrics. Doctors found that from 1997 to 2007 the number of ER visits due to a concussion suffered in an organized team sport doubled for kids between the ages of eight and thirteen.
Despite the risk of serious injuries, like concussions, and even death, millions of kids compete in almost any activity you can imagine. Did you know that there are shooting contests for young Davy Crocketts, a racing circuit for aspiring Danica Patricks, and a youth PGA for those pursuing Tiger Woods' swing? When did American childhood become not just hyper-organized but also hyper-competitive?
The United States Grand Prix Racers Union is a recent edition to the pantheon of competitive children's activities. It was founded in 2002 for 12-18 year-old racers, about a century after adults organized the first competitive activities for kids. At better baby contests, which started in 1908 at state fairs, judges evaluated children based on weight, measurements, and appearance in order to find the "healthiest" or the "most beautiful" baby (these events were pre-cursors to today's child beauty pageants, also much criticized after a child's death -- JonBenét Ramsey in 1996).
Older children definitely weren't left out. With the simultaneous rise of mandatory schooling and laws restricting child labor, worry mounted over the idle hours of children, which many assumed would be filled with delinquent or self-destructive activities. In 1903 New York City's Public School Athletic League for Boys was established and contests between children, organized by adults, emerged as a way to keep the boys coming back to activities and clubs. Settlement houses and ethnic clubs followed suit and the number of these clubs grew rapidly through the 1920s.
After World War II, national organizations developed, which brought national-level competitions; the first Little League World Series was held in 1947. By the 1970s, for-profit organizations dominated the national youth sports scene. And, by the turn of the twenty-first century, a variety of year-round competitive circuits, run by paid organizers and coaches, dominated families' evenings and weekends.
Parents tried to find the activity best suited to turn their children into national champions, even at age seven. As competitive children's activities became increasingly organized over the twentieth century, injuries increased -- especially overuse injuries and concussions. More practice time, an earlier focus on only one sport, and a higher level of intensity in games create the environment for these types of injuries.
This is the environment in which Peter Lenz became a competitive motorcycle racer. He could have joined the competitive video game circuit, a tournament table tennis club, or any number of other activities. But his parents chose this one out of all the available choices, Peter presumably liked it, and it turned out he was very good at it. Unfortunately, he did end up in an activity that ultimately killed him, but his general trajectory is not uncommon.
Youth racing shouldn't be alone in getting a closer inspection. This tragedy could have happened to any girl on a balance beam or any boy in a football tackle last Sunday. We should not be distracted by the fact that Peter was in a motorcycle race.
As American childhood becomes progressively more competitive and organized, we need to make sure competitive children's activities continue to evolve in productive ways. We need more training regulations for all competitive activities, like limiting the number of hours kids can practice. We also need uniform safety standards, like helmets and other protective gear, along with coaching certifications for those who work with kids.
While catastrophic accidents like Peter Lenz's will happen, we can work to better protect all competitive children from more common injuries like concussions and overuse injuries. Kids want to win whatever race they are in and be the champion. Adults should make sure they all safely cross the finish line.