Last year, a horrible disease impaired and robbed 8 million people of their vision. Right now, 84 million people are infected with this disease. The good news is that treating it is relatively easy, and curing it requires the commitment of a relatively modest amount of resources. This disease is called trachoma.
While most highly infectious diseases have been virtually wiped out in the U.S., many are still major scourges in the developing world and, because they are not on our radar, tend not to get our attention. These diseases keep people sick and prevent communities from climbing out of poverty. We've got the weapons to seriously reduce the burden of most of these diseases, including trachoma, which is the world's leading cause of blindness. However, the funds and management to get the job done have yet to be put in place.
Here's the dilemma, then, for public health experts: Do we treat trachoma and prevent the blindness it causes, or do we use all available resources to prevent it from spreading in the first place? Unfortunately, this debate isn't simply academic; trachoma is a problem in the real world.
Trachoma was largely eliminated in the US and other industrialized nations by the middle of the 20th century. In the developing world, however, it's still a persistent problem, like many other neglected tropical diseases (NTDs). Although it is a disease that's easily treatable, so far the will to eliminate it hasn't been there. Recently, my colleague Dr. Blaise Karibushi and I contributed to a report authored by a number of leading figures in this field, titled "Prevalence and Risk Factors for Trachoma in Rwanda" (http://tap.pmhclients.com/images/uploads/about/aboutntd_trachomareport08.pdf) .
Trachoma is one of the oldest-known ailments that can lead to blindness. Although it is not a prevalent problem in the Rwandan districts we examined for the report, trachoma is an extraordinarily pernicious disease that can be passed from generation to generation. However, a combination of antibiotics and the intelligent and effective application of the right resources could hold the key to a future without this devastating illness.
Trachoma is one of the priority diseases targeted by the World Health Organization and the International Agency for the Prevention of Blindness in their joint initiative, "Vision 2020 Right to Sight" which aims to eliminate the sources of preventable blindness in the developing world before the year 2020. It's an ambitious program, but its goals are clearly within the realm of the possible. The bottom line is that the disease can be fought through a combination of simple face-washing, environmental improvements and access to clean water, mass administration of antibiotics like Zithromax and, in more extreme cases, surgery.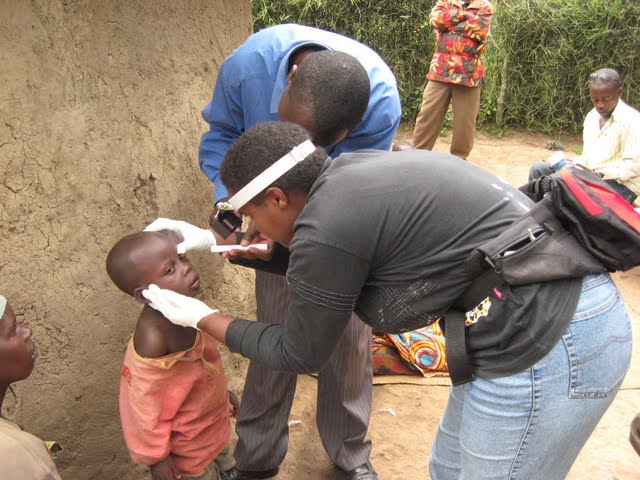 The simplicity of trachoma treatment and the ease with which it can be administered should mean that we are close to finishing the fight against it. Surprisingly, however, that is not the case. Mass administration of antibiotics goes a long way to fighting the disease in the real world, but because that treatment needs to be repeated, it isn't enough on its own. To truly eliminate the disease there needs to be a more holistic effort, including an effective communications campaign aimed at changing perceptions and behavior. There also needs to be a real effort at improving access to clean water through infrastructure improvements and environmental engineering.
Mass drug administration comes under fire more and more these days. It's seen as wasteful because it doesn't get to the root of disease problems; it simply treats the disease. But addressing the root causes of diseases like trachoma shouldn't mean that we abandon sick people to their fate - in this case irreversible blindness - to satisfy policy theory.
The real world solution - the only solution that counts - is to pursue both goals simultaneously. Until we can eliminate the root causes of a disease, to not treat it with everything in our arsenal allows perfection to be the enemy of the good. While we wait, it's the poorest and most vulnerable who suffer.
Calling all HuffPost superfans!
Sign up for membership to become a founding member and help shape HuffPost's next chapter