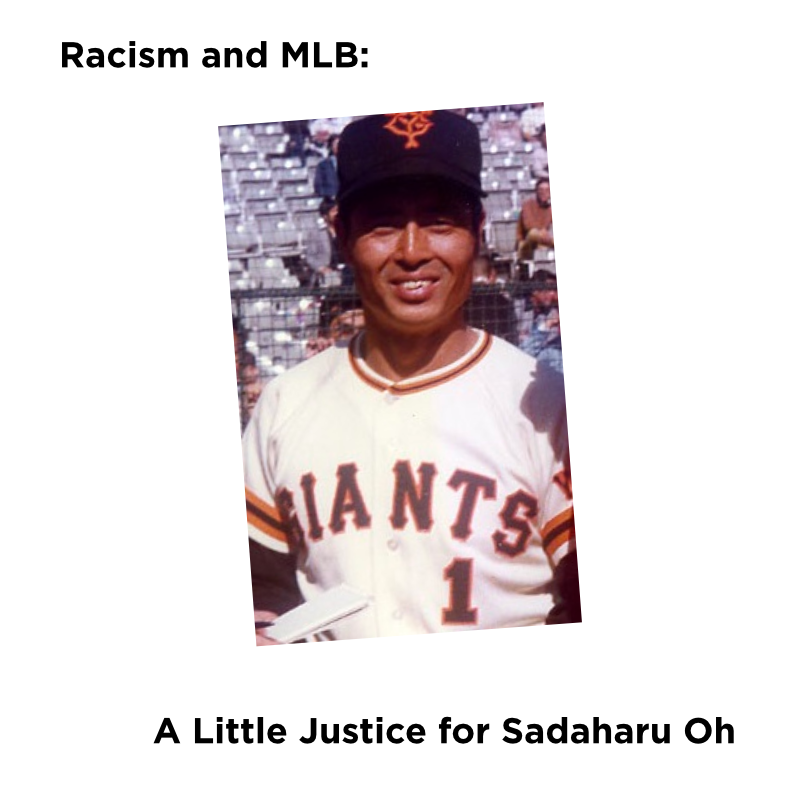 Rattle off names like Ruth, Aaron, or Bonds, to baseball fans, and they know what you're talking about: Home run kings.
A natural athlete, and a pitcher-hitter, Oh, an undisciplined party-guy, struggled early in his career with the Yomiuri Giants, until he met a hitting coach, Hiroshi Arakawa, with a crazy idea. Arakawa fused the sword-based martial art of Aikido with baseball. Oh, schooled in Zen disciplines, and Aikido's harmony and balance, developed a "flamingo" stance that balanced his weight on one leg.
His record easily top Barry Bonds' steroids-asterisk-induced 762, Hank Aaron's 755, and Babe Ruth's 714. He even tops a real American home run king, Negro League player Josh Gibson, who had an 800 estimated blasts between the segregated Negro Leagues sanctioned games, and the hundreds of semi-pro "pickup" games that NL teams used to travel from town to town, and, often, just to survive.
This week's announcement that a longer "Oh," another pitcher-hitter, Shohei Ohtani, signed with the Los Angeles Angels, is a belated bit of justice for Japan's super-slugger. The 100 mph fastball hurler and tape-measure home run hitter will make seven figures playing for Anaheim, mostly in marketing and endorsements.
Could Oh have been that kind of player? Absolutely. His legend is mired in the historic fog of a generation of Anti-Asian racism in professional baseball.
Major League Baseball (MLB) likes to tout its records as "world" but they, and their most always white-wonk scouts, and then the historians, guardians of the storied history of discrimination against African-Americans and its brownness divide for Latin players of baseball, long belittled the achievements of the Japanese.
The prevailing "wisdom" about the Japanese?
"They're too short to play in the American game."
"Their fields are shorter than ours, which is why they get more home runs."
The same baseball scouts and "experts" that found all kinds of rationalizations to keep guys like Josh Gibson and James "Cool Pappa" Bell from spending two minutes on a white major league field, and who were direly embarrassed not only when Jackie Robinson broke the color line, but pitcher Satchell Paige, at 42 years of age, had a 2.48 ERA and a 6-1 record for the Cleveland Indians in his first year in white baseball, professed their opinion that Japanese players were unfit to play well in MLB.
Other than Masanori Murakami's one year stint as a pitcher for the San Francisco Giants in 1964-1965, MLB did not admit another Japanese player until pitcher Hideo Nomo signed with the Los Angeles Dodgers in 1995.
It was not until the 21st century, April 2, 2001, when Ichiro Suzuki took the field for the Seattle Mariners, that a Japanese hitter/fielder was finally admitted to MLB. He demonstrated to the world that Japanese players are every inch as good as their American and Latin American contemporaries.
Ohtani bypassed the Yankees and Red Sox, and even the better-funded Dodgers. The media wags write this off to the idea that Ohtani went to someplace that would let him pitch and hit. While that may have a bit to do with it, marketing, not records, is king in Major League Baseball.
Orange County, home to the Angels, has a population is roughly 20% Asian, a number that spiked 41% over the last decade and continues rising. It will top San Francisco, and already laps Seattle. With the large Asian community of Los Angeles just a train or car ride to the stadium, It's a win for the team at the turnstiles, and for Ohtani at the bank.
Oh played at a time when Asian-Americans were not an economic force to be reckoned with in communities near most American baseball parks. There was no Internet to instantly connect him to his massive Japanese fan base. There was no way to sell merch instantly around the world, as MLB found happens when it brings Japanese players to American soil.
Yet his achievements were far greater than most, if not all, of the top Japanese stars to play on American MLB teams.
In his 21 year career in Japan, from 1959 to 1980, Oh set and crushed records handily in the Japan Central League, and in Japanese Baseball overall.
After working with Arakawa, his 1962 season exploded with 38 home runs, oustripping the next highest slugger at 25. The following year, respect settled in from pitchers around the league. They walked him 123 times. He hit 40 home runs, and earned his first .300+ season. He set the Japanese single-season record for home runs with 55 in 1964, in the shorter Japanese seasons of 140 games. Career, this twice-tapped Triple Crown batter went on for a total of thirteen consecutive home run titles. He had 15 titles in 16 years.
His MLB peers certainly thought Oh had the chops to be a major leaguer. MLB played a lot of exhibition games in Japan in the 1960s and 1970s. Pete Rose, usually not a fan of Japanese baseball players, is quoted in Oh's biography as thinking he would have hit .300 in MLB. Brooks Robinson went on the record that he was a top-drawer hitter.
The all-vaunted stats of "the game" support his peers' enthusiasm. In MLB exhibition games, between 1960 and 1979, Oh took 25 home runs off MLB pitchers in 338 at-bats against some of the most formidable National League and American League clubs of the day.
Like Josh Gibson, the discrimination that pervaded the "common wisdom" of most of baseball's history will seemingly forever dim Oh Sadaharu's place at the pinnacle of his sport.
Gibson quietly created the 800 club. Oh joined it in his 19th season. His 34th home run of that year was his 800th, career. 2,562 games under his belt, the 8,330th at-bat. No other player has got there. Not Ruth. Not Aaron. Not Bonds.
Great things are expected from Ohtani. He probably will deliver much of it. Still, his arrival reminds us that Major League Baseball's "World" sports theology needs a lot of revision. As the world globalizes, the sport has the opportunity to make up for generations of white hegemony that it has tried to pass off as righteous and proper.
When the Baseball Hall of Fame represents all real World Records, without slant or bias, then, perhaps, it will make amends for decades of disgrace, from its segregationist roots to its drug-addicted impairment of the records that it puts on a pedestal.
While controversy touched him, in an alleged protection of his single-season home run record as a manager, one thing that can safely be said about the amazing achievements of Oh Sadaharu is that his actual performance on the field will never be dogged by an asterisk.
That Ohtani, someone of Oh's stature, takes the field next season is a milestone. That Oh Sadaharu's milestones remain unheralded by the arbiters of American baseball as supreme above all others is unjust, and needs to be remedied.
REAL LIFE. REAL NEWS. REAL VOICES.
Help us tell more of the stories that matter from voices that too often remain unheard.
This post was published on the now-closed HuffPost Contributor platform. Contributors control their own work and posted freely to our site. If you need to flag this entry as abusive,
send us an email
.