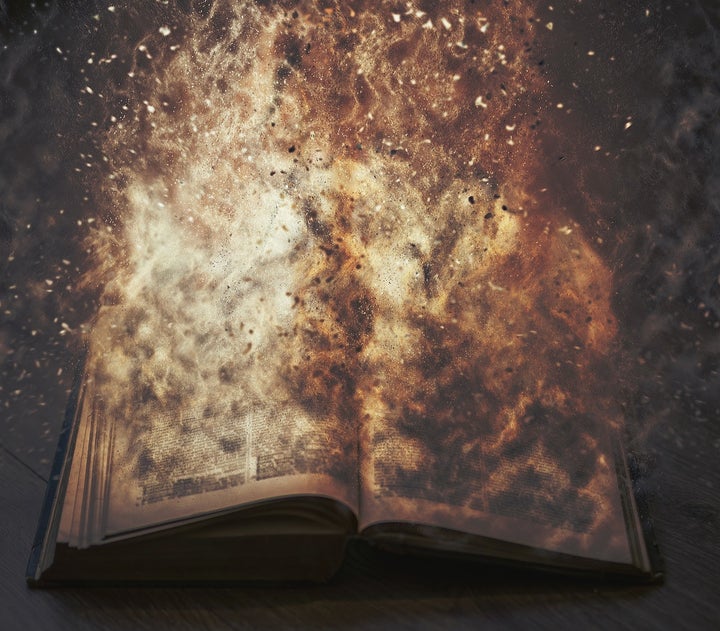 I am a woman of color, and an American. On the second day of Trump's America, I was scared to go out. It wasn't only news stories of threats and harassment against women, people of color, Muslims, Jews, other minorities, and the LBGTQ community; I had heard frightening personal stories from friends, family, and colleagues. We live in rural Minnesota, close to suburbs of the Twin Cities. I'm often the only non-white person in the grocery store or gas station, and over the years, I have gotten used to anti-Islamic and racist hostility.
I react poorly to fear. So I put on my brightest red lipstick and a T-shirt emblazoned with the words ASK ME ABOUT MY FEMINIST AGENDA. I put on bravado. Turns out, I needed it.
Due to a Traumatic Brain Injury, I am unable to drive, so my husband (who is white) chauffeurs me around. We had some time between appointments and went to a local coffee shop. Coffee shops have always been my sanctuary. We sat next to an older couple who were very excited about Trump being elected. I ignored them, and chatted with my husband. After a few minutes, his phone rang so he stepped outside to take the call. I picked up a book I had brought along and began reading. As soon as he was out the door, the couple next to me began speaking quite loudly about how "illegals" would soon be rounded up and deported. A guy a few tables over chimed in, saying that America needs a return to Biblical values. They crowed and cawed agreement. They said that Mexicans are not the only problem, but that people from India and the Middle East who speak good English and "seem educated" are a bigger problem because they corrupt American kids with their yoga and foreign religions (and, presumably, FEMINIST AGENDAS).
I actually laughed out loud, startling myself and everyone around me. I thought, OK, Saum. You are not leaving. You belong here. This is your America, too. You are not leaving this coffee shop and you are not leaving America and you are not acknowledging these people.
I took a breath, straightened my spine, and went back to Bukowski. The couple looked irritated and continued their hateful talk at a much lower volume, almost muttering to each other, glancing over at me now and then. They seemed nervous. After a minute or two, they gathered their things and stood to leave. I looked up and gave them a BIG SMILE that showed all my teeth. They scurried out like I had bitten them.
Thanks, Bukowski. I owe you one.
I pay my debt to great writers by working in the world of literature and poetry. I manage Social Media for Agape Editions, an imprint of Sundress Publications, on a voluntary basis: meaning, I am not paid for my work. This is one of the paths of service I have chosen. Both Agape Editions and Sundress Publications are inclusive presses which foster and amplify diverse and marginalized voices: my background in interfaith and intergroup dialogue facilitation and social justice work makes Agape the perfect fit for my concerns and passions. Like many other people, I have found solace in poetry and literature at times that I felt isolated and afraid of the world around me. I was not alone in that coffee shop: in a moment that I felt defeated, Bukowski shouted encouragement in his raw, true voice. I want more people to share and encounter diverse perspectives and the beauty of words and ideas.
For the month of November, all Sundress and Agape proceeds will benefit organizations which focus on human and civil rights, women, minorities, and so on. You can check our website for a full list of books and beneficiaries. We need poetry, but we also need these organizations.
I have not written much since the accident which caused my Traumatic Brain Injury. My experience in the coffee shop was galvanizing. This is my feminist agenda: I will write my heartbreak. I will read and be inspired by words. I will watch and be inspired by actions. I will support organizations that protect the most vulnerable among us. I will be kind and support other people who are afraid. I will carve out safe spaces for myself and others. I will act like I belong here. And I will smile, showing all my teeth.
There is a quote from Michael Moore on one of my kitchen cabinets: I refuse to live in a country like this, and I'm not leaving.
I'm not leaving, and I am not hiding. I am here, in my community, in my country, and I am going to be more visible than ever. You will see me here at Huffington Post, at the other places I write, on Facebook and Twitter. You will see me on rural roads, at gas stations, in coffee shops and restaurants. This is my America, too.
I will walk through the fire, armed with bravado and words.
Support HuffPost
The Stakes Have Never Been Higher
Related
Popular in the Community