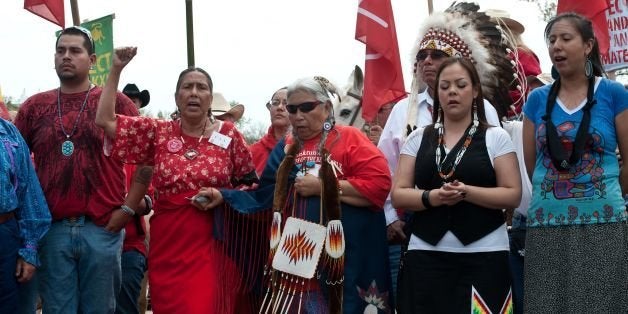 "Monday Night Football" is the one place racially divided America comes together, if TV ratings are any indication. As long as we're overcoming our differences, why can't we come together on abolishing the racist name of the Washington football team?
Like racial profiling disproportionately hurts African-Americans, especially males like the late Michael Brown, America's amnesia over its treatment of Native Americans has consequences that manifest in extreme ways, like high suicide rates. As long we're supporting causes for racial equality, let's include all races: Start with banning the R-word.
It's not like football fans and players don't understand what it means to stand in solidarity against racism. The Washington team made a great show in supporting Brown, killed Aug. 9 by Ferguson, Missouri, cop Darren Wilson. Joining protesters worldwide, players ran onto the field with their hands in the air, using the now-universal "Hands Up, Don't Shoot" stance.
African-American players Brandon Meriweather and DeAngelo Hall reportedly encouraged teammates to use the nationally televised NFL game to bring attention to this racial issue. To that I say, "thank you" to those players who used a major platform to show what is happening in America. Thank you for coming out in support of youth, in support of racial issues, in front of your fans and the world.
Now can Native Americans get some love?
"Having an offensive slur for the Washington team name teaches young people to celebrate the denigration of people for being who they are," according to Wade Henderson, CEO of The Leadership Conference on Civil and Human Rights.
Dahkota Brown, 15, says Native American youths have started to doubt themselves because they "do not look like the stereotypical Native mascot." Recognized by the Center for Native American Youth Champion for Change, Dahkota says his generation is worried about losing "their identity" and "their sense of pride."
In fact, Native Americans ages 15-34 have a suicide rate 2.5 times higher than the national average, according to the American Psychiatric Association. Compared with the national average, Native Americans more likely to live in poverty; have a lower life expectancy; a higher infant mortality rate; and suffer twice to 2.5 times the rate of violent victimization; and are more likely to die of tuberculosis, diabetes and alcohol-related causes, according to the APA.
For everyone who buys tickets to see the Washington team play, watches the team on TV or participates in community activities like team-sponsored fun runs that ignore the truth about what the team name represents, where is your support for Native American youth?
To be sure, African-Americans traditionally have demonstrated a commitment to civil rights for all. That is why it is tragic that African-American players for the Washington football team could be seen as participating in the oppression of the Native community. As such, this message is not an accusation as much as a call for awareness of shared goals and collaboration.
Slowly, but not fast enough, the world is taking stand against this abhorrent name. The Washington Post and New York Daily News won't mention the name in their newspapers. The National Congress of American Indians has circulated a letter cautioning broadcasters against using the "dictionary-defined racial slur." At least one sports anchor, James Brown of CBS, is heeding the call.
Let's be really clear about what's going on here: This team name is associated with the genocide of a people. Native American tradition and culture are being mocked -- inadvertently or not -- by players who clearly understand what's at stake when this form of hate is aimed at their community of interest. Why is it OK to show support for the youth of one race and not another?
Calling all HuffPost superfans!
Sign up for membership to become a founding member and help shape HuffPost's next chapter