When Harvey Weinstein releases the French movie "Intouchables" (Untouchable) this May, he is probably hoping to repeat the success he had with "The Artist." Not likely. While "The Artist" surprised moviegoers by revealing the charm and humor of silent film, "Intouchables," written and directed by Eric Toledano and Olivier Nakache, has so many predictable plot twists and stereotypes it could almost write itself.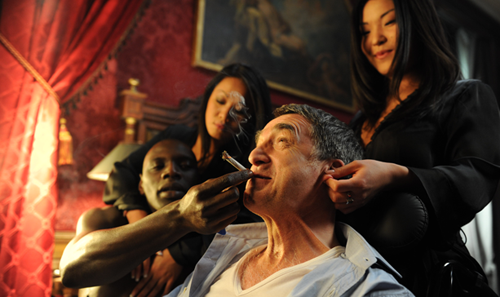 Omar Sy and François Cluzet in "The Intouchables"/ Courtesy RDV French Cinema 2011
It's the story of Driss, a Senegalese welfare recipient (played by Omar Sy) who becomes a caregiver to Philippe, a wealthy quadriplegic (François Cluzet). Driss steals from Philippe, assaults his neighbor, and subjects his secretary to a series of juvenile come-ons. And in case there was still any doubt that Driss is from the black underclass, a song called "The Ghetto" is played over images of his face. As expected, Driss helps Philippe to loosen up: he gives him pot and forces him to meet a woman despite his insecurities about his disability. While the film, which opened Lincoln Center's Rendez-Vous with French Cinema earlier this month, has all the hallmarks of a heartwarming buddy flick, I was surprised to see it described as a comedy. I guess it is supposed to be humorous to see a nurse wink at Driss while handing him rubber gloves so that he can void Philippe's bowels, but it's a cheap shot.
Even more surprising is the fact that the movie has raked in almost $240 million in France, making it the second-most profitable French film ever at the box office. Sy has been part of a successful comedy team on the cable channel Canal+ for some years now, so the French must just be in the habit of laughing at whatever he does. It's also possible that much of the French public, unaccustomed to seeing a black man in a leading role, has fallen for the movie's feel-good message and overlooked the two-dimensional stereotypes. Just recently, right-wing politician Jean-Marie Le Pen denounced "Intouchables" as an offensive metaphor showing France (the handicapped person) being saved by its immigrant youth (the caregiver), which led to the rather incongruous situation of Harvey Weinstein commenting on French politics and lashing out at Le Pen's "bigoted worldview." Since Le Pen hates the film, a lot of people will think that they should love it. But what Le Pen hates is the redemptive message of the movie's ending. Ninety-five percent of how Driss is depicted would fit right into a screed by Le Pen's National Front party.
If there's any saving grace here, it's the fine performances of the lead actors. Cluzet puts a tremendous amount of emotion into his mouth, his eyes, even his cheekbones, and vividly renders the fears and occasional pleasures of the paralyzed Philippe. Sy is equally adept at registering emotion with his face, though he is given a much less nuanced role, since his character is usually laughing and clowning around. His vulnerability comes out, though, in his painful relationship with his mother, who cleans buildings at night and has given up on the idea that Driss is ever going to make something of himself. When Sy received the César (the French equivalent of the Oscar) for best actor last month, it was the first time a black man had won the award. It's just too bad that it had to be for this role.
More of Today's News from BLOUIN ARTINFO:
Related
Popular in the Community