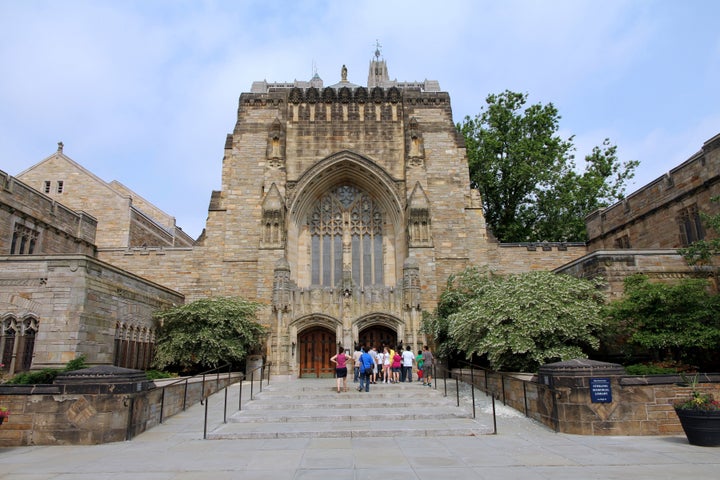 Yale University President Peter Salovey announced Tuesday a series of steps the Ivy League institution will take in an attempt to better support minority students.
Salovey further emphasized that responding to concerns from marginalized communities does not mean the university has to suppress free speech, and said that nobody's going to be punished for sharing their opinion.
It is clear that Yale needs to "reaffirm and reinforce our commitment to a campus where hatred and discrimination have no place," Salovey said in a campus-wide email. But, he added, the institution also needs to lay to rest "the claim that it conflicts with our commitment to free speech, which is unshakeable."
"The very purpose of our gathering together into a university community is to engage in teaching, learning, and research -- to study and think together, sometimes to argue with and challenge one another, even at the risk of discord, but always to take care to preserve our ability to learn from one another," Salovey wrote.
Yale become a hotbed of protest this month following allegations that a fraternity discriminated against women of color -- something the members vehemently deny. Tensions were further inflamed by an email from an administrator that questioned whether warning students not to wear offensive costumes was going too far, something some students felt was insensitive to minorities on campus.
Students demonstrated after the incidents, saying those examples speak to larger concerns about how marginalized students are treated at the New Haven, Connecticut, campus.
"Yale's long history, even in these past two weeks, has shown a steadfast devotion to full freedom of expression," Salovey continued. "No one has been silenced or punished for speaking their minds, nor will they be. This freedom, which is the bedrock of education, equips us with the fullness of mind to pursue our shared goal of creating a more inclusive community."
Salovey then laid out a series of steps the university will take. Here are some of them:
Yale will create a multidisciplinary university center supporting scholarship around race, ethnicity and other aspects of social identity. The university will add four additional faculty positions to contribute to existing research from Yale professors around "unrepresented" and "under-represented" communities.

Yale will launch a five-year series of conferences on issues of race, gender, inequality and inclusion.

Yale will double the budgets for the four campus cultural centers.

All mental health professionals on campus will receive multicultural training.

The university will announce new details on improving financial aid for low-income students, but in the meantime is making funds available for students in emergency situations.

All members of the administration, including Salovey, will receive training on "recognizing and combating racism and other forms of discrimination in the academy."

The university will cont

inue with its $50 million effort to expand diversity among faculty.
Popular in the Community