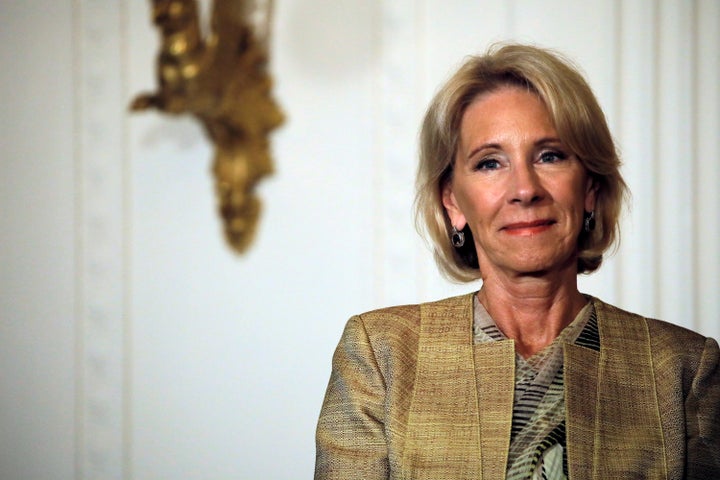 The Department of Education received more than 200 civil rights complaints last year involving students who say they were victims of racist school discipline, HuffPost has learned ― a noteworthy figure as U.S. Secretary of Education Betsy DeVos considers revising or rescinding Obama-era guidance meant to protect students from racist punishments as part of the Federal School Safety Commission.
Research shows that students of color are often disciplined more harshly than their white counterparts, sometimes for the same behavior. Black students only make up about 16 percent of all public school students, but account for about 40 percent of those who receive school suspensions, according to a report from the Government Accountability Office. They are significantly more likely than white students to be expelled, arrested at school or referred to outside law enforcement personnel.
The Education Department's Office for Civil Rights investigates complaints from students and families who have experienced such discrimination under Title VI, the federal law that protects against discrimination based on race, color or national origin. In fiscal year 2017, the Department of Education received 216 complaints on this issue, according to data from the department provided to HuffPost. This is a small decline ― around 20 percent ― from 2016, when the department received 265 complaints, but higher than 2015, when the department received 208 complaints.
Several education experts told HuffPost that the dip in discipline complaints is likely a result of a natural ebb and flow, devoid of meaningful implications. Others speculated that the Trump administration has had a silencing effect on people who might otherwise have filed a complaint.
"I think the context is the major reason," said Dan Losen, director of the Center for Civil Rights Remedies at UCLA. "You might see that degree of fluctuation, but given the context I would think it probably does have to do with the chilling effect."
Monique Dixon, deputy director of policy and senior counsel at the NAACP Legal Defense and Educational Fund, said she was not surprised by "the steady flow of complaints."
"The Department's own data show that racial disparities in school discipline persist, and students, parents and education advocates have relied on OCR to fulfill its legal obligation to investigate complaints of discrimination," Dixon said.
On the other hand, in 2017, the Education Department saw an increase in complaints regarding racial harassment in schools, as first reported by HuffPost.
Civil rights advocates who support the Obama-era guidance fear that if it is rescinded, they will lose a key tool in helping fight racist school punishments. The guidance, which was released in 2014, calls on school leaders to be more cognizant of racial disparities in discipline, and warns that school districts could be running afoul of the law if certain groups of students are intentionally or unintentionally discriminated against. It also calls on schools to move away from exclusionary discipline practices like suspensions and expulsions in favor of emphasizing restorative practices and conflict resolution.
DeVos is specifically tasked with considering the future of such guidance as part of the Federal School Safety Commission, which was formed in the wake of the school shooting in Parkland, Florida, that left 17 people dead. However, DeVos has been meeting with proponents and critics of the Obama-era guidance for months, since before the commission was formed. Critics of the guidance say that student misbehavior is now more likely to go unaddressed, making classrooms less safe for conscientious students. Districts were not given the tools to implement restorative practices as an alternative to suspensions, critics say.
"Whatever intentions were set forth in the guidance, the response to the guidance has been kind of knee-jerk in nature that has ended up hurting all of the children," Nicole Landers, a parent from Baltimore who previously met with DeVos to express her opposition to the guidance, told HuffPost in April. "It takes away the rights from the victimized students, as the offending students are left in the classroom to avoid suspensions."
Are you a student who has filed a civil rights complaint? I would like to hear from you. E-mail: rebecca.klein@huffpost.com.
Popular in the Community