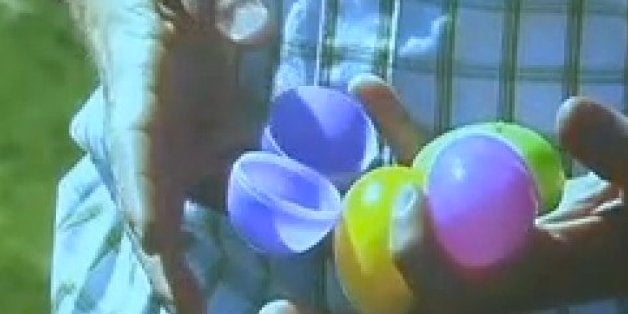 Jackie Smith said she and her husband, Brandon, were doing a traditional egg hunt in their front yard when they found an egg slightly different from the ones they hid for their 3-year-old son.
"My husband noticed the last Easter egg and i knew it wasn't one that put out. We opened it and it's got the white supremacist stuff in it," she told WRIC-TV.
There wasn't any candy in the egg, just a chilling message that read: "Diversity = white genocide" and "Mass immigration and forced assimilation of non-whites into our lands is genocide."
Neighbor Jim McCarty was also shocked by the white supremacist message found in the colored Easter eggs.
"I was like, 'Oh, one of the neighbors gave me an egg.' And I opened it up, and it had this horrible message in it," he told NBC12.com "I was stunned by it, on Easter Sunday. I wonder how many children picked these up and said, 'Look what I got. Oh, I got hatred on Easter Sunday. What a great gift.'"
The notes pointed to white power websites WhiteManMarch.com and WhiteGenocideProject.com.
Police have canvassed the area and are working with the Computer Crimes Unit to gather more information, and determine if charges can be placed.
Anyone with information is asked to call (804) 780-1000.
Popular in the Community