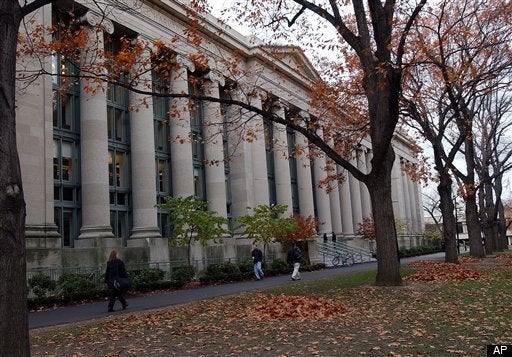 Harvard Law Dean Martha Minow has spoken out against a racially charged email written by a third-year student at the school. The widely circulated letter stated it was possible that African-Americans are "genetically predisposed to be less intelligent," among other assertions.

Not surprisingly for a law professor, Dean Minow avails herself of the teaching moment that the Harvard Black Law Students Association apparently passed on. She writes:

"This sad and unfortunate incident prompts both reflection and reassertion of important community principles and ideals. We seek to encourage freedom of expression, but freedom of speech should be accompanied by responsibility. This is a community dedicated to intellectual pursuit and social justice. The circulation of one student's comment does not reflect the views of the school or the overwhelming majority of the members of this community."
The emailer's identity is being protected by Above the Law, which first reported the message. But many sources are naming Harvard Law Review member Stephanie Grace as its culprit.
Race has apparently long been a subject of Grace's interest. The 2007 Princeton graduate majored in sociology and penned an 81-page thesis titled "Dorm Room Diversity: Examining the Effects of Racially Heterogeneous College Roommate Pairings." She studied under Thomas Espenshade, the author of "No Longer Separate, Not Yet Equal: Race and Class in Elite College Admission and Campus Life."
According to Gawker, Grace has been "scrubbing" herself from the internet. The site attempted to get in touch with her but was unable to get comment:
She [Grace] ignored our requests for comment, giggling, "That's not me," when she hung up on us on the phone. (It was her. The outgoing voice message said so.)

Grace is scheduled to clerk with Ninth Circuit Judge Alex Kozinski this summer, best known for his dealings with cow porn.
The full text of Minow's email can be seen here.
UPDATE: Above the law has an excerpt of the apology Grace sent to the Black Law Student Association:
I am deeply sorry for the pain caused by my email. I never intended to cause any harm, and I am heartbroken and devastated by the harm that has ensued. I would give anything to take it back.

I emphatically do not believe that African Americans are genetically inferior in any way. I understand why my words expressing even a doubt in that regard were and are offensive.

I would be grateful to have an opportunity to share my thoughts and to apologize to you in person.

Even beforehand, I want to extend an apology to you and to anyone else who has been hurt by my actions.

Support HuffPost
The Stakes Have Never Been Higher
Related
Popular in the Community