The state NAACP has called for the resignation of two Isle of Wight County officials who are under fire for circulating racially charged emails about first lady Michelle Obama to other county officials.
"This should be a wake-up call to citizens throughout the commonwealth of Virginia that may have been in denial about the sentiments of some elected officials," said King Salim Khalfani, the group's executive director.
"Citizens must participate with those that are elected and appointed to represent us. We must hold them all accountable. No participation, no right to complain," Khalfani said in a statement released Monday.
Board of Supervisors member Byron Bailey and county School Board member Herbert DeGroft forwarded the controversial emails but didn't create them.
One email claimed National Geographic offered the first lady $50 to pose nude, while the other displayed a photograph of topless women in tribal garb, with a caption saying it was the first lady's "high school reunion," The Associated Press reported.
Bailey and DeGroft, who are white, have apologized for the emails. But Bailey said he won't resign.
Board of Supervisors Chairman JoAnn W. Hall said Monday that Bailey sent the racially tinged emails in November to other board members and several county staffers and that there may have been more such emails.
"I immediately asked him to resign," Hall said, adding that Bailey told her he was sorry but refused to step down.
In a public meeting two weeks ago, board members voted 3-2 against recommending that Bailey resign, with Bailey casting the decisive vote, Hall said.
"This is very negative publicity for our county," Hall said. "If I was looking to locate to Isle of Wight with my business and I read about this in the papers, I would think twice about coming here," she said.
Bailey created another controversy last month, according to media reports.
During a budget meeting, Norfolk television station WTKR-TV reported, Bailey said, "I guess you know, if we'd be like Washington, can we print some money in Isle of Wight County? Save the Confederate money, the South will rise again."
DeGroft, who serves as the School Board's vice chairman, has said previously he was considering resignation. Now calls for him to step down have increased.
Last week, the School Board voted 4-1 to call for his resignation. DeGroft, a retired U.S. Marine, was the only member who voted against. He was elected in November 2005 after serving as an appointed member from 1995 to 1999. His term expires in December.
Bailey and DeGroft did not respond to emails and calls Monday.
"Racism is alive and well in Isle of Wight County," said Dottie Harris, president of the Isle of Wight County branch of the NAACP. "To know that our public officials would take this garbage and send it out, claiming it was a joke, is unacceptable. It makes me sick."
mschmidt@timesdispatch.com
(c)2013 Richmond Times-Dispatch (Richmond, Va.)
Distributed by MCT Information Services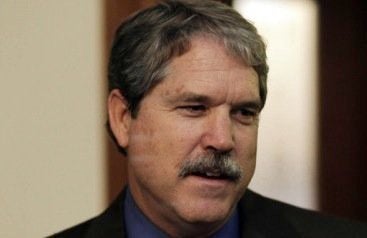 Racist Remarks Made By Politicians
Popular in the Community