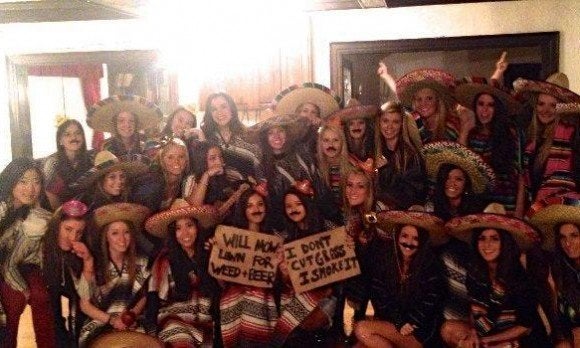 A Penn State sorority is facing an investigation after posting an offensive picture to social media, Onward State reports.
The girl's identities were discovered because they were tagged on Facebook, Onward State reports.
The chapter's head Jessica Riccardi issued an apology, reading in part:
Our chapter of Chi Omega sincerely apologizes for portraying inappropriate and untrue stereotypes. The picture in question does not support any of Chi Omega's values or reflect what the organization aspires to be.
It's ironic that these college-educated youths choose to stereotype Mexicans as overly indulgent marijuana users. Around 21.5 percent of 18- to 25-year-olds in the United States use the drug, according to a study released last year by the U.S. Substance Abuse and Mental Health Services Administration. By contrast, only 1 percent of Mexican adults smoked marijuana in 2008, according the most recent estimate from the U.N. Office on Drugs and Crime.
Popular in the Community