After going viral on the Internet and triggering widespread outrage, signs -- described as "racist" and anti-Latino -- that were put up at a number of playgrounds in a Delaware city have reportedly been taken down.
The furore was first sparked on Saturday when Dan Gaffney, a conservative talk show radio host, posted a photograph of one of the offensive signs on his Facebook wall: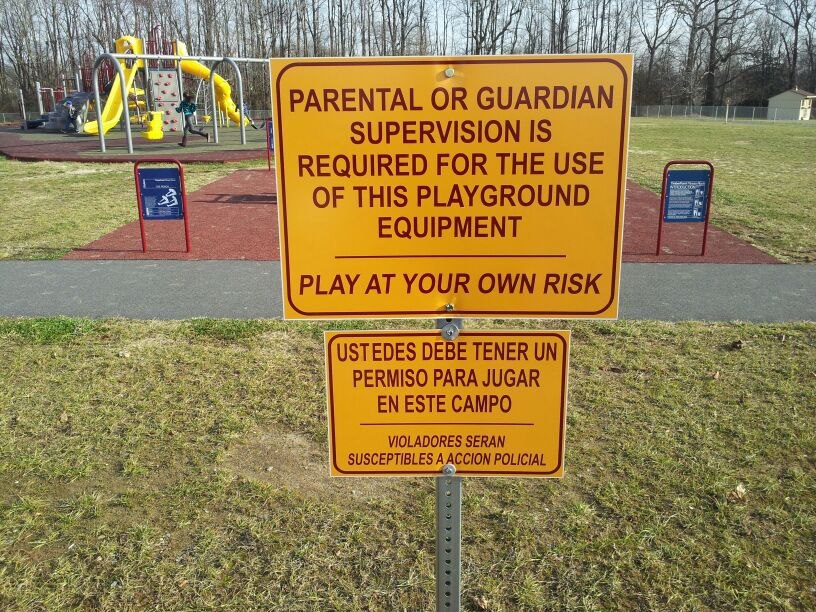 As Gaffney pointed out in a comment that accompanied the picture, the message written in Spanish on the sign is vastly different from what is written in English.
"You must have a permit to play in this field. Violators will be subject to police action," the Spanish portion of the sign reads, according to a Raw Story translation.
"I think Milford Schools are trying to keep 'certain ethnic' people away. Shame," wrote Gaffney.
Soon after the Facebook post, a blogger for the Daily Kos picked up the story and appealed to readers to make it "go viral."
"It is an obvious intimidation tactic and a not so subtle 'Whites Only' sign," wrote blogger "Delaware Dem."
"So if you are a white English speaking "American," you can play here at your own risk so long as you have a parent or guardian watching. If you are brown, if you dare play here without a permit we will arrest your immigrant ass. That is the f*cking height of racism, and I will see to it that who ever is responsible for this sign will have their public careers ended immediately," the blogger continued.
Before long, a swell of support among netizens and local residents blossomed. By Sunday, Phyllis Kohel, the Milford public schools superintendent, decided to take matters into her own hands.
"I didn't want to wait," Kohel told Delaware's the News Journal.
"I certainly assume there was not an intent to discriminate," she added. "We have a great working relationship with all of the communities at the school, and there is absolutely an understanding that no ethnic group will be discriminated upon."
The superintendent and her husband reportedly drove to at least two Milford School District playgrounds and removed the signs themselves. The signs had allegedly been up for about a year.
Kohel speculated that the the signs were likely put up due to an error and vowed that steps would be taken to avoid such mishaps in future.
Popular in the Community