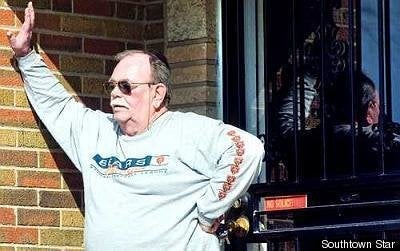 A racist display that sparked outrage in the Southwest Side's Beverly neighborhood has prompted anger from Mayor Daley and city officials are now urging a state and federal investigation into the matter.
Last week, FOX Chicago reported that community members were outraged when they saw a sign on the garage of a home in the 9900 block of South Fairfield Avenue that read, "Say no to the ghetto. White Power. Mt. Greenwood, the next Englewood." Next to the sign, a white noose was hung along with a sticker that said "White Pride Worldwide."
The homeowner, 62-year-old Michael Corrigan, allegedly hung the sign facing the back yard of a neighboring home that's for sale, which the Southtown Star reports was possibly to prevent black families from moving in. He agreed to cover the sign when pressured by the city, but maintains that it was "yard art." Now the Chicago Human Rights Commission wants the U.S. Justice Department to investigate, and possibly charge Corrigan with crimes of intimidation if investigators determine the sign violated the Fair Housing Act.
"We recognize that people have First Amendment rights to express their opinions even if they are repugnant to others," Chicago Human Relations Commission chairman Dana Starks told the Southtown Star, adding that the display "may have crossed the line into violations of federal and state fair housing laws that prohibit interference with the purchase and sale of housing based on race."
Mayor Daley expressed anger about the sign--and agrees with the commission's investigation.
"One incident is one too many, you don't accept it," Daley told FOX Chicago. "No one wants any types of racist comments on any part of the city, county, state or the nation, and so like anything else they don't want it to go any further than that."
The Beverly and Mt. Greenwood neighborhoods are predominantly white, and Morgan Park District Cmdr. Mike Kuemmeth told WBBM that there were a "a couple of racially tinged incidents" in the area last year that were dealt with by the Chicago Commission on Human Relations.
WBBM interviewed Corrigan's neighbor who said she "absolutely does not agree with" what he put on his home.
Corrigan told the Southtown Star he hadn't heard about a possible federal investigation.
"I'm maintaining it was yard art," he told the paper. "Other than that, I really have no comment."
The incident would be one of the first times the commission has reached out to federal authorities to investigate a case.
Watch FOX Chicago's coverage of the incident here:
REAL LIFE. REAL NEWS. REAL VOICES.
Help us tell more of the stories that matter from voices that too often remain unheard.