Wesley College students are speaking out against the school's independently-run student newspaper, The Whetstone, after it published two racially offensive cartoons Friday.
The first cartoon features a caricature of a black woman saying, "Would you look at the time... I'm late for my abortion" while wearing a shirt that reads "Black Lives Matter." The second drawing depicts a gardening hoe asking a black man "Who is you calling a hoe?" The man in the cartoon responds "I'm sorry ma'am, you just look like a hoe."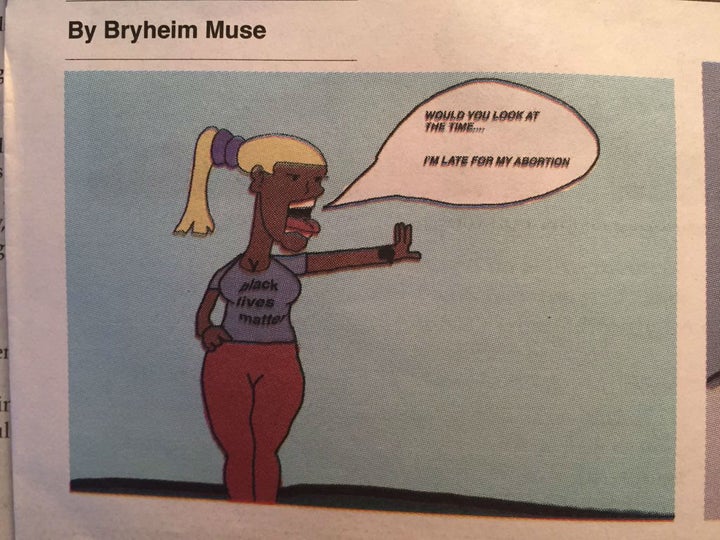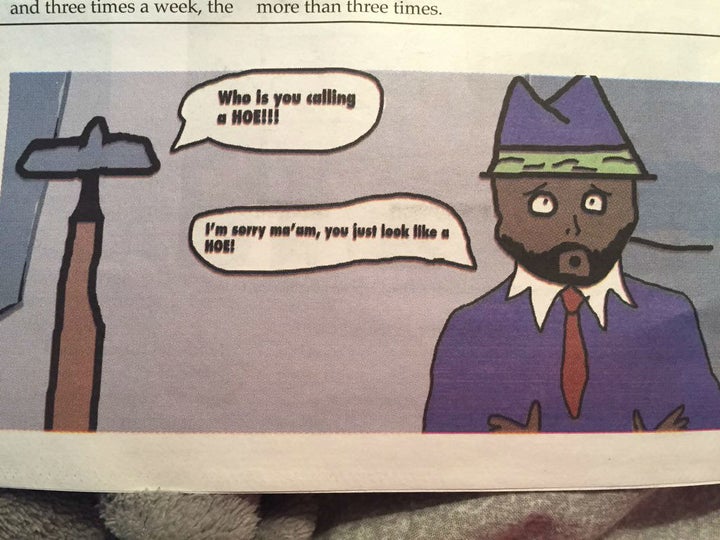 While some students took the cartoons -- drawn by Bryheim Muse, a black man -- as a joke, others found it racist and sexist. Shaylynn Bivens, vice president of the university's black student union, sent a statement to The Huffington Post about the problematic nature of the drawings, especially when a racial divide already exists on campus.
"We have worked hard, especially black women, to defy and break down all of the stereotypes that were thrown at us," she said in the statement. "It is humiliating to know that we were dehumanized by a fellow African-American male. He essentially gave the white students a reason to disrespect and think less of us. That comic promotes hate speech."
Student William Johnson told WPOC that the offensive images have only hindered the progress other black students on the Dover, Delaware, campus have worked towards.
"It kind of degrades us as a people, saying that we don't understand everything that we stand behind, so I do feel that he shouldn't have put that up," Johnson said.
In response to the backlash, the administration and newspaper hosted a forum on Monday. Muse and the newspaper's editor-in-chief Kristen Griffith, who is also black, addressed the issue surrounding the cartoon.
Muse told HuffPost via email that his cartoon was meant to "show the hypocrisy of our people," by juxtaposing the Black Lives Matter movement with the number of black women who get abortions.
"I personally don't know any blacks that were killed by police, but I can name at least five that I do personally know that killed other blacks or were killed by other blacks," Muse said. "The solution to fixing our problems is not waiting for another black man or women to die so we can go protest. The solution is to teach them God's commandments to prevent future problems from happening. If our people kept God's laws, that would solve the bulk of problems we face in our communities."
Muse also said that most of the backlash he received outside of the forum was on social media, not other students. He added that "there is no racial divide" on campus and that the controversy is "healthy for our people."
Student Tiffany Griffin said she wasn't satisfied with the forum. She told HuffPost that several students felt the administration wasn't taking the matter seriously. So she, along with Bivens and Damyra Price, created a list of demands which they said they plan on presenting to University President Robert Clark in a meeting on Thursday. Griffin tweeted the letter they submitted to Clark on Tuesday.
Shortly after Griffin tweeted the letter, Clark sent a university-wide message on Tuesday saying that the cartoon is "in no way reflective of the beliefs or values" of Wesley College. He extended an apology and said he's open to engaging with the leaders of different student groups about how to bridge the racial divide on campus.
"The cartoon being published was the catalyst for a lot of bigger issues at Wesley," Griffin told HuffPost. "[S]ome small and long term goals need to be put into place to relieve this unrest that has actually been brewing for years now."
Griffin said the school still has plenty of issues regarding race to address, but she hopes their meeting with Clark will lead to solutions and motivate administrators to become more empathetic.
This story has been updated to include quotes and information from the comic's creator, Bryheim Muse.
Before You Go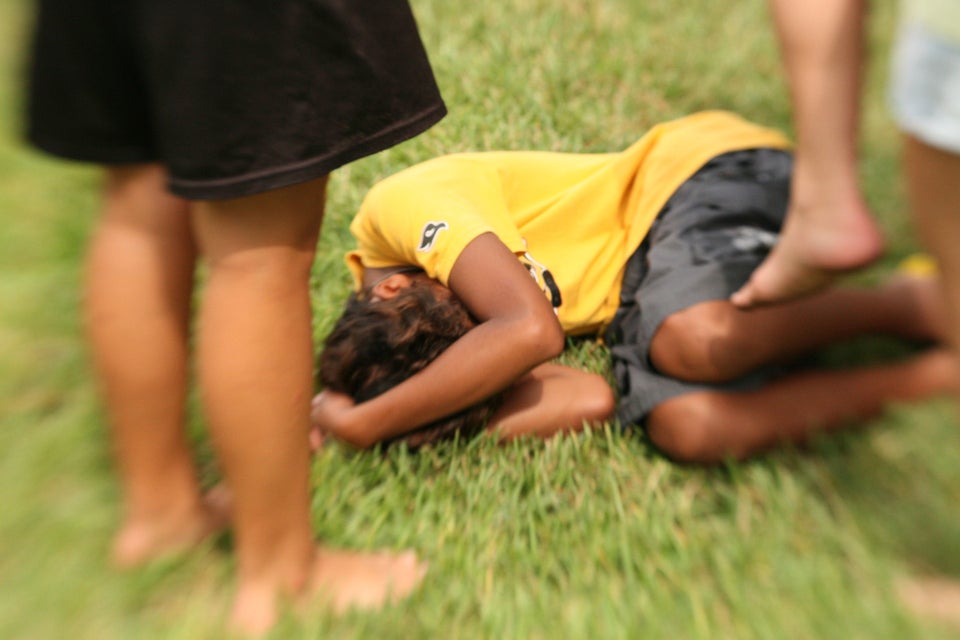 Fighting Racism And Discrimination Everyday
Popular in the Community