Now that Fashion Week is officially underway in New York City, don't be surprised with the overdose of eye candy. The glitz, the glamour, the clamor for headlines and hot shots -- it's the annaul relentless ride into the wild and flashy multibillion-dollar fashion industry. And the world loves it.
On the flipside, the opportunity can unleash a trunk load of humor. If you look in the right places.
Consider Rack & Ruin. The new web series was exclusively launched by the fine folks over at the popular online portal Women You Should Know. Created and written by, and starring the incomparable Angela Dee, it is, quite simply, the one web series you should be watching -- no fashionista orgasms required, btw. But if you enjoy the fashion world, this is the show that will accessorize your creative fashion endeavors this week -- and beyond.
As for Dee... she could be the comedic find of the season.
Why? For starters, she's a rare talent, an actress who can slide into comedic realms with ease and grace but one that also reveals the haunting insecurities that plague us all. Beyond that, Dee's show is smart, inventive and refreshing. Few web series offer a protagonist that you can immediately root for but Dee does just that here in an outing that not only pokes fun at the fashion industry but also effective strips it naked to expose the insecure underbelly from which it tends to operate.
The lowdown: Saffron (Dee) is a people-pleasing Brit who lands a position at Jolie Laide, a posh yet absurdly toxic, high-end clothing boutique in New York City. Eccentric characters comprise the staff at Jolie Laide, including an off-the-wall store manager, Betsy, played by the always alluring Markie Post. Needless to say, Saffron is destined for humiliation and pain.
Dee, a delightful British-born actress who studied design and illustration in fine art at the London College of Fashion, and later went on to work in the surreal retail realms of London's Mayfair area as well as SoHo in New York, offers a delicious if not savage five-episode romp in Rack & Ruin, all of which have been directed under the keen eye of Zetna Fuentes (Switched at Birth, Pretty Little Liars).
I caught up with Dee as Fashion Week officially unravels in all of its glory to learn more about the web series, the mix of comedy and fashion, and the good news that the show may be destined for cable. Dive in:
Greg Archer: Fun, fun, fun web series. And good to know about what with Fashion Week and all. So, there are many good things about the fashion industry--obviously, the clothes--but are what some things you find most amusing by it, overall?
Angela Dee: That it's a lifestyle of glamour and perfection. Money. High ideals. But it's built on top of this rotting core of insecurity. Those two ingredients equal comedy.
Greg Archer: Tell us about the genesis of the web series.
Angela Dee: I used to work in fashion. Even out of high school I was torn with being an actor or being in fashion. I got a scholarship of sorts straight out of school for fashion and I thought, that's it. It was chosen for me. I stepped into that world and I was instantly traumatized and entertained by the whole experience. I started working at a boutique in London. I came up with the idea back then of writing a show--even at 18 years old--like how absurd everything was. But it wasn't until I started working in a boutique to subsidize my acting in New York (I've lived in NYC 18 years) that more ideas came. In my very first Interview at a fashion boutique here, I was asked a question and I thought, 'I have to write this script.' It was a horrific interview process. It was so weird.
Angela Dee: Walking into the store that first moment, I wondered what it would be like to be in this industry. The manager of the store, at the very end of the interview, said, 'Ok, great, so we have one last question for you. Um, what is your sun sign?' And I started laughing. 'Oh that's so funny.' But they weren't laughing--the manager and assistant manager. So I said, 'I am a Pisces.' And they started to confer with each other--about Pisces'. Out loud. And I thought, 'What is happening in this interview?' From that moment, I couldn't help it. I had to do something with it.
Greg Archer: You say the web series was officially released in late June. What was the process of bringing it to life?
Angela Dee: I wrote it in two ways. I am very familiar with the way television is transforming currently; certainly people would say it's in a golden age right now. But it's also making a huge transformation as far as the medium is concerned. The very first script I wrote was three- to four-minutes long--the interview scenes--and I knew that it could stand on it's own. Thinking on it more, I wondered how this character Saffron showed up here and I had about 12 episodes that I read with some comedy and actor friends. Some of them said that the project wanted to be something bigger.
Greg Archer: A good sign.
Angela Dee: I was daunted by that, so I decided that I would write a TV pilot but knowing how precarious the industry was and continues to be, I didn't want to box myself out. I wanted to maintain some kind of control. So I wrote five web episodes embedded in the TV pilot, so that if I wanted to, I could pull them out and have them stand along as five individual TV episodes and not live or die on landing a TV deal. I submitted it to a lot places for feedback and Women You Should Know---an amazing group of women online focused on featuring women who are in the shadows but don't usually feature celebrities ever--connected with me. So that's why it was so unique. Through a friend of mine, they saw the first episode of the series and asked if I would launch it exclusively with them and it was the first time they had done anything like that before.
Greg Archer: Good timing.
Angela Dee: It was totally kismet, I guess. I am not a fatalist or anything like that but it was all very weird; a kind of amazing conglomeration of stardust that it all came together. So, it became a web series, which is what I had wanted originally.
Greg Archer: The response has been positive overall and you say there's buzz about a couple of cable channels being interested in it.
Angela Dee: Yes. We shall see.
Greg Archer: For now, will there be more--on the web?
Angela Dee: I really hope so. Five web episodes took a lot of work, a lot of money and a lot of time. So many favors involved. But to really rally the troops on my own (for more)? Markie Post did it for free--flew herself over here from L.A. We didn't spend a penny on Markie Post, which is absolutely obscene and things like that only hit once; it's magical.
Greg Archer: Can you talk more about the premise, too; that underlying truth of insecurities we see in the series.
Angela Dee: I am an obsessive people watcher. I am constantly fascinated with people's motivation and behavior and the persona they show the world versus how they feel inside. It's kind of like fashion, in a sense; this unique façade we all show but then also this deep insecure self we carry that we hope nobody else discovers. I am fascinated with it in myself and I am fascinated with it in other people--how people interact with each other and what they really think of themselves. I wanted to know, and still do, what makes people tick.
Greg Archer: Well, all eyes will be on Fashion Week this week. Thoughts?
Angela Dee: I love Fashion Week. Especially New York Fashion Week. If you're walking around, especially Lincoln Center, everybody tries to express themselves a little more creatively with their wardrobe. I kind of love it. It's an absurd circus at the same time. It's the Oscars of fashion in a way without the award.
Greg Archer: I would imagine it gives you a little more material too.
Greg Archer: Well, you wrote this, so I have to ask: What do you love most about writing?
Angela Dee: Well, writing is a whole other bowl of wax. I find some parts of writing horrible. I love it when it's all good and done, and I feel like I am finished. But it's very rare that I feel that way. It's very isolating and frustrating. But the things that I love about it is what I love about acting--digging into the psychology of the people I am writing about and finding a way to express the complete opposite of that through their persona whilst maintaining a sense of what they are really thinking. I mean really thinking.
Greg Archer: Comedy at its best.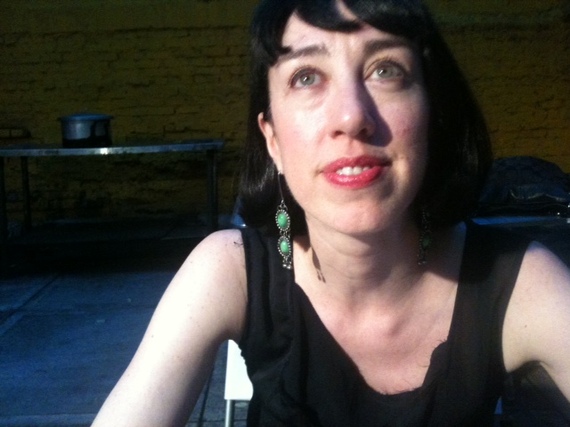 Angela Dee (Courtesy angeladee.com)
Popular in the Community