You've spent four years toiling at Radford University. You've doubled and triple-checked your papers to make sure you haven't made any small mistakes. You've utilized spellcheck in Microsoft Word to ensure your work is free of spelling errors.
Unfortunately, your university did not do the same.
Diplomas recently issued to Radford University graduates misspelled the word "Virginia," according to ABC News.
The faulty diplomas were brought to light by a Reddit user Tuesday, DCist noted, who posted a picture of a diploma with the misspelled word.
On the diploma, the word "Virginia" is missing the final "i," turning the name of the commonwealth, much to the joy of male teenagers everywhere, into "Virgina."
A total of 1,481 undergraduate and graduate diplomas were misspelled, dating back to diplomas issued in the fall of 2012 up to the recent spring 2013 graduates.
Joe Carpenter, a spokesman for the university, said the error was caused by an employee who had to retype the narrative for the diplomas after the software used to create the diplomas was upgraded in 2012, according to the Associated Press.
Carpenter also said that new diplomas with the correct spelling of the commonwealth wherein the university is situated will be mailed to graduates as soon as possible.
Even still, some students believe that the error, while hilarious, doesn't look good for the university located southwest of Blacksburg, Va.
"I'm just glad that they're going to reprint them, because it does in a way look bad on the university and I would never hope that they get a reputation from this because they are fixing their mistake," Meghan McNeice, who graduated from Radford in May, told ABC News.
And the Twitter reactions ranged from funny to disappointed to downright strange:
And the answer to the strange:
Check out a picture of the diploma posted to Reddit: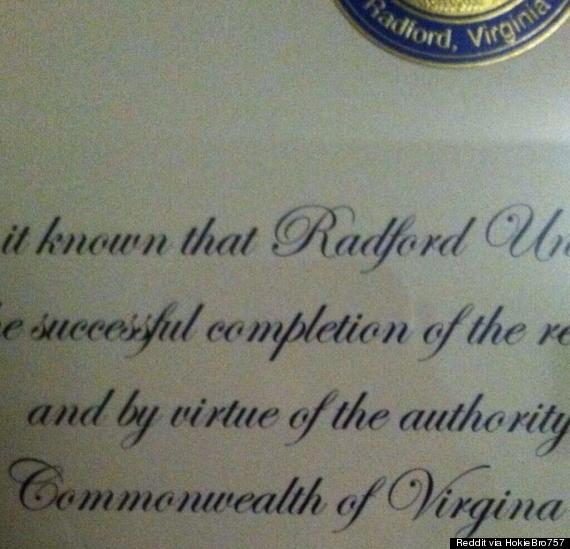 Calling all HuffPost superfans!
Sign up for membership to become a founding member and help shape HuffPost's next chapter
BEFORE YOU GO