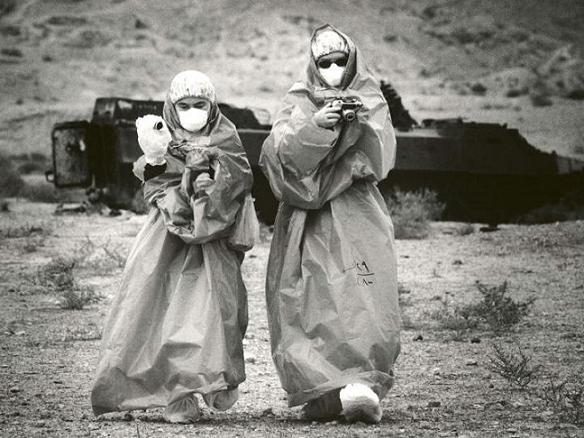 IMAGE above: Japanese campaigners investigate a DU contaminated tank graveyard in Iraq, 2002. Credit: Naomi Toyoda
Memorial Day makes us remember that no matter how many wars, generations and decades go by, we as a human race never seem to learn. The exploitation of our military is a cruel punishment our enemies don't even deserve. What "we" do to our own with radioactive weapons, and the catastrophe of environmental carcinogens left behind -- makes waterboarding look like shooting a beer keg at a water park.
Most heart wrenching is the disservice by the DoD for those brave and healthy men and women who join the ranks of service to protect us. To be careless with their courageous souls is incomprehensible, but that's exactly what the U. S. does generation after generation. As they string the Veteran's together with empty medals from Korea, to Vietnam, to the Gulf War and now Iraq and Afghanistan. Their Purple Hearts, missing limbs, PTSD and aggressive rare cancers are less about the casualties of war, and more about the severity of illnesses that emerge with each generation of deployed military.
The DoD drapes their denial with the American flag -- while hiding beneath their crooked smile -- vats of mustard gas, Agent Orange and depleted Uranium masked in red, white and blue lies. It is unpatriotic to question their motives, but it is also inhumane to willingly contaminate and kill your own. As this new chapter of Iraq war crimes lends itself to the horrors of science fiction....it is another black mark upon our future.
After seven years, the VA Director of Compensation and Pension Service, Bradley G. Mayes sent a training letter on April 26, 2010 to all VA Regional Offices, "Environmental Hazards in Iraq, Afghanistan, and Other Military Installations." Informing regional employees on specific environmental hazard incidents that present health risks to service members and Veterans. And provide guidance on handling claims for disabilities potentially resulting from exposure to environmental hazards while on active duty. As well as "fact sheets" for VA examiners when conducting Compensation and Pension (C&P) examinations associated with such exposure.
Mayes outlined; Service members can be exposed to environmental hazards in the course of their military duties, which may result in adverse health effects. Numerous environmental hazards in Iraq, Afghanistan, and other military installations that could potentially present health risks to service members and Veterans have been identified. The hazards discussed in this training letter are as follows: (1) Large burn pits throughout Iraq, Afghanistan, and Djibouti on the Horn of Africa; (2) "particulate matter" in Iraq and Afghanistan; (3) a large sulfur fire at Mishraq State Sulfur Mine near Mosul, Iraq; (4) hexavalent chromium exposure at the Qarmat Ali Water Treatment Plant in Basrah, Iraq; (5) contaminated drinking water at Camp LeJeune, North Carolina; and (6) pollutants from a waste incinerator near the Naval Air Facility (NAF) at Atsugi, Japan. And stressed, "It is imperative that regional office personnel are aware of these environmental health hazards and are well-trained to handle disability claims from Veterans based on exposure to them."
In May 2006 the VA sent the letter below to, 25-year-old Army Specialist Travis Bromfield admitting to his exposure while deployed in Iraq. By September 2005 seven months into his year tour, he was diagnosed with a terminal, stage IV Poorly Differentiated Neuroendocrine Carcinoma of unknown primary, of the liver, bones, lungs, kidneys, brain and spine. Spc. Bromfield was given a two-month life expectancy, this particular cancer only occurs in patients age 55 or older. He died February 20, 2007. For him and his family, the information about the hazardous environment in Iraq was withheld, and he was unable to protect himself while deployed. But how many more have to die needlessly while the U. S. war machine burns through the Middle East?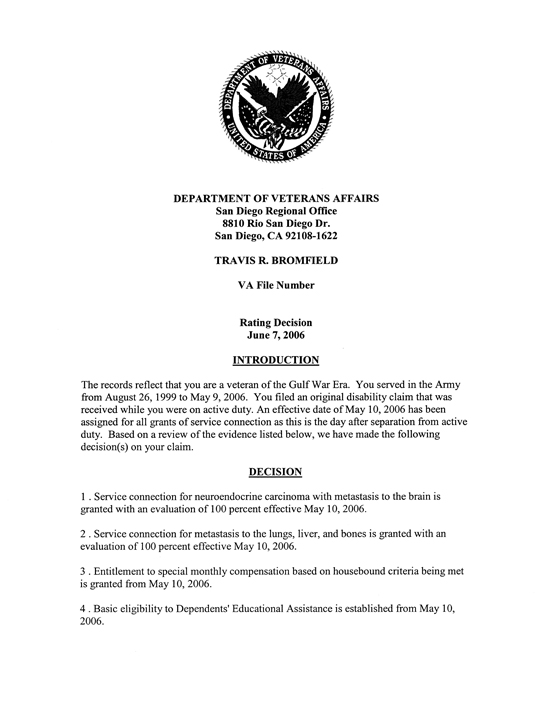 Two international workshops/conferences on Depleted Uranium were held earlier this month at the United Nations by the International Coalition to Ban Uranium Weapons. ICBUW's focus has been to inform and advise policy makers and governments on the threat to human health and the environment of uranium weapons. ICBUW was formed in 2003 in Berlaar, Belgium and is based in Manchester UK.
They campaign for a ban on the use of uranium in all conventional weapons and weapon systems and for monitoring, health care, compensation and environmental remediation for communities affected by their use.
ICBUW represents more than 120 NGOs worldwide and seeks to do for uranium weapons what the International Coalition to Ban Landmines and Cluster Munition Coalition did for those types of weapons, in essence to develop a uranium weapons treaty that would prohibit the use of uranium in all conventional, i.e. non-nuclear, weapons. research projects.
An ICBUW spokesperson said: "We warmly welcomed the interest in uranium weapons shown by activists from the US and elsewhere in the world during the recent civil society NPT UN conference. Global opinion is rapidly turning against uranium weapons - something clearly seen by the UN resolutions on the issue, where 141 states accepted that uranium weapons have the potential to harm human and environmental health. In 2008, UN member states called for more research on the issue yet the US's refusal to release the firing coordinates from 1991 and 2003 is hampering this work and leading to unnecessary civilian exposures. ICBUW calls on the US government to urgently release this data to the UN and NGOs."
Their world map of DU User Nations shows in red confirmed, grey suspected use.
The map below reflects the murky world of arms industry exports and the proliferation of DU weapons around the world: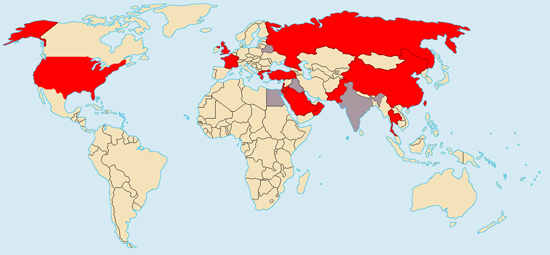 An overview of ICBUW's impressive timeline in the last two years highlights the progress of their campaign: March 2010
* UK MPs accuse US military of human rights atrocity over use of toxic munitions in Fallujah
* Irish depleted uranium ban bill receives warm reception
* Costa Rica bans production of depleted uranium weapons in their free trade zones
* US set to discontinue depleted uranium in medium calibre ammunition
* Netherlands Parliament approves motion for a moratorium on depleted uranium weapons * Kiwi MP submits Members Bill calling for depleted uranium ban * University of Vermont divests from cluster munition and depleted uranium manufacturers
* Latin America Parliament calls for a moratorium on uranium weapons * British jury rules that DU was likely cause of dead Gulf Veteran's colon cancer July 2009 * The Belgian parliament votes unanimously to ban depleted uranium weapon investments * German Bundeswehr manual challenges US and UK denials over depleted uranium in Afghanistan
June 2009
* UK Uranium Weapons Network launched as Belgium becomes first country to ban depleted uranium weapons
* The First International Cancer Conference held in Basrah, Iraq due to the alarming increase of cancer reports. * DU exhibition opens at Berlin's Anti-War Museum
* Norwegian Ministry of Foreign Affairs agrees to fund ICBUW research projects * Belgian Senate approves prohibition on financing of depleted uranium weapons
* Costa Rica to ban depleted uranium weapons
* UK Co-operative Bank ceases all investment in DU weapon manufacturers
* Italy approves a 30 Million Euro for DU Compensation Package for Veterans'
* UN General Assembly passes its second DU resolution
* Nordic Network Against Uranium Weapons established in Oslo
* UN Secretary General publishes report on DU weapons
* Finnish Minister of Foreign Affairs acknowledges need for uranium weapons treaty * European Parliament establishes a DU Working Group * UK politicians and NGOs condemn renewed DU test firing
And on the home front in the U.S., the Washington, D.C.-based law firm, Burke PLLC which pursued claims for Abu Ghraib torture victims and Iraqi civilians killed by Blackwater guards, has joined forces with the Charleston, S.C. law firm, Motley Rice, the firm responsible for bringing down the tabacco industry in 1997. They are teaming up against Iraq environmental violators, Halliburton and Kellog, Brown & Root [former Vice President, Dick Cheney's companies] on behalf of about 500 injured veterans and their survivors. The firm estimates that over 100,000 soldiers have been exposed to, and injured by the smoke and the toxins while deployed in Iraq since 2003.
In late 2008 Burke PLLC became aware that cancer cases amoungst soldiers began to surface. Although, I began reporting on cancer stricken soldiers in 2006 ....it has taken that long for injured parties ignored by the DoD and VA, to step forward, while the mainstream media lags behind barely covering the topic of cancer in the military post Iraq----which 95 percent of the American public is unaware of.
Lead council in Multi District Litigations, Susan Burke and sister, attorney Elizabeth Burke, filed 43 different lawsuits, all statewide legal actions in 2009. "When you look at the number of troops deployed to Iraq, the majority have been exposed to burn pits and contaminated water," Susan Burke said.
It is only a matter of time before the contractors placed in Iraq, responsible for willingly exposing our troops to carcinogens, are placed before the firing squad of outraged American's. Till then, it's buisness as usual for our troops in Iraq; DU with their morning coffee, doughnuts and Burn Pits...a breakfast of champions for our future Veterans.' So don't be fooled this Memorial Day when you see the flags flying half mass in Washington, nor the fraudulent salute from our Former Administration, Bush and Cheney. As they are the two responsible for creating the war, and for sacrificing our men and women for their own diety; no longer a golden cow, but a pig made of green tresury paper with red, white and blue threads, dripping in brown sludge: their money hog [god] drentched in oil. Burn baby burn...
Related
Popular in the Community