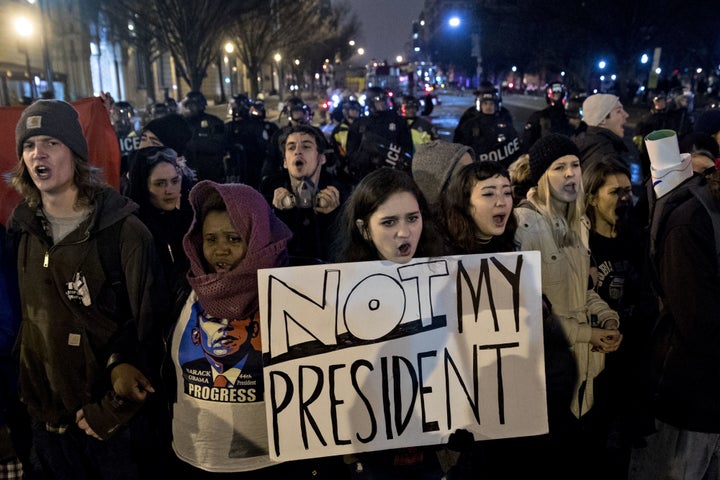 WASHINGTON ― The election and now, inauguration, of Donald Trump has shaken American progressives to their core, inspiring myriad diagnoses of what went wrong and how best to move forward.
On Friday night, an all-star lineup of radical thinkers presented their vision for the Trump era to an 800-plus audience of mostly millennial activists in the capital's Lincoln Theatre. They advised them to embrace with renewed vigor the movements for social democracy, peace and sustainability that existed long before Trump took power.
"It's not enough to simply say 'No' to these attacks," best-selling author Naomi Klein told the crowd, referring to Trump's hard-line policies. "It's not enough because we know that where we are now, before the attacks come, is entirely unacceptable. The levels of inequality, the levels of racism ― and the planet chaos that we have unleashed. We need radical system change."
The event's sponsors ― Jacobin magazine, Haymarket Books and Verso Books ― branded the event the "Anti-Inauguration." In both substance and style, it stood in stark contrast to recent Democratic Party vehicles for self-assessment.
"The Democratic Party needs to either be decisively wrestled from pro-corporate neoliberals or it needs to be abandoned."
The attendees, many of whom were in town to protest the inauguration, were in a raucous mood, applauding zingers, booing the names of Trump Cabinet members and calling out reactions to injustices, free-association style. It had the vibe of a call-and-response church revival or a sold-out rock concert, rather than a political theory lecture.
Jeremy Scahill, founding editor of The Intercept, began his remarks with a stand-up-comedy-style anecdote about a chance encounter with conservative actor Jon Voight that slayed with the crowd.
Noting that Trump's election is part of a wave of far-right populism sweeping the developed world, British activist and author Owen Jones nailed a joke about Nigel Farage, the Brexit exponent, who is reportedly planning a move to the U.S.
"I must apologize for the first major British export of the Trump era: Nigel Farage," he deadpanned, drawing laughs and jeers.
By contrast, a Wednesday night debate among contenders to chair the Democratic National Committee was a milquetoast affair in which hard truths took a backseat to platitudes and party-insider pandering. At a meeting of Democratic power-brokers in Aventura, Florida, the most contentious arguments were between those who think the party did nothing wrong in 2016 and those who think its crime was embracing populism.
Those at the Anti-Inauguration more than made up for the lack of self-criticism at the Democratic-centered events this week. They were unsparing in their indictment of Democrats, with whom they have only ever fitfully gotten along to begin with.
Trump "won within a very rigged system. And even within that very rigged system, he didn't actually win it, Hillary Clinton and the Democratic Party lost it," Klein said.
Members of the radical left enter the post-election debate in a position of strategic superiority. Their favored candidate, Sen. Bernie Sanders (I-Vt.) lost in the primary to the more pro-business Hillary Clinton. That Clinton ― weighed down by focus-tested policy positions and deep ties to Wall Street ― went on to lose to the most openly sexist and racist presidential candidate in recent U.S. history has only vindicated their conviction that Democrats should be taking cues from them, not the other way around.
Spurn hard-core progressives again and you'll lose them for good, Klein warned.
"The Democratic Party needs to either be decisively wrestled from pro-corporate neoliberals or it needs to be abandoned," she said, drawing sustained cheers and applause.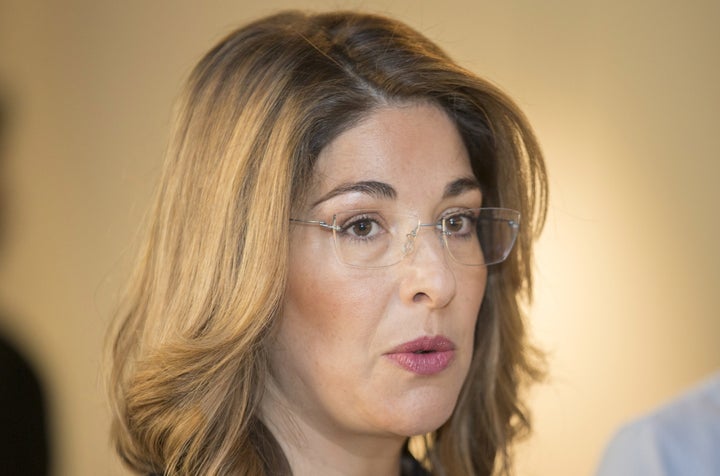 But the evening's speakers went beyond the "Bernie would have won" arguments raging on social media.
They made clear that they were not interested in staying within the bounds of the debate, as Sanders ― or any other figure in the two-party system ― defined them.
In fact, author Anand Gopal and Scahill used their respective speaking slots to critique the United States' foreign interventionism and civil liberties policies in terms that made Sanders sound downright hawkish by comparison.
And while Keeanga-Yamahtta Taylor, an assistant professor of African-American studies at Princeton, praised Sanders for a campaign that "asked for more," she argued that the Vermont senator's "commitment to remaining in the Democratic Party ... threatens to neuter his political revolution." Taylor called for the creation of multiracial, democratic political organizations outside the two-party system.
Scahill suggested that antiwar protesters' incessant disruption of President Lyndon B. Johnson's public appearances, which many credit for his decision not to run for re-election, are an appropriate model for Trump-era resistance.
Mainstream liberals uncomfortable with the ideas discussed at the Anti-Inauguration event might have appreciated the blunt humor and communal joy in the room that night.
Some of their Jacobin-reading peers' statements may have even resonated with them, including a rejection of the idea that fighting for racial justice and economic equality are somehow at odds with one another.
Klein made clear that there is no time for those internecine disputes.
"Our task is to find … the common thread that connects our movements. That means, first and foremost, dropping this nonsense of pitting class against so-called identity politics and economic justice" or other progressive priorities, Klein said.
"This 'my issue trumps your issue' helps one thing ― and that is Trump," she concluded.
How will Trump's first 100 days impact you? Sign up for our weekly newsletter and get breaking updates on Trump's presidency by messaging us here.
Popular in the Community