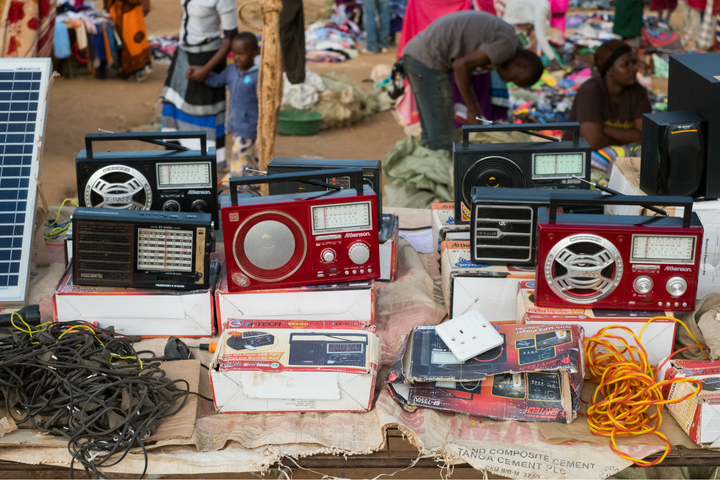 Taking place annually on February 13, World Radio Day was established by the UN in 2012. Why dedicate a special day to celebrate a century-old technology in a new era of digital gadgets and applications? Because radio is still relevant and powerful. And, in some parts of the world, it is the medium that people rely on most.
Radio in Canada: A part of who we are
Canada has a special relationship with radio. For many of us, our CBC Radio is embedded in our sense of who we are, especially considering that it came to be as a response to the growing influence of American radio and the desire to protect Canada's unique culture and identity.
This is especially true for Canadians with a farming background. It was clear in the early days of the CBC how powerful radio could be in helping Canada's farmers, struggling in the wake of the Great Depression. Radio presented an efficient way to reach remote communities with helpful information.
Good ideas have a way of spreading, and it was not long before India, Ghana, and France adopted the Canadian Farm Radio Forum model, too. In Canada, the Forum continued until 1965.
Making radio work for farmers of the world
It is fitting then that the only international NGO dedicated to serving African farmers over the radio is a Canadian charity set up by a former CBC farm radio broadcaster. In 1975, a fellow by the name of George Atkins was invited to run a workshop in Zambia for a group of African farm radio broadcasters. It was on that trip that he had an idea that would go on to transform farm radio on the continent.
While chatting with his African colleagues on a bumpy bus ride to a local farm, George asked a colleague from Sierra Leone about his next broadcast, and was astonished to learn that it would be about tractors. He asked how many farmers within the station's broadcast range might have a tractor. The answer? About 10 in 800,000.
At that time, African farm broadcasters simply did not have access to locally relevant agricultural information and resources and were basing their broadcasts on European and North American radio scripts, which reflected a completely different reality.
And so George took a year off and traveled the world on the hunt for low-cost, environmentally friendly ways to improve agricultural production in resource-poor environments. Upon his return to Canada, he started creating radio scripts designed to be useful for small-scale farmers in developing countries.
In 1979, he established the Developing Countries Farm Radio Network and sent the first package of scripts by mail to 34 participating broadcasters in 26 countries. Now known as Farm Radio International, its work is focused specifically in sub-Saharan Africa, where it works with more than 650 radio partners in 40 countries to fight poverty and food insecurity over the airwaves.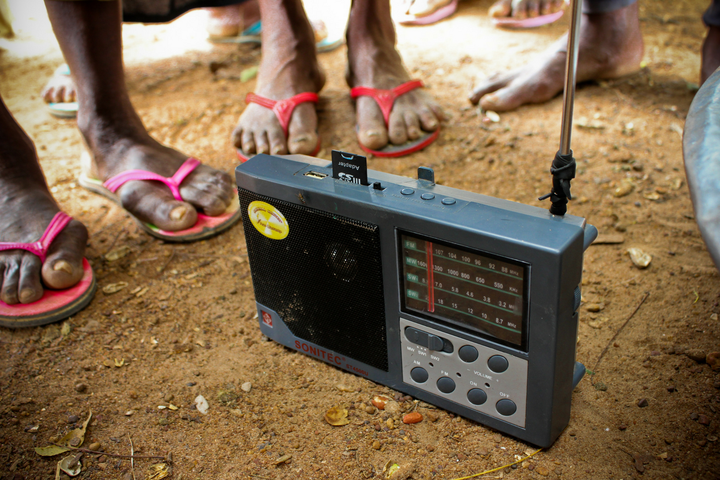 The power of radio in Africa
Why? It reaches remote communities that development workers and agricultural extension agents struggle to visit. Broadcasts are in local languages that people understand, and listeners need not be literate to benefit from them. Radio appeals to people young and old, male and female. It is portable, and can be used in transit or while working the fields or caring for children at home. And it can provide crucial, life-enriching information to those who need it most.
In my work with Farm Radio International, I've seen how central radio is to life in rural Africa and how high-quality, farmer-centered radio programs can help people grow more and better food for their families and communities.
Taking radio to the next level
Mobile phones are ushering in a whole new era of interactive radio in rural Africa, making it easier than ever to engage listeners in a conversation. Mobile technologies enable listeners to ask questions, share feedback, be interviewed, and participate in polls. This is not your grandpa's radio; in today's world, radio is a two-way communication tool.
Taking radio to the next level is the focus of our team at The Hangar, our radio and ICT innovation lab in Arusha, Tanzania. In partnership with VOTO Mobile, and with support from the Bill & Melinda Gates Foundation, we developed a web-based application to gather feedback from listeners via mobile phones and analyze it in real time. It's called Uliza, Swahili for "to ask," and we use it in our projects to help broadcasters and development partners better understand the rural communities they are meant to serve.
As George Atkins understood well, radio is best when it puts listeners front and centre. The theme of the 6th annual World Radio Day is Radio is You!, highlighting the importance of listeners themselves to good radio.
To celebrate World Radio Day, we're running a special World Radio Day Uliza poll, helping broadcasters around the world learn about their listeners. The poll results will be shared online in real time. Visit wrd.uliza.fm to watch the results coming in live and to get information how you can participate in the poll to share how and why you use radio.
Farm Radio International works with more than 650 radio partners across 40 African countries, reaching tens of millions of small-scale farmers and their families. Learn more about its life-changing work at www.farmradio.org.
Popular in the Community