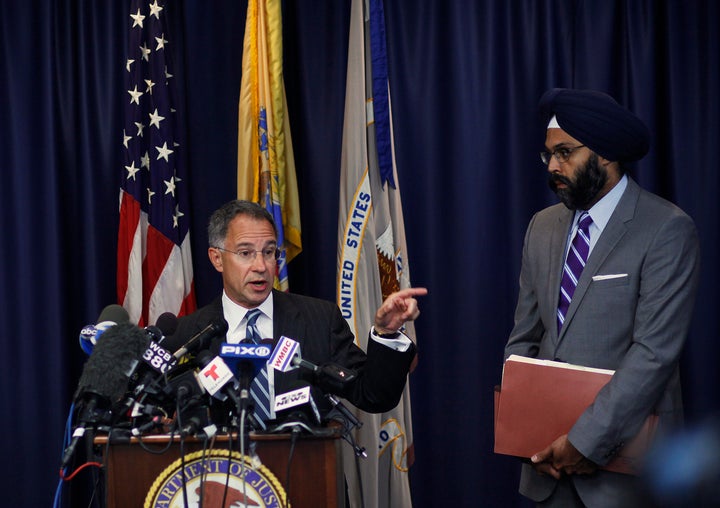 A pair of New Jersey radio hosts have been suspended "until further notice" after repeatedly referring to the state's attorney general, Gurbir Grewal, who is Sikh, as "turban man" during a Wednesday afternoon broadcast.
"You know the attorney general — I'm never going to know his name. I'm just going to say 'the guy with the turban,'" host Dennis Malloy told his companion, Judi Franco, on NJ 101.5 FM.
Franco reacted by saying "Turban Man," theatrically drawing out the name.
Malloy added, "Listen, if that offends you, then don't wear the turban, man, and I'll remember your name."
The "Dennis & Judi Show" hosts briefly debated whether the term was offensive, concluding that it was not because if Malloy "was in a culture where nobody wore baseball hats, and you called me 'Baseball Hat Man,'" he would not be offended.
A representative for NJ 101.5 FM acknowledged the controversy in a statement posted to Twitter on Thursday.
"We are aware of the offensive comments made by Dennis and Judi during Wednesday's broadcast," it read. "We have taken immediate action and have taken them off the air until further notice. We are investigating the matter and will have further comment shortly."
The attorney general, who is the American-born son of Indian parents, also responded to the name-calling.
"My name, for the record, is Gurbir Grewal," he wrote over Twitter early Thursday. "I'm the 61st Attorney General of NJ. I'm a Sikh American. I have 3 daughters. And yesterday, I told them to turn off the radio."
Grewal also shared video of a speech addressing intolerance that he made at Washington, D.C.'s annual Asian Pacific American Institute for Congressional Studies awards gala in May.
"Some of this is obviously the result of ignorance. But some of this does go further than that. Scroll through any of the online comments about my work or my office, or any news story ― it can really be stomach-turning," he said at the event. Death threats, he added, are "a fact of life" for him.
"As awful as these comments are, they provide a window into what people are thinking and what is going on in this country in this moment," Grewal said at the time.
HuffPost reached out to managers at NJ 101.5 FM and to Grewal's office but did not receive an immediate response.
Malloy brought up Grewal because on Tuesday he ordered state prosecutors to adjourn all marijuana offenses until September ― a step toward decriminalizing marijuana in the state led by Democratic Gov. Phil Murphy.
Murphy issued a statement Wednesday evening in response to the hosts' comments, calling them "abhorrent and xenophobic."
"Hate speech has no place in New Jersey, and it does not belong on our airwaves. Station management must now hold the hosts accountable for these intolerant and racist comments," the governor said.
Popular in the Community