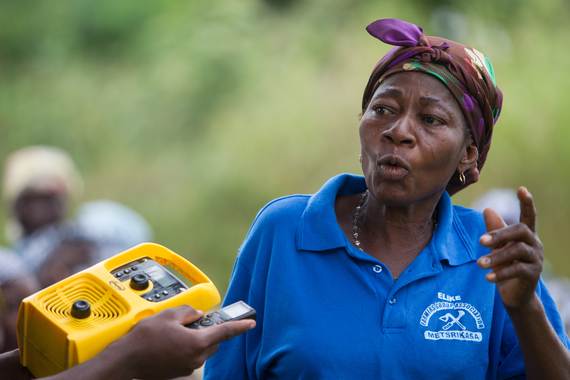 Photo credit: Jesse Winter
2016 is the first year of the 2030 Agenda for Sustainable Development, a new global blueprint for change. Strategically applying ICTs -- and radio in particular -- will be key to achieving the ambitious Sustainable Development Goals within the next 15 years.
The MDGs rallied the world around a common cause to improve the lives of the world's poorest people, with significant results, but there is still much work to be done and a lot at stake -- and not just in the developing world. Significantly for Canadians like me, the SDGs are for the whole planet (unlike the eight MDGs, which focused only on less developed countries). They are sometimes called the Global Goals for this reason.
The 17 new goals and 169 new targets are also more ambitious than their precursors. The MDG to reduce poverty has been replaced with the SDG to eliminate it completely, for example, and the targets are more demanding across the board. The new plan also encompasses new issues such as climate change, sustainable consumption, and innovation.
We do not have an easy task ahead of us. Strong leadership and vision will be key to making the goals of the 2030 Agenda a reality. In 2015, UN Secretary-General Ban Ki-moon announced the appointment of Dr. David Nabarro, who recently led the UN's Global Ebola Response and Scaling Up Nutrition movement, as Special Adviser on the 2030 Agenda.
Recently, during a conference in Ottawa, Dr. Nabarro described the 2030 Agenda as a "horizontal mosaic of life." He emphasized the importance of seeing the SDGs as fully integrated, complementary, mutually reinforcing, and interdependent. To be successful, he says, we must avoid the human tendency to stovepipe and silo them, and treat each goal as independent, stand-alone, and in need of its own specialized bureaucracy.
This is a remarkable vision and a daunting challenge. How will we, the people of this planet, identify and weave together actions that will bring about these ambitious yet essential goals?
We need to work together as a human race like never before. To do that, communications is key.
One of most notable differences between now and when the MDGs were launched in 2000 is the richness of the information and communication technology (ICT) environment and the potential this offers for more interactive and participatory communications that reach and connect vast numbers of people at a very low cost.
Those of you who have read my past blogs will not be surprised when I make the case for radio as a particularly powerful ICT. A relevant and well-loved form of mass media around the world, radio is especially useful when it comes to reaching and serving rural communities in developing countries.
The ubiquity of radio in the developing world is met only by that of cell phones, which give radio more power and appeal than ever before. Combined with cell phones, radio has been re-born as a two-way, interactive tool that can give voice to those who are typically heard from the least.
Broadcasting change in Africa
In my work with Farm Radio International, I see every day the amazing things that radio can do. Here are just two recent examples of how interactive, participatory radio is broadcasting change across sub-Saharan Africa.
In the Dadaab refugee camp in Kenya, a radio show is raising awareness about the importance of secondary education for girls. It is contributing directly to ensuring inclusive and equitable quality education (SDG 4) and achieving gender equality and empowering all women and girls (SDG 5). It also contributes indirectly to many others, as the benefits of investing in women can also include economic growth, poverty alleviation, and communities that are more safe, resilient, and inclusive. Through this interactive radio program, the views and perspectives of parents, community leaders, and students are given primacy, so that the challenge of quality education for all girls and boys is the focus of a community conversation writ large over the airwaves. It has had impressive results so far, boosting the commitment of parents and community leaders to their daughters' education.
With cell phones in their hands, rural people aren't limited to listening to radio programs; they can also participate. We developed a tool called beep2vox to give farmers a free way to connect with radio stations and shape the broadcasts that serve them. In the world of radio, "vox" means voice -- and beep2vox is our system for sharing farmers' voices with a missed call, at no cost to the caller. When audience members call the radio station and hang up, leaving a "beep" with the station, they are called back and given the opportunity to leave a recording to be played on the air.
Inexpensive and impactful, radio is a platform that can facilitate knowledge sharing on a grand scale. Utilizing it to its fullest potential will be key to success on our journey toward a better common future.
Farm Radio International works with more than 600 radio partners across 39 African countries, reaching tens of millions of small-scale farmers and their families. Learn more about its life-changing work at www.farmradio.org.
Popular in the Community