Receipts are supposed to prove that a customer bought an item at a store.
However, one Radio Shack employee allegedly gave a woman an additional message on her receipt: One calling her an "ugly itch" from "Ghettohood, USA."
Shanae Lewis of Baltimore got the disturbing message on Monday when she went to a Radio Shack in nearby Montgomery County, Md., to buy a $20 cassette adapter for her car.
The county has a five-cent bag tax on top of sales tax that Lewis was unaware of, so, according to WUSA-TV, she went back and forth with the clerk before deciding not to buy the adapter at all.
She said what happened next is one of the worst examples of bad customer service anyone has ever seen, according to Consumerist.
It seems when the salesman gave Lewis back her money, he also gave her a receipt for the refund, at the bottom of which he apparently typed in "ugly itch, ghettohood, usa, tattoville, Maryland."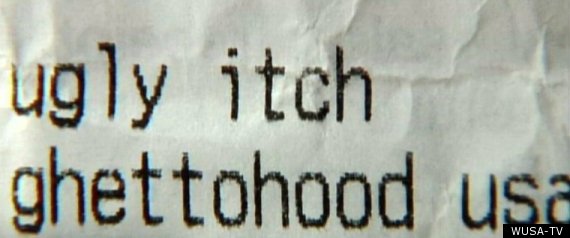 The salesman reportedly claimed he was only kidding, but Lewis was, and remains, unamused.
"I was shocked more so than anything, and then I became angry," she told WUSA-TV.
At first, she tried to complain to the store manager, who reportedly wanted nothing to do with her complaint, so Lewis contacted Radio Shack's corporate office about the ordeal hopes the associate will be fired, WTVR reported.
A RadioShack official told WUSA that after seeing the story, it took "the strongest possible disciplinary actions," but did not specify what they were. In an email response to the station, RadioShack wrote: "Based on descriptions we've seen in the media, this incident obviously does not meet RadioShack's expectations for customer service."
It added, "The Company has made several attempts to contact the customer involved and offer her a personal apology. So far we've been unable to connect, although we have conveyed our regrets to another person in her household."
Lewis may be able to forgive, but not forget. She said Radio Shack has lost a customer.
"I want nothing to do with Radio Shack ever again," Shanae said.
Popular in the Community