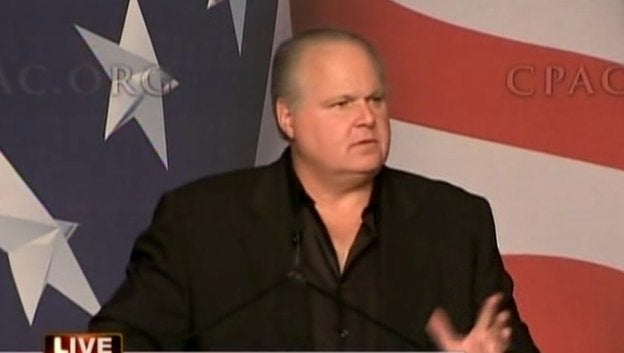 Rush Limbaugh's rhetoric has crossed the line between free speech and a political campaign. It's appropriate and necessary for media to give voice to political opposition, but it is inappropriate when on-air media talent becomes the voice for a political opposition party. Limbaugh's lengthy Castro-like speech to the Conservative Political Action Conference (CPAC) was his coming out party for a run for president of the United States and as he emerges as the new leader and voice of the Republican Party, radio stations and advertisers have an obligation to reconsider their support.
It is essential to question whether Limbaugh should continue to have access to the public airwaves and whether advertisers should continue to support him. The support of advertisers could be easily perceived as a statement of political support for Limbaugh's policies. Advertisers and radio stations that support Limbaugh could -- and perhaps should -- be interpreted as providing explicit support for the far right wing of conservative politics. Giving a political party control over the press is a dangerous precedent, and a Sustainable Free Press requires that the people believe that media takes responsibility for the content it delivers. An editorial voice is far different than a politician's control over the press, which throughout history has been the first step toward dictatorship.
Limbaugh's only real job is to appeal to a very small but loyal audience and deliver them each day to his radio program. His only professional need is to generate larger audiences than other radio show hosts and in that context he is no different than a snake charmer or tattoo lady on the carnival midway. But we should not ignore Rush Limbaugh's oratory. He has taken over the political leadership of the far right wing activist group in our country -- a group who appear to believe the last eight years were the best in our nation's history and a group who may count among them advocates for violent anti-government actions. Limbaugh, in his (CPAC) speech, explained why he believes it's acceptable to hope for the President of the United States to fail. He essentially has called for the overthrow of the current government, saying "it is time to take back our nation." Politicians are subject to being voted in or out of office. Those who find Limbaugh's political calls as the leader of the "take back the nation" campaign to be inappropriate for a radio host have a more immediate option: to withdraw support.
This is a dangerous time for the American radio industry. Advertising revenues are drying up. While leading Republican industrialists are among those who support Limbaugh's calls for action by the wealthy few against the government, many of these same leaders are dependent upon the Obama Recovery Plan to bail them out of the mess they have put themselves and the nation in. Media companies are dependent upon a national economic recovery. Media owners must think long and hard about their role in society and the messages they want to communicate about their support for Limbaugh and what many consider to be his politics of hate. Limbaugh is using his bully pulpit to launch a presidential campaign that radio stations and advertisers are explicitly enabling. If the proposed boycotts against Limbaugh's advertisers and stations gain any momentum, it will be just one more challenge for an already challenged industry.
The media industry and marketers should consider getting out ahead of the Limbaugh backlash. Radio station owners and advertisers should consider their own role in our nation today. They should not censor content. But they need to acknowledge Limbaugh's new role as a politician and set profits aside to protect the fundamental separation of a free and independent press from political control over content.
Boycotts are rarely successful and several other times over the past few years various media outlets and writers have called for a boycott of Limbaugh's advertisers. Previous advertisers have been listed at (www.dailykos.com/story/2007/4/24/121022/830) and organizations are now readying updated lists with such advertisers as GoToMyPC. These boycotts are also calling on those who oppose Limbaugh to reject those radio stations that carry his syndicated program. Boycotting Limbaugh's program itself is a useless exercise, but there has been a call to boycott other programming on the stations that carry his program, sending a strong message that stations cannot simply accept anti-government rhetoric without paying a price. Limbaugh publishes his station list at www.rushlimbaugh.com/home/menu/rush.guest.all.html.
To communicate with or to be contacted by the executives and/or companies mentioned in this column, link to the JackMyers Connection Hotline.
This post originally appeared at JackMyers.com.
Calling all HuffPost superfans!
Sign up for membership to become a founding member and help shape HuffPost's next chapter