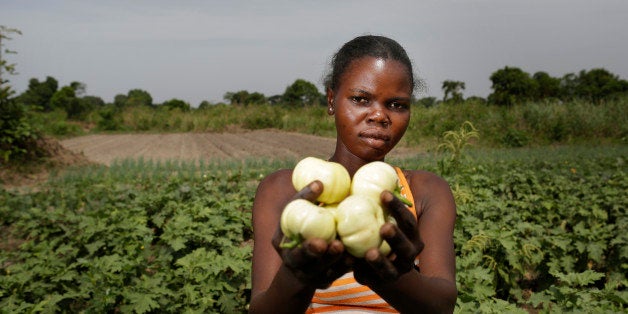 Mebrihit Tsegaye is one of the millions of African women who rely on farming. With the wellbeing of her three children on the line, she regularly participates in a radio listening group with women in her community to make her farm as successful as possible. This gives her dependable access to agricultural radio programs and connects her with other women farmers. Together, the women discuss their issues and challenges and what they are learning about over the radio, finding strength in each other and the women's voices they hear on the air.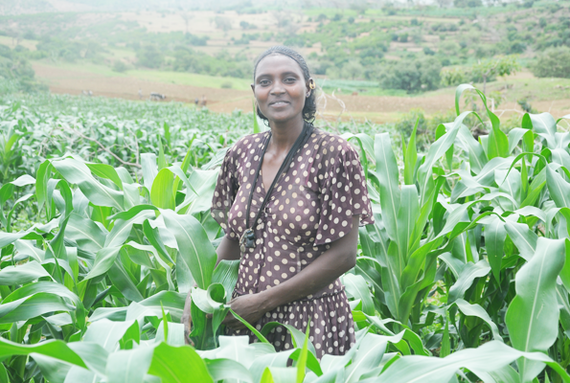 For women like Mebrihit Tsegaye of Ethiopia, radio is key to a successful farming business. She tunes in regularly as a member of a women-only listening group, which gives her reliable access to radio programs and much more.
Photo credit: Farm Radio International
The "silent pillar" of African agriculture
Africa's female farmers are sometimes referred to as the "silent pillar" of agriculture. They play a vital role in agriculture across the continent, responsible for up to 80 percent of household food production, but their contributions and needs are often overlooked. Worldwide, women receive only five percent of agricultural extension services, whether we are talking about higher-quality seeds, training opportunities or access to credit.
Women farmers do much more than just tend to their fields, busy with a triple burden of work that also includes responsibilities in the household and community. This leaves them with less time to access agricultural information and services than their male counterparts.
But time is just the first obstacle. Agricultural information is often delivered through tools that women do not have access to or know how to use, such as cell phones. Add to the challenge the fact that most agricultural advisors are men, which creates a huge barrier in societies that consider it inappropriate for women to interact with men from outside the family -- even over the phone.

With limited resources and decision-making power, women farmers typically also have smaller plots of land than men due to patriarchal systems of land use and ownership. They may also be relegated to less profitable crops, as there is a tendency in some countries to divide agricultural production by gender.
Ironically, despite all of the food that they produce, women farmers in Africa are more likely to live in extreme poverty and to experience hunger, malnutrition and poor health. But it need not be this way. Investing in and empowering Africa's women makes sense for pragmatic reasons as well as moral ones. In fact, the UN estimates that closing the gender gap in agriculture could lift 150 million people out of poverty.
How radio is putting women first
I am proud to be part of an organization that is working to put women farmers first. FRI has worked for almost four decades to ensure that radio is accessible and relevant to all farmers, male and female. However, we realize that this means paying even more attention to the needs and wants of women farmers.
In 2013 we launched a special initiative, Her Farm Radio, to highlight projects that place particular emphasis on reaching, serving and engaging female farmers. And we are learning and changing a lot as a result, to the benefit of the millions of African women farmers reached through our broadcasting partners and development projects.
Because of Her Farm Radio, we are increasingly engaging female farmers in research to learn about their needs and focusing on agricultural interventions with specific benefits for women, mothers, and children. This means everything from putting more focus on so-called women's crops to exploring gender relations over the airwaves. An increase in the number of female broadcasters and guests is also helping to feature women farmers' voices and perspectives more prominently in radio programs.
Changes like these help make radio programs more relevant to women, but they are useless if women can't tune in. We have learned to air programs when women tell us they are available, and to establish community listening groups in which women can listen together on group-owned wind-up radios. Having women listen to the radio in groups can overcome access issues with the added benefit of bringing women together to share information, ideas and opinions, and to access training and other support opportunities.
The widespread adoption of cell phones across Africa has meant that farmers can increasingly participate in radio programs by calling in or responding to mobile polls, but women's voices remain underrepresented. The simple act of adding and promoting women-only phone lines has made it possible for radio stations to field as many calls from women farmers as from men over the airwaves, giving women farmers a stronger voice. Community listening groups also make it easier for women to call into stations by giving them shared access to cell phones and a safe, supportive environment.
Changes like these take time, but already we are seeing results and hearing from women farmers how radio is changing their lives. In my work as FRI's executive director, I have had the pleasure of traveling across Africa and spent a year living in Tanzania to be closer to our work on the ground. I've seen how excited and eager farming women and men are to tune into radio programs that are produced just for them and that feature the voices and experiences of farmers like them.
I'll never forget Agnes, a cassava farmer in the Soroti District of Uganda, telling me how her daughter runs to fetch her every Sunday at 7 pm, calling, "Mother, mother, our radio show is coming on!" Agnes was clear: "This show belongs to us."
Clearly, there is still much work to be done, but radio is doing its part to transform the silent pillar of African agriculture into an empowered one whose voices are heard loud and clear.
Farm Radio International works with more than 600 radio partners across 39 African countries, reaching tens of millions of small-scale farmers and their families. Learn more about its life-changing work at www.farmradio.org.
This post is part of a blog series produced by The Huffington Post in conjunction with International Women's Day, celebrated on March 8, 2016. A What's Working series, the posts address solutions tied to the United Nations' theme for International Women's Day this year: "Planet 50-50 by 2030: Step It Up for Gender Equality." To view all of the posts in the series, click here.
Popular in the Community