 Finally, we have the answer to a burning question for Radiohead fans: What should I eat while listening to "Kid A"?
Kyle Hanley, chef de cuisine at the Detroit Golf Club, is creating the dinner, which includes dishes like lamb chops with crispy pig ear and blood orange reduction. Joseph Allerton chose the wine and cocktails, listening only to "Kid A" to make his pairings rather than considering the food choices. He is the food and beverage director at Michael Symon restaurant Roast and previously served as its sommelier.
Hanley said he studied music before becoming a chef. When he listens to it, he hears "textures and colors," which makes it natural for him to associate it with food.
"Especially Radiohead, they are very textural. They are a very visceral band," he told HuffPost.
Hanley said he's telling servers to think of themselves as stagehands at a performance so they don't distract from the listening experience.
"Most people put out CDs, and this is an actual album. One song flows into the next, and we kind of want to do the same thing with the courses," he said.
Hanley and Allerton are not the first to make the connection that food and music can be better together. On the "Food is the New Rock" podcast, the hosts talk to musicians about food and chefs about music, and the crossovers between the two. Turntable Kitchen pairs recipes with albums and curates pairings boxes for subscribers. In Detroit, a recurring dining series pairs brunch with noise music.
Some might wonder if the subtleties of Hanley and Allerton's "Kid A" pairings would be lost on diners who aren't experts in both food and music. But Hanley said listening to excellent music or eating a delicious meal are experiences that leave you with a lasting emotion, and it only makes sense to put them together.
"If you like the album, if you like the music, you'll get it."
Hanley and his business partner Bill Keros (of classic Detroit restaurant Lafayette Coney Island) are considering turning the event into a series and throwing monthly dinners paired with different albums. For now, they're starting with the "Kid A" meal and only selling 36 tickets, but those who can't attend can try to imagine each dish while listening to the 10 tracks below. See the full menu on the Facebook event page.
Related
Before You Go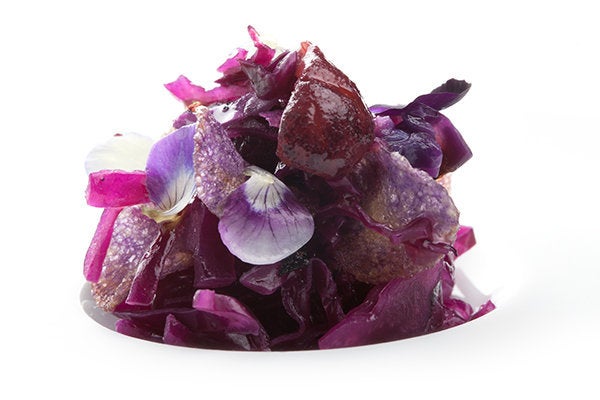 The Best Places To Experience Molecular Gastronomy