Radiohead frontman Thom Yorke is putting his celebrity to good use, helping catalyze volunteers for a massive experiment in global crowdsourced art, set for November 27 in Brighton, England. The giant-sized spectacle is part of Earth350, a week of art actions spearheaded by environmentalist Bill McKibben, who has called on volunteers from around the world to form massive pictures, often with their bodies, that will be photographed from space by satellites. The events are timed to take place in the lead-up to the United Nations Climate Change Conference in Cancun, Mexico, running from November 29 to December 10, to demonstrate public consciousness of global warming.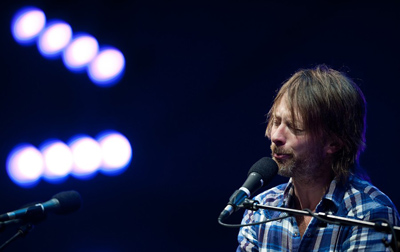 Radiohead's Thom Yorke has collaborated with artist Stanley Donwood to create a 2,000-person living sculpture in Brighton, England. / Courtesy AFP
Yorke's particular project for Earth350 aims to bring together 2,000 volunteers for a massive living portrait of King Canute, a Viking king of England who according to legend tried, but failed, to command the ocean to stop its waves. The image was conceived by the singer along with artist Stanley Donwood, who has been responsible for Radiohead's album art since the band began.
"Please also note that we will create the human sculpture even if it rains and is stormy, since weather is a central character in this art piece," a Web announcement for the event tells would-be volunteers. "Yes, this sounds mad but since we're recreating the story of King Canute it works."
Other events associated with McKibben's Earth350 week have already begun, including a piece incorporating more than 1,000 volunteers simulating a human "flash flood" in a dry riverbed in Santa Fe, New Mexico; an image of a giant eagle composed of "thousands" of people massed at The Cornfields in Los Angeles Historic State Park; and a painting by New York City-based artist Molly Dilworth that covers a schoolhouse roof with a depiction of the New York and New Jersey coastline after a 7-foot rise in sea level. Other events are planned in counties including Australia, Brazil, India, South Africa, and even the Maldives.
Popular in the Community