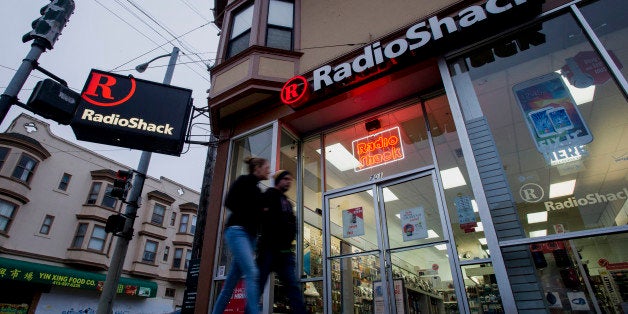 RadioShack announced a last-ditch attempt to avoid bankruptcy on Thursday morning, but industry observers think the iconic electronics seller's plan may be too little, too late.
The plan involves closing hundreds of stores, cutting budgets and laying off retail workers and employees in corporate headquarters, the company said in an announcement. RadioShack reported a loss of $161 million for the three-month period that ended November 1. That's 18 percent more than the $136 million loss it suffered over the same period last year.
The company hopes to save more than $400 million with the slash-and-burn tactics. More than a quarter of the planned cuts, $105 million, are being made to the marketing budget -- the very same one that just brought us a holiday commercial featuring 'Weird Al' Yankovic.
RadioShack has struggled to stay relevant and keep its stores open, despite its archaic name. The 93-year-old company, which operates roughly 4,000 stores, has closed 175 locations so far this year, and wants to shut down nearly 1,000 more.
"The majority of the savings are in our control and are already in process," chief executive Joe Magnacca said on a conference call with analysts on Thursday.
Magnacca did not specify the number of planned layoffs, but said 50 percent of the retailer's "field managers" will be cut, saving $17 million annually. Through staff cuts at the corporate level, Magnacca expects to save an additional $18 million.
RadioShack has around 25,000 employees in total.
But many think these efforts will be for naught.
"RadioShack is a corpse being propped for display on malls across America this holiday season," Brian Sozzi, CEO and chief equities strategist at Belus Capital Advisors, told The Huffington Post. "Cost cuts won't change one key, fundamental thing: The stores are too small to properly showcase the tech of today."
Take Best Buy, said Sozzi, with its GoPro shops and rows of 4K TVs. Soon, it'll carry the Apple Watch too. All RadioShack has going for it is its selection of Beats headphones, he said, but those are also available at places like Walmart and Target, where customers can pick up their groceries for the week at the same time.
"RadioShack will be officially entering the retail grave site in 2015," Sozzi predicted. "Time is up."
The tech retailer did not immediately respond to a request for additional comment.
RadioShack has taken a number of measures to reverse its downward slide, including bringing Magnacca on board from drugstore chain Walgreen Co. two years ago. Cost-cutting and store closures have also been ongoing since then.
The chain has changed the mix of merchandise on offer, touting well-known brands like Beats by Dr. Dre and Sol Republic headphones, along with its own branded products.
Magnacca is also trying to regain the attention of do-it-yourself tinkerers, the loyal customers who flocked to RadioShack in its heyday as a destination for electronic parts. That customer base was largely abandoned in 2009, when the store first began attempting to modernize with glitzy mobile gadgets.
"[Accountability] didn't happen for a long time at RadioShack," Magnacca told HuffPost last year. "The customer was an afterthought."
RadioShack's remodeled stores are more interactive and prominently feature phones, headphones and speakers.
Regardless of the retailer's long-term viability, it needs cash right now to survive. Thus far, RadioShack has managed to avoid bankruptcy by raising enough money from investors and lenders to stay afloat. But over the past few months, a number of red flags have been raised that suggest the company's dire need for funds.
In a plan announced in March, RadioShack tried to get permission to shut down 1,100 underperforming stores, but was blocked by creditors. It's only allowed by lenders to shutter 200 stores a year for the next three years. Currently, the company is negotiating with the lenders for permission to close more stores, in accordance with the most recent cost-saving proposal.
By late June, shares had dipped below $1, the minimum requirement for being listed on the New York Stock Exchange. Though occasional spikes have put the stock above that threshold a few times since then, the price has remained under $1 since early November. It dipped 10 percent to a low of 50 cents on Thursday morning after RadioShack announced its plan.
The retailer finally admitted in September that it may have to file for Chapter 11 bankruptcy protection, and reiterated that warning in today's announcement. Standard & Poor's downgraded RadioShack's corporate credit rating into "junk" territory in September, saying it expected the company to go bankrupt within six months. Shortly after, RadioShack appointed a bankruptcy expert as its interim chief financial officer.
In December, lenders said RadioShack had defaulted on $250 million in loans -- a claim the retailer dismissed as false.
And on Wednesday, the New York Post reported that RadioShack is locked in "hardball negotiations" with cellular carriers. With cash running low, the company wants AT&T, Sprint and Verizon Wireless to revise their cellular deals, or RadioShack may go bankrupt, according to the report.
Support HuffPost
The Stakes Have Never Been Higher
Related
Popular in the Community