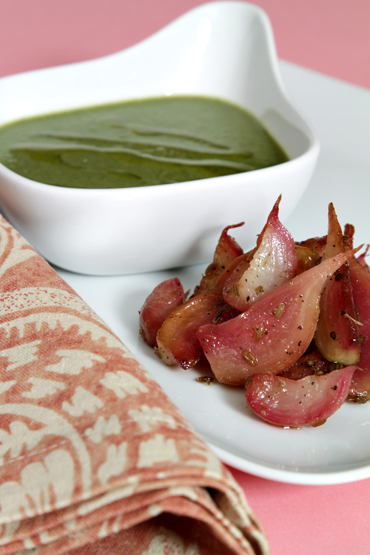 One of the things that excites me the most is to take a humble vegetable and turn it into something exquisite.
Most of us are very familiar with the cheerful little bulbs. Round and bright red, they can be found on the shelves of every grocery store, year-round. Radishes are mostly eaten raw, in salads or on their own; their leafy tops are usually thrown away without a second thought.
But this unassuming little root has so much more to offer. Not only do the bulbs turn sweet and nutty when roasted, their leafy tops make the most delicious cooked greens. It only takes a mouthful of this radish-top soup and a bite of the fennel-roasted roots to be a convert.
The common radish works beautifully in these two recipes. But if you want to experience a truly fabulous radish, then take the time to browse your local farmers' market or farm stand. There are many varieties available these days -- radishes come in all sizes, shapes and colors, with flavors ranging from crisp and sweet to a little hot and tangy.
A few years ago one gorgeous bulb really caught my eye, its name -- the watermelon radish -- as colorful as its bright pink flesh. The watermelon radish has since become a favorite in my kitchen, and it's absolutely delicious in today's recipe. (I hope the picture below will entice you to seek it out.)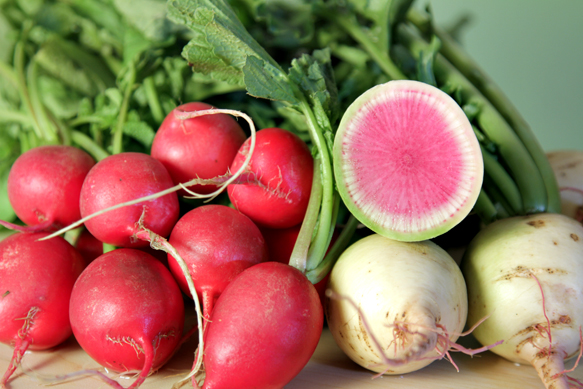 But you should seek out other radishes, too--like the cherriette (a larger and sweeter version of the common radish), the luobo (crisp with a plate green flesh and a little heat)...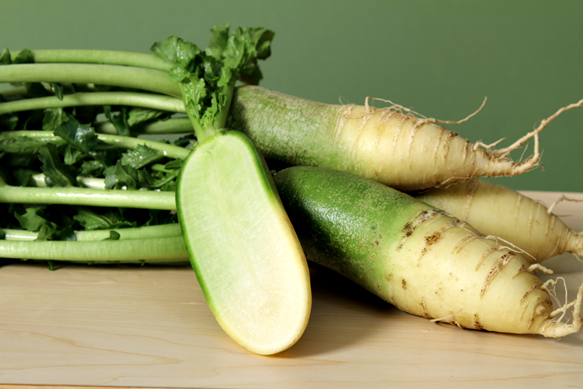 ... or the China rose (vibrant pink skin and crisp white flesh). These gorgeous bulbs will open up a whole new world of flavors to your palate--and all will work marvelously with these recipes.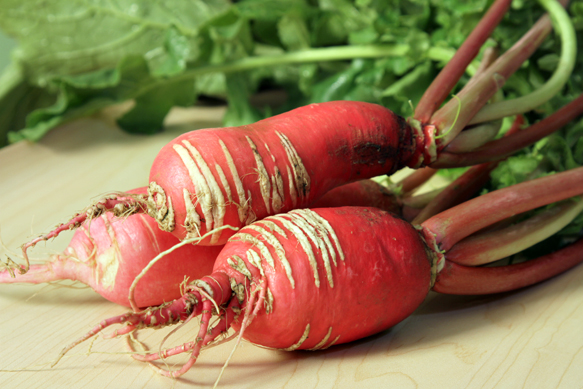 I love to serve this soup side by side with the roasted roots. Take a bite of the sweet, fennel-infused roots along with a spoonful of the spicy, silky green-top soup and you'll agree: the humblest of vegetables can truly be transformed into a heavenly experience.
Serves 4 to 6 Active time: 30 min
3 tablespoons extra virgin olive oil 4 shallots - skinned, halved and finely sliced (1 1/4 cups) 1/4 teaspoon red chili pepper flakes 2 garlic cloves - skinned and finely sliced 8 oz (225 g) Yukon Gold potatoes - peeled and cut in 1/2" cubes (1 1/4 cups) 3 cups vegetable stock 2 1/2 cups spring water 1 teaspoon sea salt or to taste freshly ground black pepper to taste 12 oz (340 g) radish tops (or mustard greens) without the tough stems - leaves and tender stems cut in 1/2" strips (14 cups loosely packed) 1 tablespoon crème fraîche
1 recipe slow-roasted radish roots with fennel (see recipe below) Lemon-infused oil as garnish
Step 1: Heat a large heavy-bottomed soup pot at medium-high heat. Add the olive oil, shallots, red pepper flakes and garlic, stir well and sauté for 2 to 3 minutes until softened, stirring from time to time. Add the potatoes, stock, water, salt and pepper to taste. Bring to a boil. Add the radish leaves, stir well and continue to boil until wilted, about 1 to 2 minutes. Reduce heat to medium to medium-low, cover the pot and slow-simmer for 20 minutes until the potatoes are tender.
Step 2: Add the crème fraîche and purée the soup with a stick blender or food processor until silky smooth. Taste and adjust the seasoning if needed and keep warm.
Step 3: Place a small mound of the roots on a plate. Ladle the soup in a small bowl and place next to the roots. Drizzle the infused oil on the soup and serve immediately.
Cook's note: The soup will keep for about 3 days in the refrigerator, or 1 month in the freezer.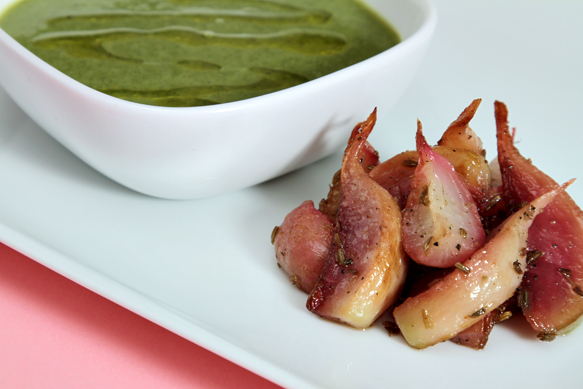 Slow-Roasted Radish Roots with Fennel
Serves 4 to 6 Active time: 20 min
12 oz (340 g) watermelon radish roots (4 large) - peeled and cut in 1/4" slices 12 oz (340 g) regular radish roots (14 large) - un-peeled and quartered 2 teaspoons fennel seeds - crushed in a mortar 1/2 teaspoon sea salt or to taste freshly ground black pepper to taste 1 tablespoon maple syrup 3 tablespoons extra virgin olive oil
Preheat the oven to 425ºF (220ºC).
Step 1: Place the radishes in a heavy-bottomed non-stick roasting pan large enough to hold the slices in a single layer. Sprinkle with the fennel, salt and pepper. Drizzle with the maple syrup and olive oil. Toss well, cover tightly with aluminum foil and bake for 45 minutes until very tender, tossing once halfway through the cooking.
Step 2: Remove foil and toss vegetables carefully so as not to break them. Return to oven, uncovered, and bake for 12 to 15 additional minutes, until golden. Remove from oven and serve with the soup.
Use only the tender part of the stems to make the soup. The common radish has very tender stems and the leafy tops can be used whole. But other varieties--like the watermelon, luobo or China rose radishes--have thicker stems that are a bit fibrous and will need to be trimmed.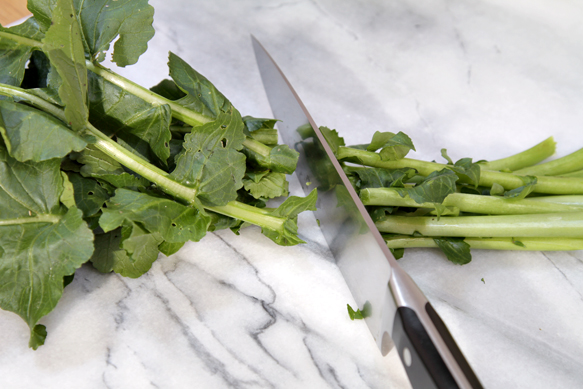 Trim the thicker part of the stems as shown above, and discard.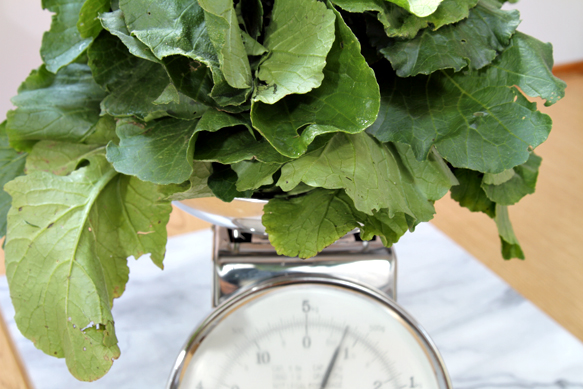 Weigh the leaves and tender stems for the soup. You should have 12 oz (340 g) or 14 cups of loosely packed, coarsely chopped leaves.
Give your roots a pretty tip. The radish roots look very elegant with a bit of the tail showing. Here's how to do it: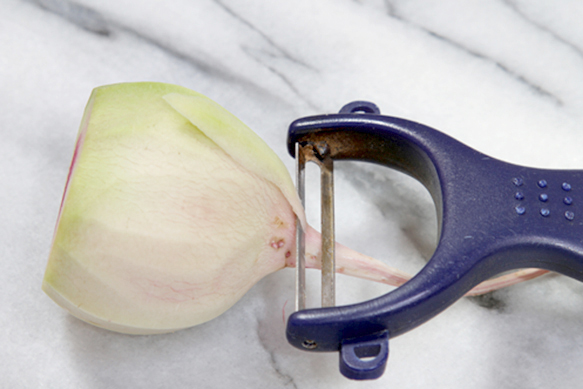 Peel the radish along its bulb and its tail, being careful not to sever the tail.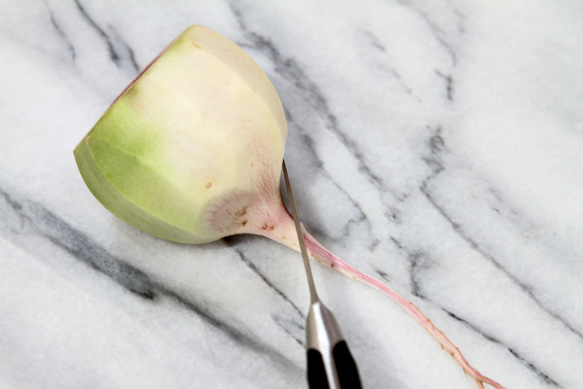 Cut the tail on the diagonal, about 1/2" from the base of the bulb.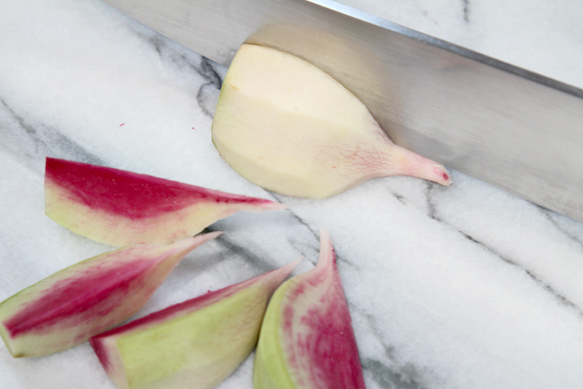 Cut the radish in half, right through its tail, and then in quarters right through its tail again.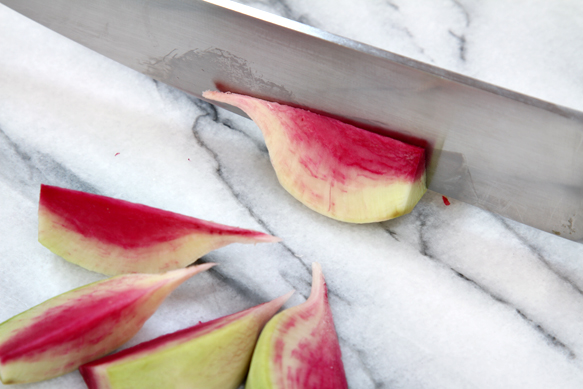 For larger radishes, cut each quarter in half, right through the tail, into 1/4" slices.