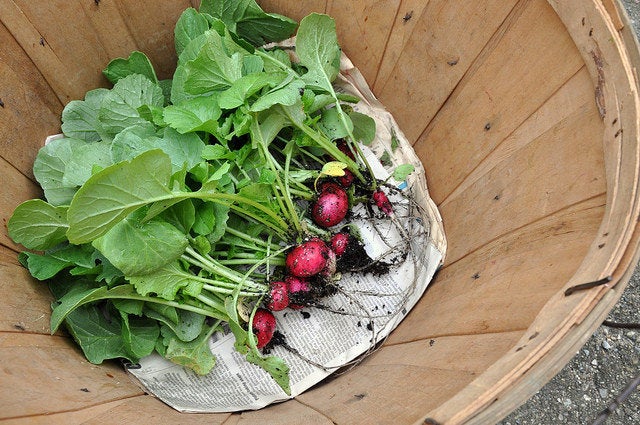 THE SPLENDID TABLE'S HOW TO EAT SUPPER
By Lynne Rossetto Kasper

Host, The Splendid Table®, American Public Media's national food show and co-author of The Splendid Table's How to Eat Supper: Recipes, Stories and Opinions and the new How to Eat Weekends. Ask questions and find Lynne, recipes, and station listings at splendidtable.org, or 800-537-5252.
Copyright 2012 Lynne Rossetto Kasper
Are radish tops safe, or are they dangerous like rhubarb leaves? If they won't kill me, what can I do with them?
Rhubarb leaves pack high levels of toxic oxalic acid, but radish leaves are safe. They have a mild bite a little like the radish beneath them, and like that radish, they are best eaten young and in great shape. There is a slightly fuzzy texture to them that some people don't care for, but it's purely a matter of personal taste.
Try them instead of lettuce or arugula in sandwiches (they love mayonnaise). I use them as a foil for roasted sweet vegetables, like peppers, onions, squashes, carrots or parsnips. Roasting browns the greens, lending them a rich, pleasingly tart-meaty flavor.
Test drive the concept with this dish. It's a chameleon, turning into a relish for topping bruschetta, a dip, a topping for anything grilled, a side dish or a sauce for pasta.
Three Pepper Roast with Radish Greens
Serves 4 to 8
20 minutes prep time; about 45 minutes oven time
You could chill the peppers up to 5 days, or freeze up to 6 months.
5 large, sweet red and yellow peppers, cut into 1-1/2-inch pieces
2 to 3 medium-hot to hot fresh chilies, cut into 1/2-inch pieces (Jalapeno, Hungarian, Cubanelle, or Serrano), optional
2 medium to large red onions, cut into 2-inch chunks
4 large cloves garlic, coarsely chopped
A big handful fresh radish leaves, spring mix, curly endive, escarole or young arugula, coarsely chopped
1/3 cup pitted Kalamata olives
1/2 cup fresh basil leaves, torn
1/2 teaspoon dry oregano
2 to 3 tablespoons good tasting extra-virgin olive oil
salt and freshly ground black pepper
2 lemons cut in wedges (for garnish)
Preheat oven to 450ºF. Slip a large shallow pan (a half-sheet pan is ideal) into oven to heat up. In a big bowl toss together all the ingredients (except the lemons), seasoning to taste with the salt and pepper.
Open the oven, with oven mitts pull out shelf with shallow pan. Turn all the vegetables onto the pan, taking care not to get burned. Spread them out and roast about 45 minutes, turning often. Peppers should have some browning and radish leaves should be crisp. Encourage browning by keeping everything spread out during cooking.
Serve the peppers hot or at room temperature with lemon wedges to squeeze for the dish's final seasoning.
Support HuffPost
A No-B.S. Guide To Life
Related
Popular in the Community