I met Radu last year at a luxury event and we bound in an instant. He is a remarkable man and I let him to tell you more... "I am Radu Diaconu, 31 years old, born in Pitesti, living in Bucharest. I have studied and worked in marketing on great brands like Heineken and Johnnie Walker. I am a film buff, I love a good cocktail or beer and I am passionate about strategy games. You can find me on Facebook by searching my name." Please, meet Radu and his guilty (or not so guilty) pleasures.
1. What is behind your success? Can you tell me something that nobody knows about you?
I don't think that the general way people see success applies to me. When someone says success, people instantly think about a man's assets or his job position. Even though I feel the outside pressure of succeeding in this way, I keep to my own definition where success implies a feeling of happiness. Behind my way of looking at success there are people: my parents and sister, my close friends, my soon to be wife and some role models from whom I've learned what it means to be a decent human being. Beside their positive influence I also have a very optimistic view on life that helps me move forward.
It's hard to say something about me that nobody knows, because I usually am not afraid to show the real me. But there is something that I kept secret from my parents up do this date; a car accident that I was involved in when I was 18. Me and my friends were very lucky to come out without heavy injuries. This incident changed the way I look at everything and made me realize how important but fragile life is.
2. What have you always wanted? Did you ever get it?
Ever since I was 21 years old and worked as a waiter in a restaurant in Florida, USA, I started envisioning how great it would be to have my own pub. Something cozy, where customers are regulars and where I can meet with my friends at the end of the day. Like "Cheers" from the comedy series with the same name. And I would also do stand-up comedy every Friday. This is something that I leave as a guilty pleasure for my forties. Until then, in the next 3 years I would like to do "El Camino de Santiago".
3. If you could have personally witnessed anything, what would you want to have been?
Being a witness doesn't come close to being part of something great. Having this in mind, I would like to have witnessed the Woodstock fest in 1969 USA, but would like to have been part of the group that made possible the first trip in space. Even if only from the marketing & PR point of view.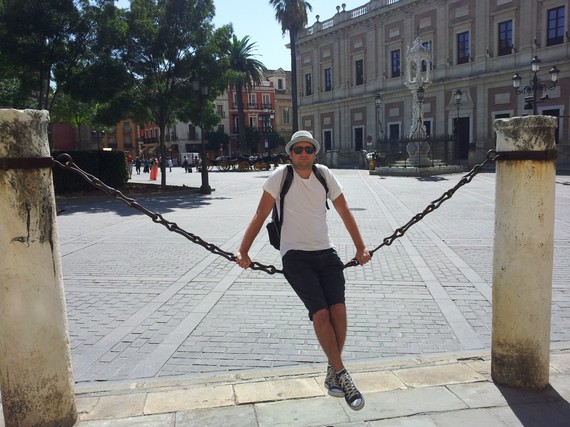 4. If you had to be trapped in a TV show for a month, which would you choose and why?
I would go with something light, a comedy. I don't need the drama. At first I wanted to say Seinfeld, but the characters are too selfish so I would choose Friends. There is a warm feeling that the show gives you and makes you think you can overcome anything when you have your friends with you.
5. What is happiness to you?
I would like to answer this by starting with a quote I love: Happiness is something that we can only pursue and may never reach. But it's this pursuit that will make life worth living.
Saying this, happiness is for me the best feeling one can have. It gives you wings and takes you further than you can imagine. Happiness firstly means being satisfied with myself and then with those around me. Loving and being loved is key to living a happy life and I am grateful to have both. I know that happiness is not something permanent and is also hard to maintain, so I try to enjoy the moment as much as possible.
Please follow Radu on his Facebook Page. And if you want more #InvisiblePlaces Stories, follow me on Instagram. Thank you!
REAL LIFE. REAL NEWS. REAL VOICES.
Help us tell more of the stories that matter from voices that too often remain unheard.