Fashion can be emotional, but it's the truly monumental moments that move one to tears.
On Saturday, Raf Simons presented his final show for Jil Sander, the brand he has helmed since 2005 and successfully revived with a bright, fresh minimalism.
Showing to a crowd in Milan, Simons paraded models out in sleek pastel dresses and coats, the colors coordinating with the bouquets of fresh flowers positioned on the white runway.
In the audience were fashion's most important faces, including Anna Wintour, Hamish Bowles, Suzy Menkes and Cathy Horyn, who played a key part in breaking the story of Simons' exit from Jil Sander. On Friday, the New York Times fashion critic tweeted, "Raf Simons to leave Jil Sander. Show on Saturday to be his last," causing the fashion twittersphere to explode.
"After Mr. Simons ducked out of sight, the audience gathered on the low, rectangular stage and moved toward the backstage entrance, applauding the entire time. The German press section was particularly loud. People stood on the runway and kept applauding for about a minute, and then Mr. Simons came out again, his face streaked with tears."
Fashionista adds, "At this point, most people had tears in their eyes–including the PRs who worked the show, editors, and other fashion industry insiders."
Rumor has it that Simons could be headed to Christian Dior, as it remains one of the top creative director jobs vacated. Wherever Raf goes next, it will have to be something major, something amazing enough for him to have left his beloved berth at Jil Sander. Judging by all the tears, he is going to miss it.
See Simons' final runway showing for Jil Sander, including the models, the audience members and the designer himself, below.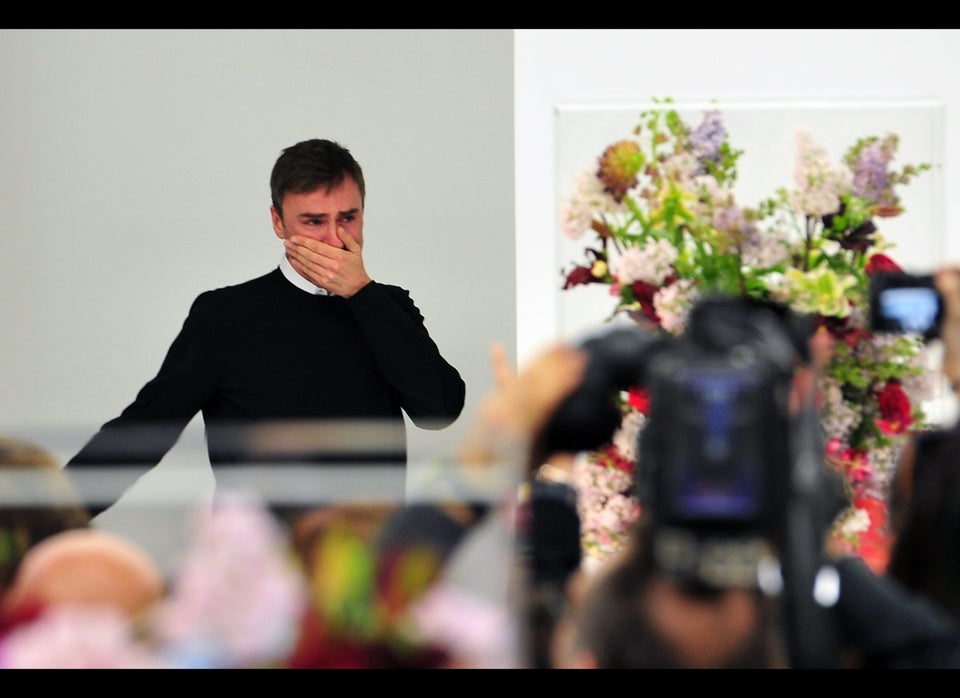 Raf Simons' Final Show at jil Sander
Related