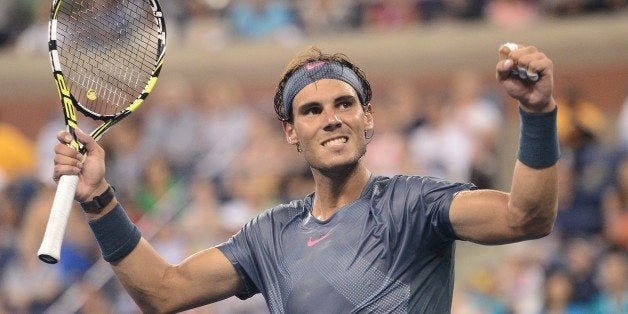 Rafael Nadal made a splendid debut in the U.S. Open, the last Grand Slam of the year. The Spanish athlete is competing to win the number one spot against Novak Djokovic in order to be re-crowned as the best tennis player in the world, a title he last won in the summer of 2010.
After came back to beat Philipp Kohlschreiber of Germany 6-7(4), 6-4, 6-3, 6-1 on Monday, the second-seeded Nadal will play next round against his fellow Spaniard Tommy Robredo who won in straight sets to Roger Federer 7-6 (3), 6-3, 6-4.
Nadal is in top shape after overcoming an injury that kept him away from courts for seven months. Now, he's ready to prove he is the best tennis player of 2013 and, with his unbeatable mix of determination, discipline and humility, he is poised to do it.
But Rafael Nadal also has very good reasons to be happy in his personal life. In addition to his millions of fans around the world, Nadal always enjoys the company of three women who unconditionally celebrate his victories and accompany him on his defeats. They serve as his primary source of emotional support.
We're referring to his mother Ana Maria Parera, his sister, Isabel and his girlfriend, Xisca Perello.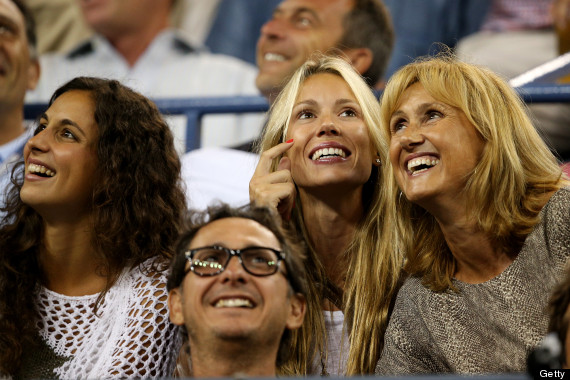 The girlfriend, Xisca Perello
Francisca Perello, known as Xisca, is a discrete, 24-year-old woman who started dating the tennis player when they both were teenagers. She was a close friend of his sister Isabel.
Despite being the girlfriend of one of the most famous and wealthiest athletes in the world, Xisca took the subway to go to college and shared a flat with other students, while studying for her bachelor's in business administration.
Although Xisca has never given an interview, she is always polite to the journalists and paparazzi that follow her around at tourneys or while she's enjoying the holidays with her boyfriend. The beautiful young couple love to navigate the waters of Mallorca, Spain.
Summer after summer, she draws the attention of photographers with her spectacular figure, which is often compared to that of a professional model. The most recent images of the couple show the two of them enjoying the delights of New York, before the start of the U.S. Open competition.
Isabel Nadal, called Maribel by her close friends and family, is Nadal's little sister and his best friend and confident.
As discreet as her friend Xisca, Isabel's slim figure and long blond hair never go unnoticed by the paparazzi in the tourneys.
The 22-year-old captures so much attention that on several occasions her name has become a trending topic on Twitter with the hashtag #VamosMaribel and competes in popularity with her brother.
She studies sport sciences in Barcelona and is an amateur tennis player. To the disappointment of many of Nadal's male fans, Isabel is dating golfer Pep Juaneda.
The mother, Ana Maria Parera
The separation of Rafael Nadal's parents, Sebastian and Ana Maria, was a blow to the player in 2009. He lost the number one spot in the ATP rankings, after suffering a painful knee injury.
This situation affected him to the point he addressed it in the public: "My knees were the immediate reason for my loss number one, but I knew the root cause was my state of mind."
In his autobiography "Rafa: My Story," he recognizes that he was devastated over his parents' separation. "They were the mainstay of my life and that pillar had crumbled. I was depressed, I lacked enthusiasm. I had lost all love for life," he wrote.
In 2011, his parents reconciled and began living together again. Besides encouraging her son unconditionally in every tourney, Ana Maria is president of the Rafa Nadal Foundation, which is dedicated to help underprivileged children through education and sports.
"I remember when Rafael was 17 and travelled to India. Upon returning, he said: 'Well, they took us to a luxury hotel, and then you come out and the difference is so awesome…' And one day I wondered: Why don't we do something," said Ana Maria to Spanish magazine AR.
Xisca, Isabel and Ana Maria are three discreet, humble and enthusiastic women who are a big part of Rafael Nadal's victories. Without their constant support, he might not have made it this far.
Calling all HuffPost superfans!
Sign up for membership to become a founding member and help shape HuffPost's next chapter
BEFORE YOU GO
PHOTO GALLERY
PHOTOS: U.S. Open Day 9