NEW YORK -- More than 20,000 police officers and other mourners gathered Saturday at Christ Tabernacle Church in Queens for the funeral of Rafael Ramos, one of two NYPD officers shot and killed in an ambush last Saturday.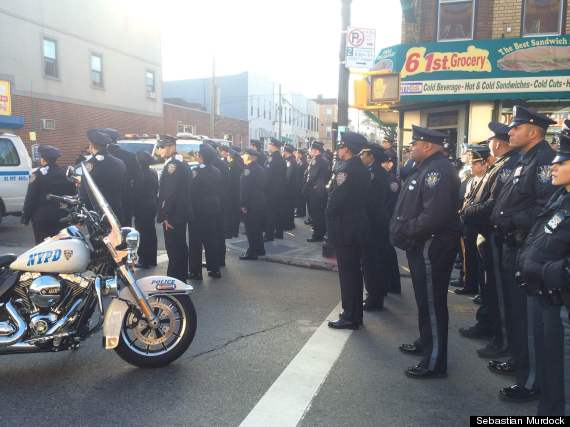 Police line the streets and sidewalks as vehicles pass.
In attendance were Ramos' wife and two sons, cops from all over the country, and several public figures, including Vice President Joe Biden, New York City Mayor Bill de Blasio and New York Gov. Andrew Cuomo.
"I'm sure I speak for the whole nation when I say to you that our hearts ache for you," Biden said. He spoke of his own brush with tragedy, when his wife and daughter died in a car crash in 1972. "I know from personal experience that there is little anyone can say or do to ease the pain," he said.
Cuomo also spoke, denouncing recent threats against the NYPD and saying that "an attack on the NYPD is an attack on all of us." He assured the assembled cops that "75,000 police officers and National Guardsmen statewide have your back every step of the way," and praised the way the department had handled recent anti-police-violence protests in the city.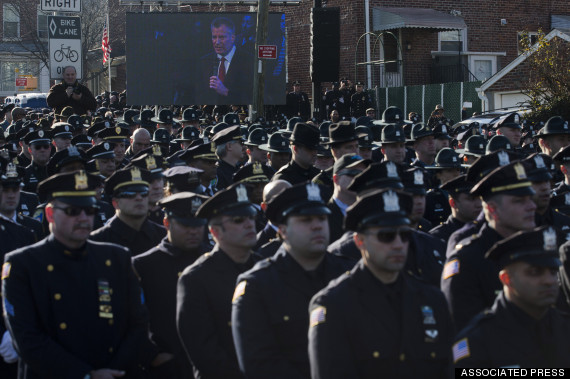 Police officers turn their backs as New York City Mayor Bill de Blasio speaks at the funeral of New York city police officer Rafael Ramos in Queens on Saturday. (AP Photo/John Minchillo)
In response to the gesture, the mayor's office said, "The Ramos and [Officer Wenjian] Liu families, our police department and our city are dealing with an unconscionable tragedy. Our sole focus is unifying this city and honoring the lives of our two police officers," WNBC reported.
Tensions between de Blasio and the NYPD, already high, were exacerbated after the murders when officials, including Police Commissioner Bill Bratton, linked them to the protests. De Blasio had expressed support for the protests, which have been taking place since early December after a grand jury declined to indict an NYPD officer for the death of Eric Garner. De Blasio's critics said the protests fostered an anti-police sentiment that led to the killings.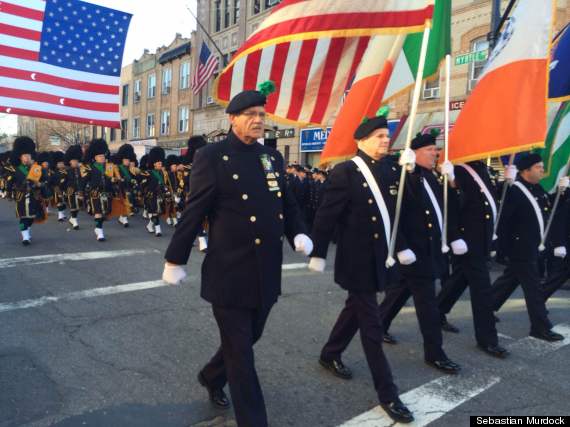 The funeral procession begins with drummers from NYPD's Emerald Society.
Ramos, 40, had been sitting in a patrol car with his partner, Wenjian Liu, in the Bedford-Stuyvesant section of Brooklyn on Dec. 20 when gunman Ismaaiyl Brinsley approached the car and shot the two men to death. Brinsley then fled into a nearby subway station, where he killed himself.
Brinsley, a drifter with a history of criminal activity and mental illness, had boasted on Instagram of his plans to "put wings on pigs." The 28-year-old, who was black, described the violence as revenge for the killings of Michael Brown and Garner by white police officers. He had shot his ex-girlfriend in Baltimore earlier in the day.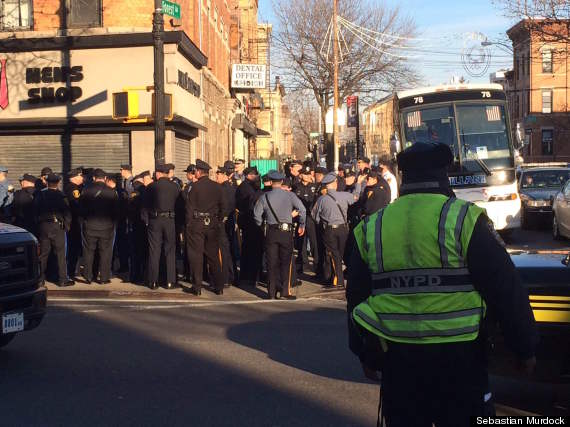 Police officers filing off a bus to attend the funeral.
On Saturday, Queens resident Ken Shirley, a 79-year-old retired transit cop, sat on his stoop with family members as hundreds of police quietly shuffled by before the funeral. Shirley said he is all too familiar with good cops being killed on the job. "It's all very sad," he said. "During my 20 years on the force, two police officers in my class got killed. You never know."
Craig Dinan, a 48-year-old hospital worker who lives just blocks away from the church, called the killings of Ramos and Liu senseless. "There's a lot of sadness today," Dinan said. "What happened was tragic, and for no reason at all." As police motorcades rolled slowly by and helicopters circled low overhead, Dinan gestured at the thousands of officers walking toward the church. "As you can see, they all stick together," he said. "It's a sight to see -- I sure hope it never happens again, that's for sure."
Like many officers and those in attendance, Dinan expressed criticism of de Blasio while praising Pat Lynch, the chairman of the city's largest police union, who laid part of the blame for Ramos' death with the mayor.
"Pat Lynch, he's doing the right thing," Dinan said. "You gotta stick up for your brothers."
At the funeral, Bratton announced that Ramos and Liu had been posthumously promoted to the rank of first-grade detective, the highest level. Beyond the symbolism of the honor, it will mean an increase in benefits paid to their families.
On Saturday night, the Empire State Building was lit in blue with a rotating red siren in honor of the slain officers.
Support HuffPost
The Stakes Have Never Been Higher
Related
Before You Go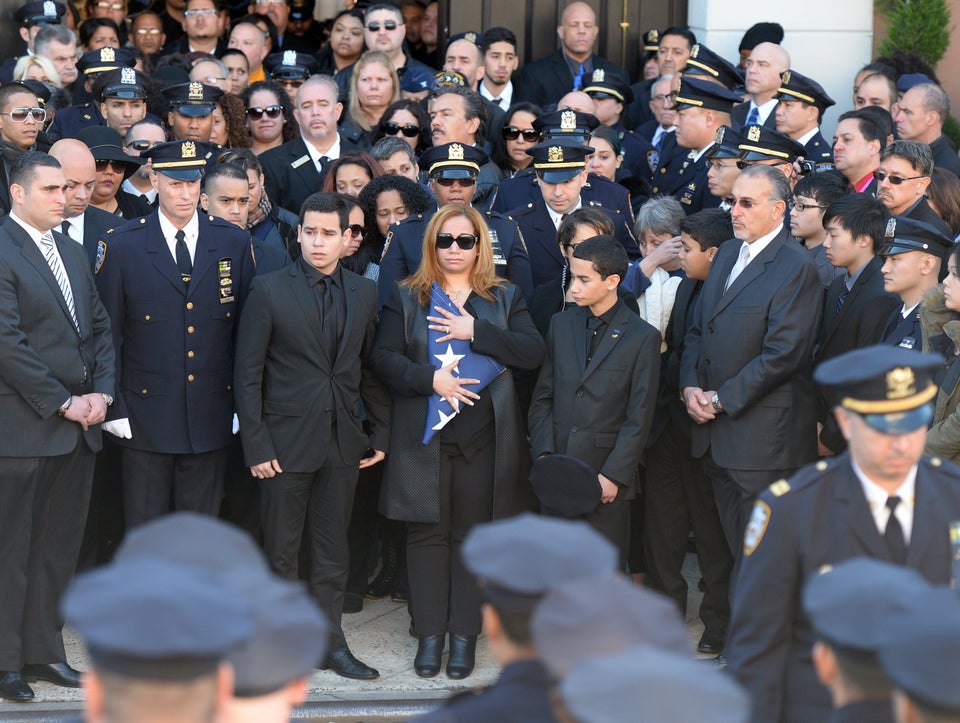 DON EMMERT via Getty Images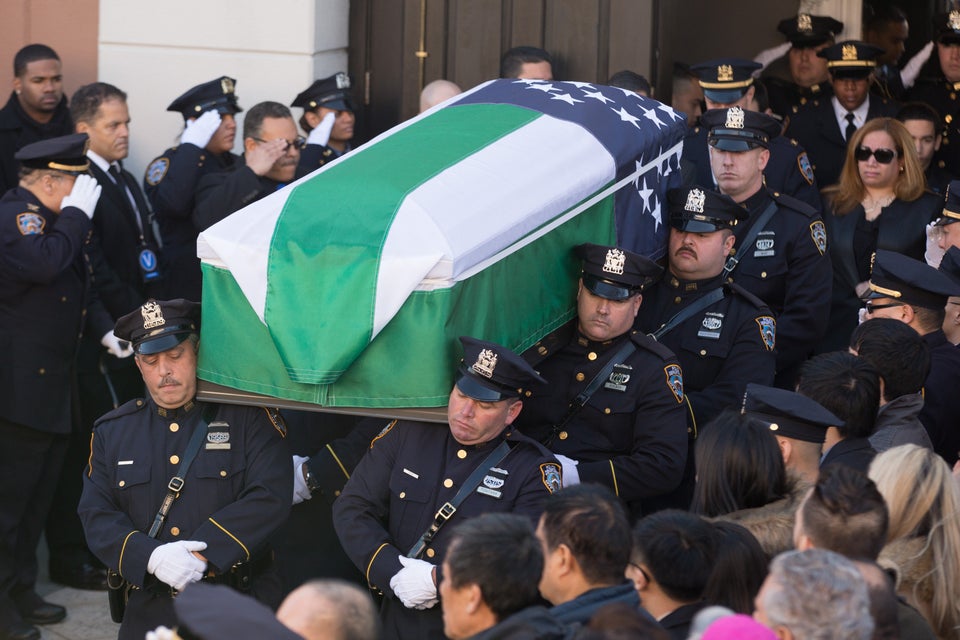 Kevin Hagen via Getty Images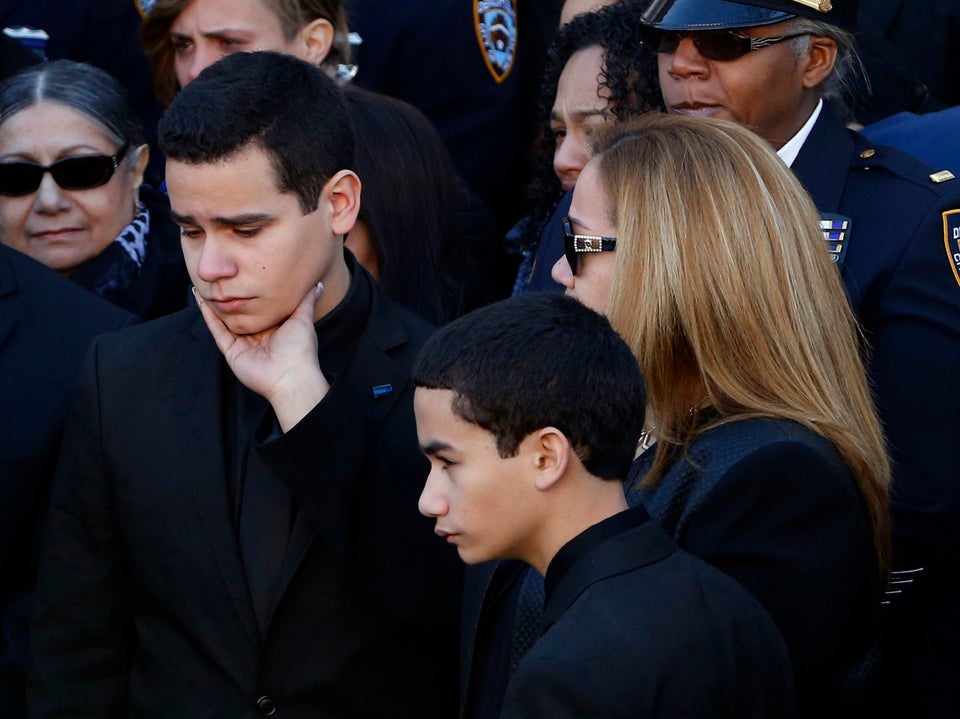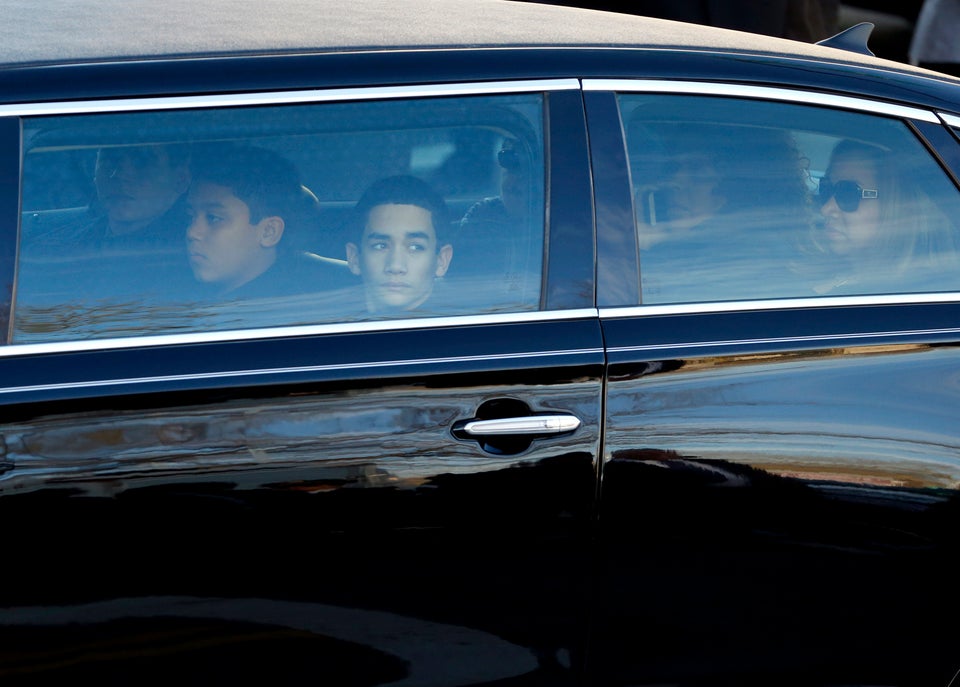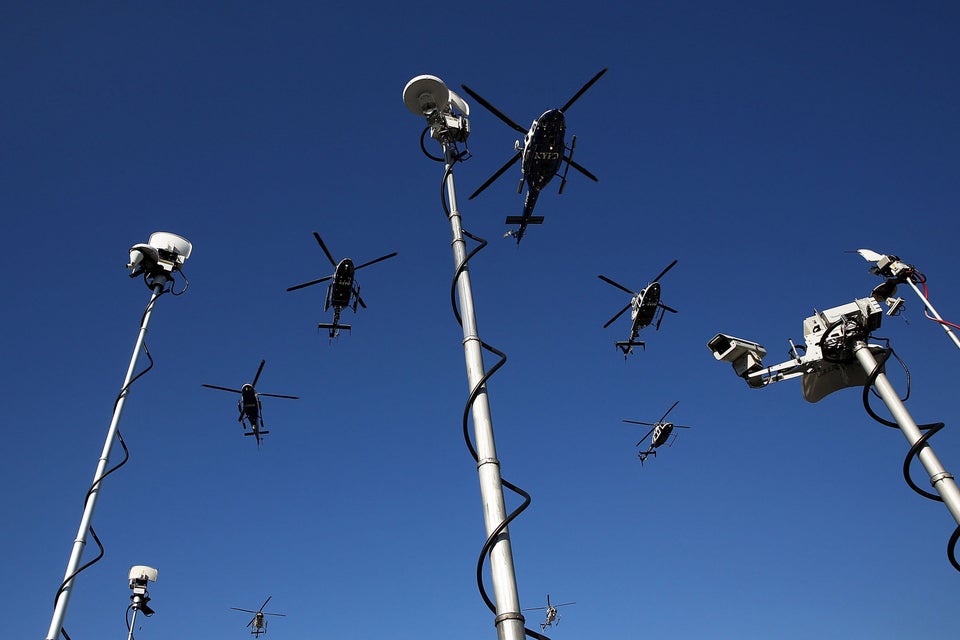 Spencer Platt via Getty Images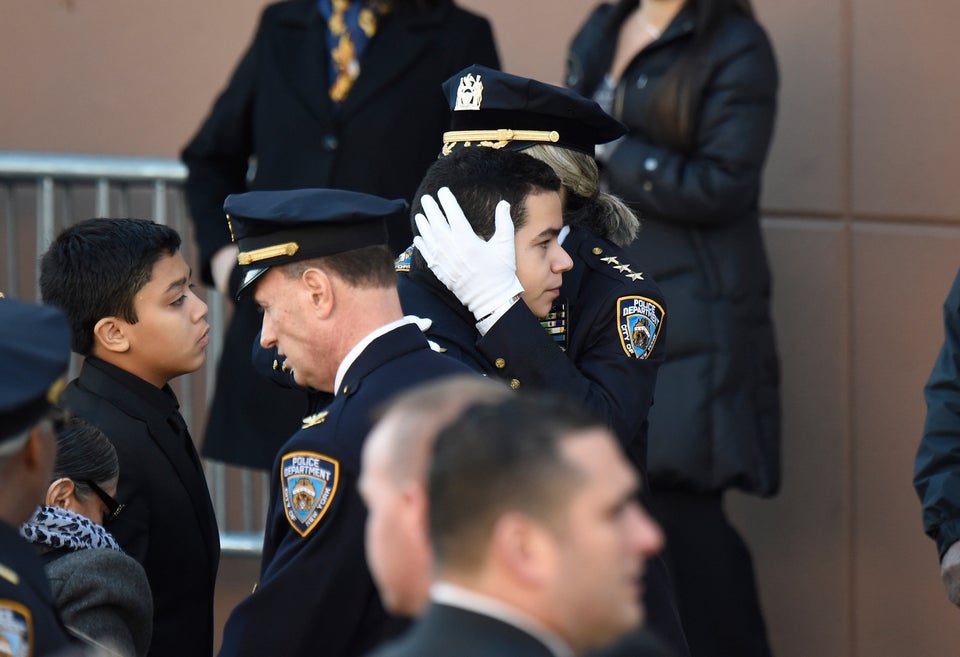 Kevin Mazur via Getty Images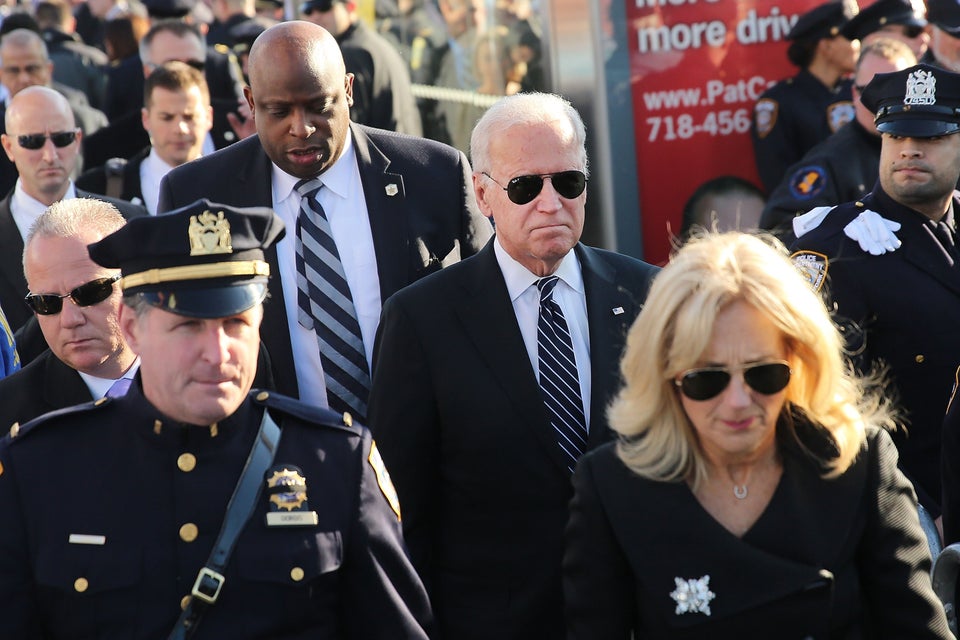 Spencer Platt via Getty Images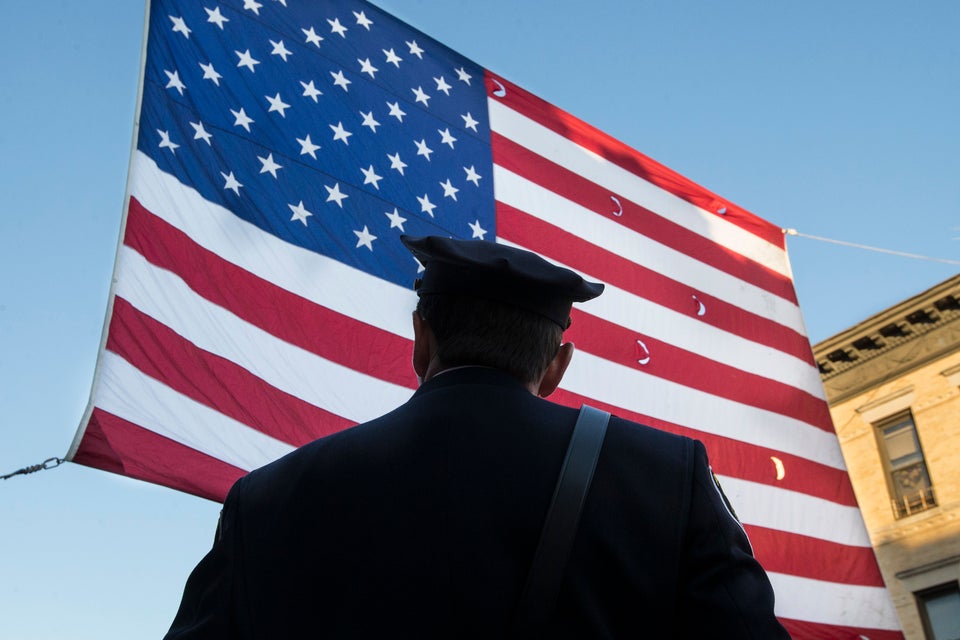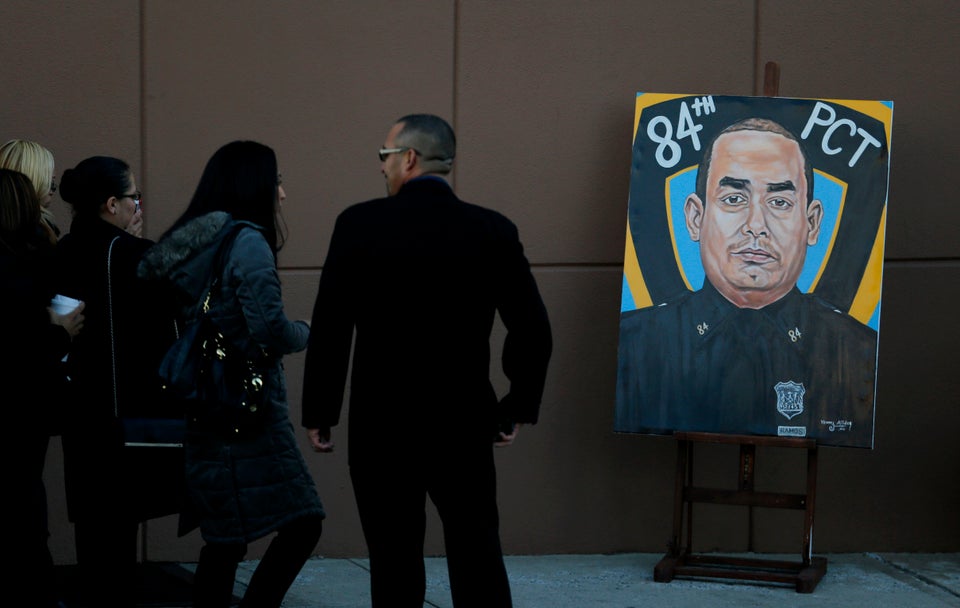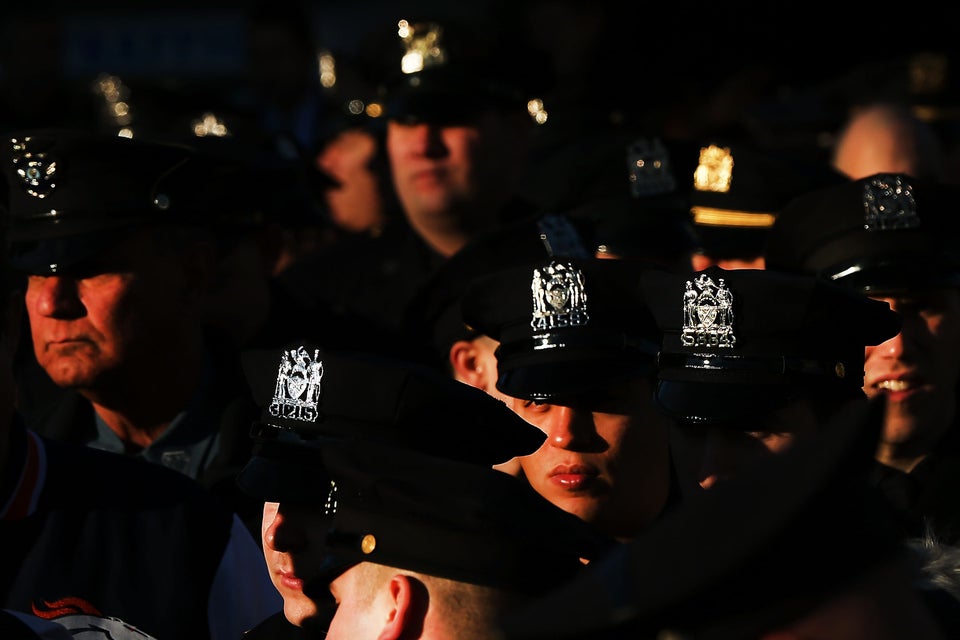 Spencer Platt via Getty Images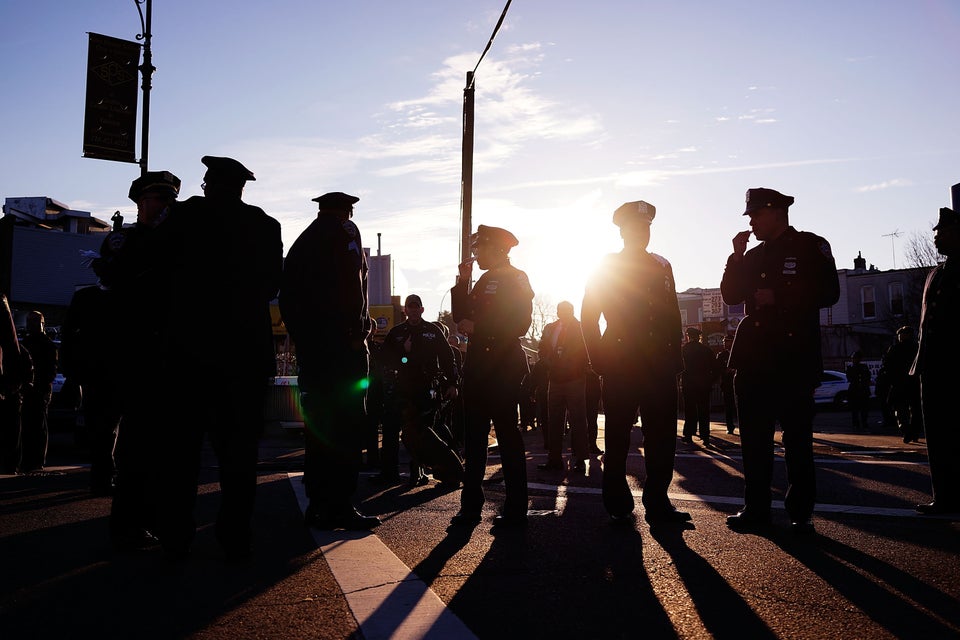 Spencer Platt via Getty Images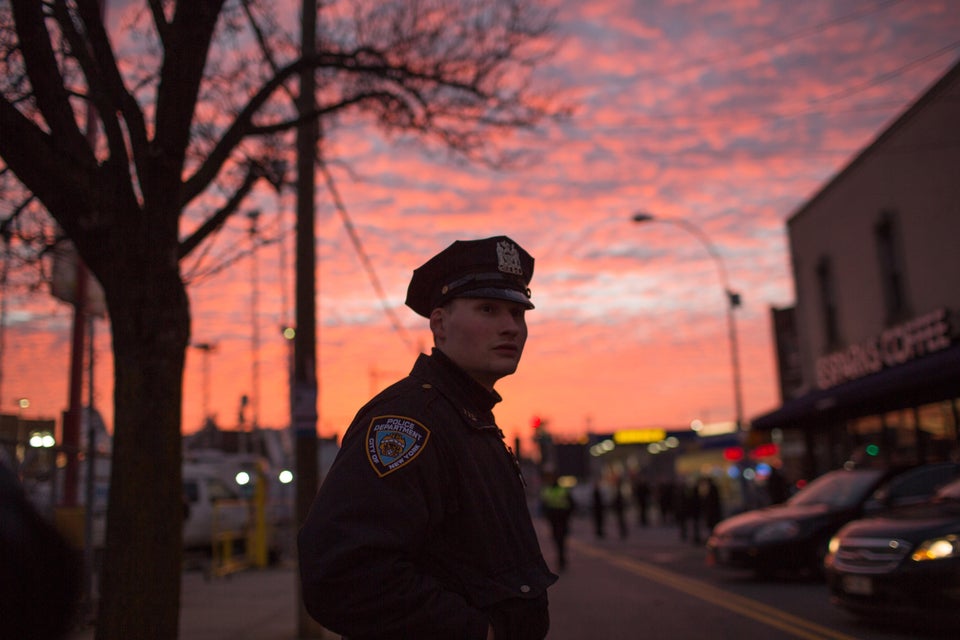 Kevin Hagen via Getty Images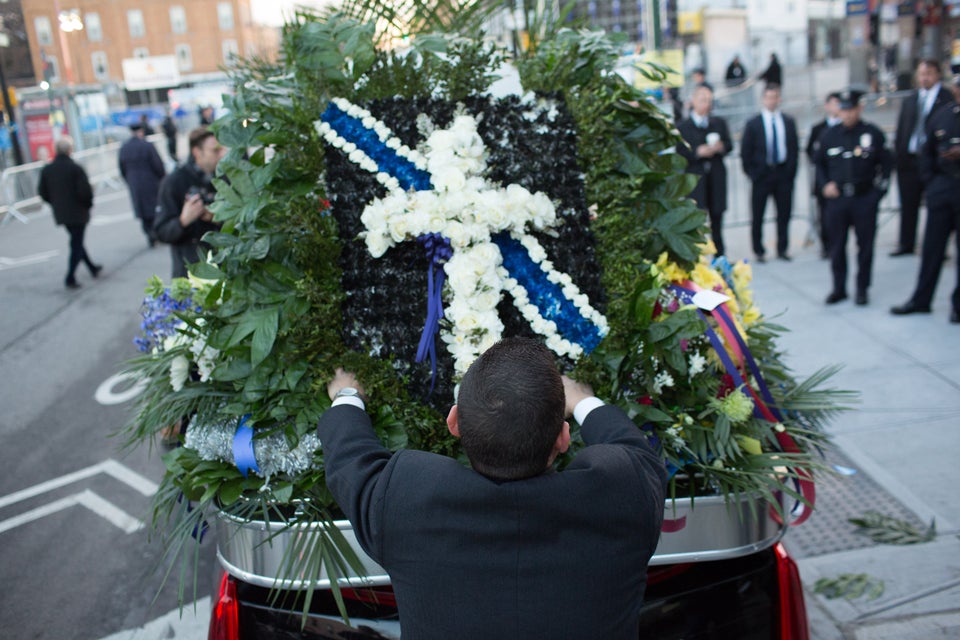 Kevin Hagen via Getty Images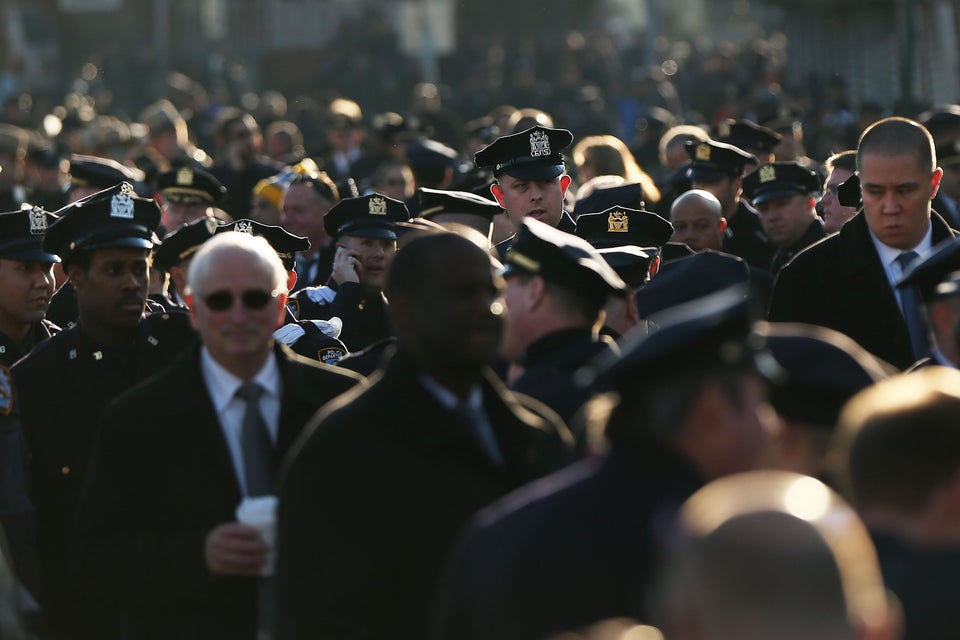 Spencer Platt via Getty Images
Popular in the Community