"Pura vida." Literally, it means "the pure life," but Costa Ricans use it to mean everything from "life is good" to "good luck," "cheers" to "no worries." On a recent trip to Costa Rica, I found myself embodying the phrase in all its meanings.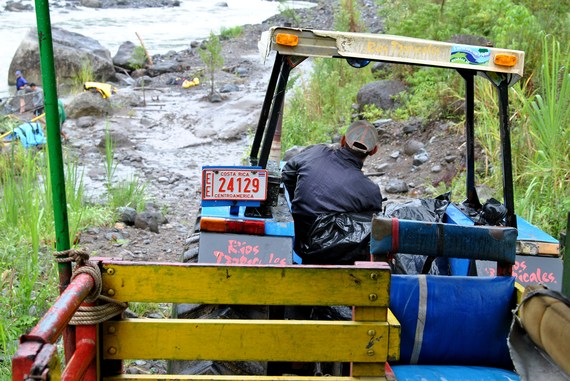 Our adventure began when we climbed onto the back of an old, ramshackle tractor painted in bright yellows, blues and reds, and drove down a dirt road to the edge of the Pacuare River, one of the premier whitewater rafting rivers in the world. We put on helmets and life jackets, climbed into an inflatable raft and pushed off into the fast-flowing river. It was both thrilling and relaxing -- as we traversed a rapid, we dug into the foaming water with our paddles, and got doused as we tried not to get thrown from the boat. The next moment we were floating in a still pool, able to take in the lush greenery framing the river.
Several miles later, we reached our destination: an eco-lodge perched on the edge of the river, accessible only by boat. We unloaded our gear while our guide, Andres, cooked dinner. Andres was the kind of guy you'd want around if you found yourself stuck in the middle of the jungle. Not only was he an expert rafter and an able cook, but he was also adept at horseback riding, rappelling and climbing and was well versed in the flora and fauna of the rainforest.
Under an open-air thatched-roofed pavilion, we drank fresh pina coladas around a bar made from an enormous slab of wood. For dinner, we ate chicken stew, a welcomed change from the rice and beans Costa Ricans seem to eat for every meal.
It got dark early, and so I retreated first to a hammock outside my room and then to bed. Exhausted from the day's physical exertion and without an internet connection or phone service to distract me, I was lulled to sleep by the sound of the river rushing by.
I rose with the sun to the sounds of birds chirping. After a cup of Costa Rican coffee and a hearty breakfast, we hiked upstream and came upon a large metal basket attached to a steel cable, which the indigenous people use to cross the river.
"You wouldn't catch me in that thing," I said.
"How do you think you're getting across?" Andres asked.
Warily, I climbed into the basket and crouched inside. One side was completely open. Andres gave the basket a push and I sped through the air. Once safely on the other side of the river, I noticed a Costa Rican cowboy leaning against an old red motorcycle, smoking a cigarette and watching over several horses tied to a makeshift fence. The cowboy was our new guide, and he led us up the mountain on horseback. When we reached the top, we took a tour of a butterfly reserve and ate lunch on a patio overlooking the vast mountain range.
We hiked down the mountain through the dense rainforest, shaded from the sun by a canopy of trees. I caught a fleeting glimpse of a monkey swinging through the jungle, jumping from vine to vine. We climbed up a rocky cliff to a swimming hole, and splashed around in the water like carefree children. We rappelled down a thirty-foot waterfall and zip-lined through the rainforest canopy, mimicking the flying monkeys.
At the end of our action-packed day, we stumbled back to the eco-lodge, eager to rest. The accommodations are simple, but clean and new, and seamlessly integrated into the natural ecosystem. The lodge, run by the eco-adventure company Rios Tropicales, runs on a hydro-powered generator system in an effort to be sustainable. Rios Tropicales was founded by Rafael Gallo, who is committed to sustainable development that integrates the local community with the tourism industry.
"We don't want massive tourism. We are selective. We want people who want to learn about sustainable practices," Gallo told us. "Sustainability has become a difficult word to describe. Some people recycle, and consider themselves sustainable. But it's bigger than that -- it's about reciprocation -- our guides go back to their communities and teach the local people the philosophies and practices they've adopted. We want our guests to do the same."
Gallo's mission reflects the country's dedication to environmental sustainability. For over 100 days in 2015, Costa Rica used only renewable power sources such as water, sunlight and wind -- a record for any country -- as part of a nationwide clean energy campaign. Costa Rica is working towards becoming the first carbon-neutral country by 2021, a goal announced in 2007.
It's a worthwhile mission. Our adventures were a product of, and enhanced by, the uncompromising beauty of the Costa Rican countryside. When we left the next day, whitewater rafting back to civilization, we had a newfound appreciation for the jungle and the importance of keeping it pristine.
More Information:
Rios Tropicales is an eco-adventure company that offers whitewater rafting and other adventure activities throughout Costa Rica. The company's lodge is one of five such retreats along the Pacuare River. For a more luxurious stay, the Pacuare Lodge, upstream, is outfitted with jacuzzis and a secluded honeymoon suite accessible only by suspension bridge.