Images courtesy of Susanne Vielmetter Los Angeles Projects; Photo credit: Robert Wedemeyer.
During a five-week residency at Berlin's Akademie der Kunste in 2011, Steve Roden studied the notebooks of German critic and philosopher Walter Benjamin. From the experience he extracted not just the content of the notebooks but also the visual (non-verbal) marks that Benjamin made on their pages. The marks' method of collection mirrors Benjamin's cherished idea, borrowed from Baudelaire, of the ragpicker (the urban equivalent of a beachcomber) who scoured city streets for anything, surrealistically encountered, of to-be-determined-later use. It's these marks that define the formal aspects of the paintings, drawings, sculpture, and sound works. If Benjamin was a connoisseur of outskirts ephemera, then Roden is their synthesizer, their chronicler, their grammatician. The result is an exhibition that is as conceptually intriguing as it is formally playful; it also suggests a profitable way (loop-the-loop, zigzag, double back) to view the work.
Nicely, neatly, almost clinically arranged, the show features four bodies of work, three of which were inspired by material found in the notebooks. Postcards that depict the Duomo, Sienna's 12th century cathedral, influence a group of small paintings. Cross-out marks from notebook pages influence a series of large paintings. An image of Chandigarh (an Indian city designed by Le Corbusier) intellectually linked to Benjamin's cannibalization of Baudelaire's idea of the flâneur, informs a set of 70 inch-tall works on paper. A fourth body of work, cardboard, plaster-wrap, and mirror sculptures, question the location of Benjamin's burial stone (As he fled Europe in 1940, he committed suicide in Spain thinking, mistakenly, tragically, that he was about to be apprehended by the Nazis).
The work is painted with sure and confident brushstrokes, though the cityscapes and human figures that the strokes create are anything but. The large paintings resemble kaleidoscopic fragments of urban life. Here the marks can refer to shards of crammed-together anonymous people as well as to the play of suddenly glimpsed natural and man-made light on manufactured surfaces. They can also refer to the manner in which these shards are held together and structured, the effect being one of both stained glass on a cloudy day and the strips of lead that hold the glass together. The 70 inch-tall works on paper describe the human figure in various stages of atomization, a series of poetic and electrical impulses at times seemingly eclipsed by either the closing of an eye or an eclipse of the sun.
Speaking of finding value in discarded memes, Roden's choice of research material is additionally though perhaps inadvertently inspired. Known for his essay "The Work of Art in the Age of Mechanical Reproduction," Benjamin suggests that when art loses its ritualistic value, it would then find meaning in its exhibition value. Ritualistic art almost seems nostalgic nowadays but, face it, it's not a bad way to describe how auction houses now ascribe value to art.
The exhibition runs until October 19. Gallery hours are 10:00am - 6:00pm, Tuesday - Saturday. The Gallery is located at 6006 Washington Boulevard, Culver City 90232. For more information call (310) 837-2117 or visit www.vielmetter.com.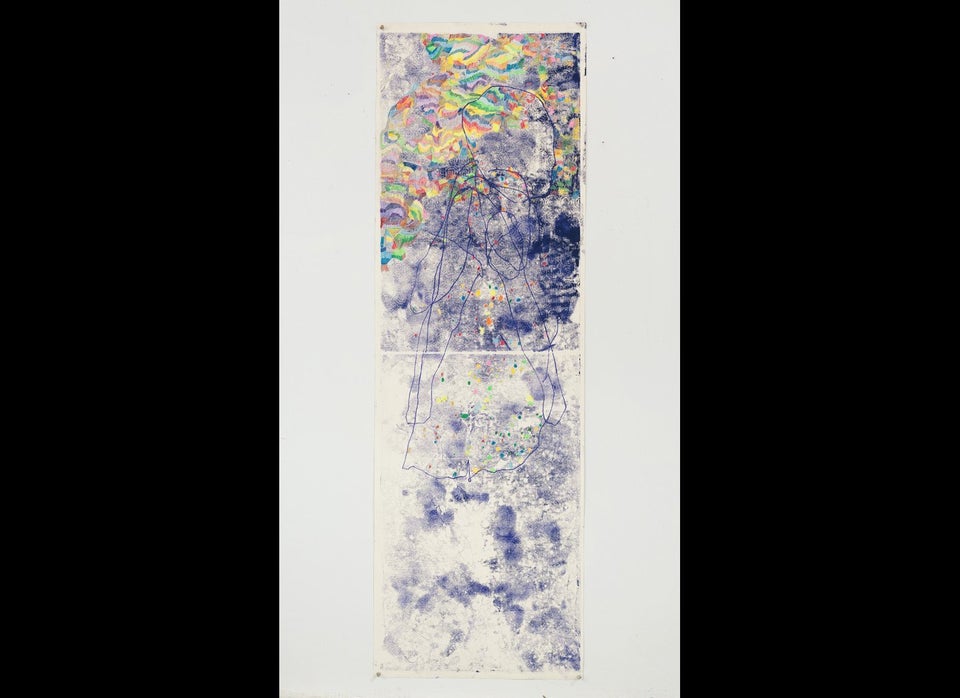 Steve Roden
Popular in the Community