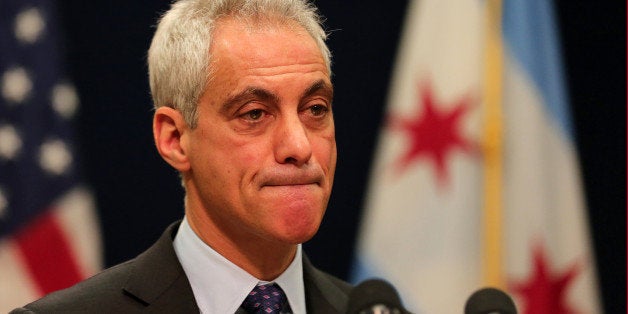 "And I saw a new heaven and a new earth: for the first heaven and the first earth were passed away...and I John saw the holy city, new Jerusalem, coming down..." Revelation 21:1-2
I wrote a HuffPost article almost four years ago entitled "People Before Profit, Rahm!" that wrestled with Mayor Emanuel's persona and our Chicago reality. Well, with the revelation of a grand coverup and conspiracy in the brutal, savage and merciless killing of 17-year-old Laquan McDonald by Chicago Police Officer Jason Van Dyke, we are at the crossroads of truth and justice vs greed and class. Our young and capable Black Lives Matter (and Chicago's own Black Youth Project 100) warriors are confronting the 'powers'. The 'powers' can be defined as those who have chosen profit over equality (i.e., a level playing field). It is plain to those who have taken to the streets that this video cannot be explained away by the most contrarian of pundits. Jason Van Dyke has had 20 complaints in his career -- and no disciplinary reprimand. Can you imagine all the people Van Dyke crippled before video?
We expect this type of savagery from gangstas or the mob. They're sending a message to their cohorts. Their language is the language of unfettered violence. This is not however to be the actions of a public servant sworn to serve, protect and uphold the law. Or at least that's the aborted truth we promulgate to the citizenry.
Justice regarding Laquan's killing is hopefully obvious. Justice regarding the 400-day coverup is woefully, sadly and in the tradition of American oppression being bandied about with an adroitness that would make Bull Connor and George Wallace proud. It reminds me of the Emmet Till acquittal. This irrefragably diabolical and dastardly killing is matched only by it's headlined coverup. How does the mayor and his city Council approve an unsolicited $5,000,000 payout to the bereaved family (sequestered during the mayoral 2015 election), cut the check and not know why? In the words of the late great Mayor Harold Washington, "Chicago needs a laxative!" We must flush Mayor Rahm Emanuel, his syncophanic Aldermen, Chicago Police Superintendent Garry 'the Bronx Bulldog' McCarthy, States Attorney Anita Alvarez et al down the toilet of accountability and justice.
Let's cut to the chase: Laquan McDonald's shooting and video are the wake up call to all Chicagoans that we need a New Chicago. A new mayor and a new city council. We cannot salvage a city that allows nine policemen to witness another police officer perform a 21st century lynching without reprimand. We must think our way out of old school Chicago corruption and into a diverse and productive 21st Century. What can the New Chicago look like? A place where human beings are judged by the content of their character and not the color of their skin...
Join and meet with me and other like-hearted souls to birth New Chicago. Faith over Fear. Need more faith? Here: Today, Tuesday December 1st is the 60th Anniversary of Rosa Parks and the Montgomery Bus Boycott. People doubted that group too.
Popular in the Community