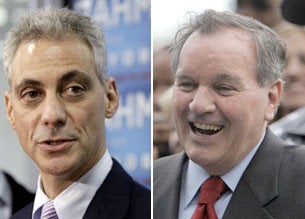 A letter issued Tuesday by Inspector General Joe Ferguson says that with regard to a number of ethics-related investigations, Mayor Rahm Emanuel is no better than his predecessor.
In its quarterly report, and Ferguson's letter that accompanied it, the Inspector General's Office (IGO) argued that Emanuel has refused to bar a shady former Daley aide from working for the city; has refused to fully staff the IGO; and has filed a lawsuit to limit the agency's independence.
Emanuel has adopted "wholesale the position of the prior administration... that the IGO is not a legally independent agency," Ferguson wrote, according to the Chicago Sun-Times.
That claim comes as a result of a lawsuit filed by the Inspector General asking the city's Law Department to turn over paperwork relating to a $100,000 no-bid contract handed to former Daley aide Charles Bowen. In April, an Illinois appellate court ruled in favor of the IGO's authority to investigate the case. But the Emanuel administration has appealed that ruling to the Illinois Supreme Court, as the Sun-Times reports -- a message, in Ferguson's eyes, that the new City Hall isn't much different from the old one with regard to ethics investigations.
A Law Department spokesman told the Sun-Times that the case was a matter of "attorney-client privilege."
Ferguson's letter also complains that the Emanuel's administration hasn't allowed the IGO to hire the staff members that are authorized within the city's budget, slowing down its investigations.
And it accuses the new administration of refusing to bar former Daley hand John Kosiba from working for the city. According to the Chicago Tribune, Kosiba testified in the case that convicted Daley's former patronage chief, Robert Sorich.
In his testimony, protected by immunity, Kosiba admitted to helping get jobs for Hispanic Democratic Organization workers and others loyal to Daley in the massive political-hiring scandal that brought Sorich down while Kosiba was working as the city's Sewer Commissioner.
Kosiba had his law license suspended for three years as a result of the testimony, and the IG recommended that the city refuse to hire him. Instead, his firm, SPAAN Tech, has four lucrative city contracts worth millions of dollars.
It also writes about what might be termed "the usual": a non-profit falsifying bank documents to try to win city cash; a Water Management employee driven to job sites after losing his license to a DUI; the Snow Command chief who wasn't fired after it was revealed that he was using city employees to run his personal errands.
In short, though the name plates have changed at City Hall, Ferguson's report argues that there's still plenty more of the same-old to go around.
Support HuffPost
The Stakes Have Never Been Higher
Related
Popular in the Community