Good thing Rahm Emanuel isn't the sensitive type: A new poll indicates there is little love for the Chicago mayor, with just a measly two percent of Chicagoans "strongly" approving of the "Rahmfather."
The Crain's poll notes it's Illinoisans outside Chicago that harbor a far less favorable view of Emanuel compared to Windy City residents; chalk it up to the mayor's "hardball image," his Chicago-centric agenda on gun control and generally progressive stance on issues that chafe more conservative residents downstate.
Among Illinoisans living in Chicago, the numbers are slightly more promising, but not by much:
2 percent Strongly Approve
12 percent Somewhat Approve
5 percent Lean Toward Approval
13 percent Strongly Disapprove
9 percent Somewhat Disapprove
13 percent Lean Toward Disapproval
30 percent Mixed Feelings
15 percent Not Sure
While the mayor's approval numbers are no doubt in the toilet, they weren't always so dismal: According to Capitol Fax, in August 2011, leaked poll numbers indicated Emanuel had a job approval rating of 79 percent, with a much less scathing disapproval rating of 16 percent.
An NBC Chicago broadcast (embedded) reports the mayor's press office has dismissed the poll as "unreliable" since it was internet-based, though such a concern did not prevent the Drudge Report from splashing the poll results Friday morning with the headline "Public Turns on Godfather."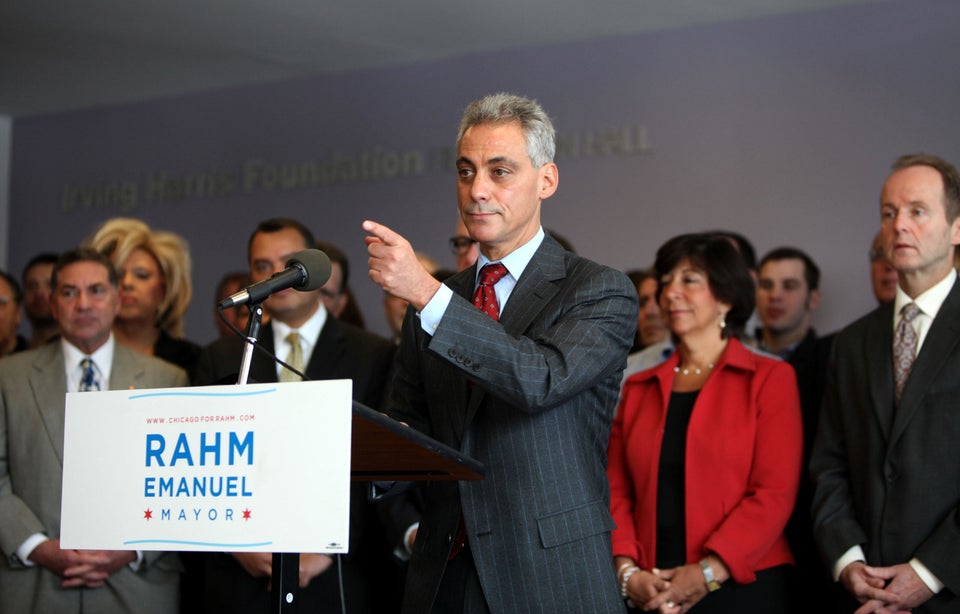 The Many Sides Of Rahm Emanuel